14,000 Settler Homes Approved, Over 500 Palestinian Structures Demolished During 'Peace Talks'
Apr 29 2014 / 10:44 pm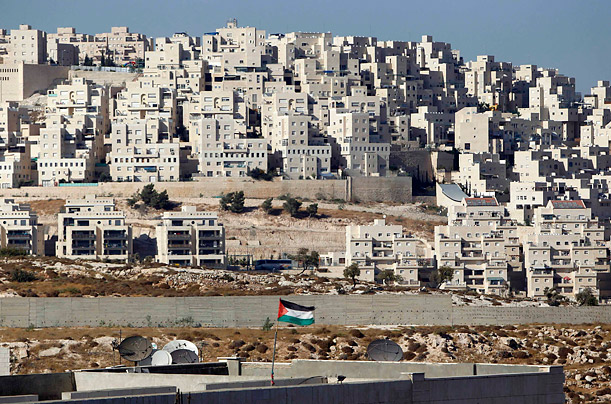 IMEMC – Plans for nearly 14,000 new settler homes were approved by the Israeli government, during the nine months of peace talks with the Palestinians, according to an Israeli NGO — this in addition to over 500 Palestinian structures that were demolished throughout the US-brokered "peace negotiations". The negotiation period formally ended today.
Israeli Prime Minister Benjamin Netanyahu's government approved at least 13,851 new housing structures through the advancement of plans and the publication of tenders, according to figures cited by Peace Now.
"This is an unprecedented number representing an average of 50 housing units per day or 1,540 per month," they said.
"Netanyahu broke construction records during the nine-month peace talks," Yariv Oppenheimer, head of Peace Now, told AFP.
Israel's ongoing illegal settlements have weighed heavily on the so-called negotiation process, Palestinians left to cope with the relentless pace of new approvals for construction on lands designated for a future Palestinian state. A complete settlement freeze was declared a key condition for any attempt at return to negotiations.
According to Netanyahu, he never agreed to any "restraints on construction" throughout the talks.
Israel has so far flatly refused, with the Israeli Prime Minister in complete denial that the furthering of settlements would run counter to any peace efforts.
Additionally, Israel has demolished over 500 Palestinian structures throughout the negotiation period, said the PLO said in a statement, on Tuesday.
Figures cited from the UN's Office for the Coordination of Humanitarian Affairs, point to Israeli demolition of a total of 508 Palestinian structures, from July 30 – April 29, 312 of which were homes, Ma'an reports.
"As a result, 878 persons were forcibly displaced," the statement said.
Furthermore, the report noted that 61 Palestinians died as a result of actions by Israeli forces throughout peace talks, with some 1,100 left injured.
Some 3,674 Palestinians were also "detained" by Israeli forces, it added.
The US-brokered peace talks hit a major stumbling block, in late March, when Israel refused to honor a commitment to free two dozen veteran Palestinian prisoners, prompting Abbas to resume state recognition moves by signing 15 international treaties.
Posted by
Philip Giraldi
on Apr 29 2014 . Filed under
News from the Middle East
. You can follow any responses to this entry through the
RSS 2.0
. Both comments and pings are currently closed.