18 Injured In Al-Aqsa Raid by Israeli Forces
Feb 7 2014 / 6:16 am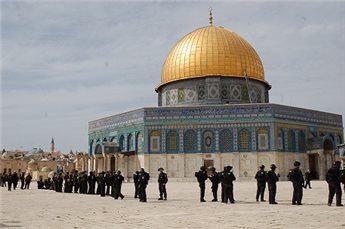 IMEMC, 2/7/14 – At least 18 Palestinians were injured when Israeli forces clashed with Palestinian worshipers after prayers, in the al-Aqsa compound, on Friday.
Dozens of Israeli soldiers raided the compound, firing tear gas and rubber-coated steel bullets at worshipers, according to a report by the Ma'an News Agency.
Director of Al-Aqsa clinic, Adnan Khanafseh, told a Ma'an reporter that the 18 people were treated in the compound's clinic for fractures, injuries from stun grenade splinters and rubber-coated steel bullets.
A child and a 40-year-old man were among the people treated, and three people were transferred to hospital for further treatment, Khanafseh added.
An Israeli police spokesman said that clashes broke out after "tens of Israeli-Arabs" threw stones at Israeli police officers located at the Moroccan Gate.
The compound, which sits just above the Western Wall plaza, houses both the Dome of the Rock and Al-Aqsa mosque and is the third holiest site in Islam.
According to Ma'an, because of the sensitive nature of the Al-Aqsa compound, Israel maintains a compromise, with the Islamic trust that controls it, to not allow non-Muslim prayers in the area. Israeli forces regularly escort Jewish visitors to the site, leading to tension with Palestinian worshipers.
Al-Aqsa mosque is venerated as Judaism's most holy place, as it sits where Jews believe the First and Second Temples once stood. The Second Temple was destroyed by the Romans in 70 AD.
The mosque has been targeted by several militant Jewish leaders, over the course of the Israeli occupation, with the objective of razing the area in order to build a third temple. Supporters of the Israeli regime within a large number of Western Christian communities have interpreted biblical prophecy in such a way as to suggest that a literal third temple will be built, and remain fully complicit in the violent attacks on Al-Aqsa.
Others, in adherence to the actual texts which describe a third temple in the book of Revelation, believe that this temple is a symbolic reference to the nature of God and Christ..
Posted by
Philip Giraldi
on Feb 7 2014 . Filed under
News from the Middle East
. You can follow any responses to this entry through the
RSS 2.0
. Both comments and pings are currently closed.