A Nation Falling Apart
Jul 31 2020 / 12:55 pm
Piece by piece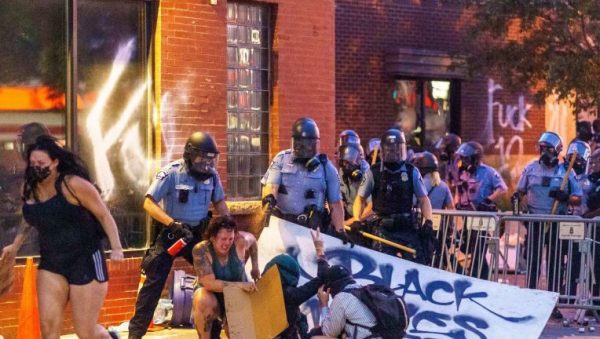 First they came for the toilet paper and kitchen towels, then they came for flour and now they are taking your coins. Yes, the American public sitting out the COVID-19 virus is now having to deal with what is referred as a "small change shortage."caused apparently by hoarding. Coffee shops and other retail outlets that deal in cash have been hit hard by the shortage, finding themselves unable to make change. Apparently, people have decided spontaneously and in large numbers that nickels, dimes and quarters, as they have value as being made of metal, will somehow maintain their worth better than the pieces of paper being printed in Washington.
The government has acted decisively to meet the threat by having the Federal Reserve convene a 22 strong U.S. Coin Task Force to "mitigate the effects of low coin inventories caused by the COVID-19 pandemic." Ironically, of course, the Fed is the source of America's long suffering backed-by-nothing currency. As several of the major private banks, including JP Morgan and Bank of America, are represented on the Task Force as well as a swarm of government bureaucrats, one can assume that nothing will happen except possibly a decision to change the design of the coins to eliminate Washington, Jefferson and Lincoln. Sacagawea can stay on the funny looking dollar coin, which no one has actually seen in years as she represents an approved ethnic minority.
There are a lot of indications that the American stratocruiser is about to crash. My wife and I went to a local gun range last week for a refresher course. I knew how to shoot from my time in the Army and CIA but have not actually fired a weapon since 1978 and my wife learned how to use a handgun about fifteen years ago when we made the decision to have one available in the house "just in case." To be sure, the current situation with deranged radical groups unrestrained by feckless politicians and a complicit media, our decision to re-arm as it were was based on the assumption that we can no longer rely on a demoralized and passive police force to protect either us or our property, particularly if there are any racial overtones to who is doing what to whom. So, we might have to be prepared to defend ourselves.
The first thing we learned was that it was hard to get an appointment with a trainer at a licensed range. It took us weeks to make an appointment and we only got one when there was a cancellation. It seems large numbers of ordinary Americans are looking to defend themselves because they, like us, are shocked when they see politicians ignore looting, beatings and arson even as they kneel before thugs. Meanwhile, the media endorses the process, also throwing in a blanket condemnation of the white race, which suggests that there is nothing good that will come out the other end of what it taking place.
We did our shooting training but the next hurdle was upgrading our weapons. We had a venerable 9mm automatic and an even older 38 caliber revolver. Modern handguns have better safety features and their mechanisms work more smoothly for ageing hands. We were looking for a new 9mm automatic and an AR-15 so-called assault rifle for greater reach if that should become necessary but the man at the sales desk shook his head and said "No, everything is back ordered for six months or more. Everyone is buying new weapons. Give me a deposit and I will call you when something comes available."
So "everyone" is training to shoot and buying new weapons, and it is even being reported that break-ins to steal guns from sporting goods shops are increasing dramatically. Weapons are a hot commodity, which just might mean that the confidence among people that the state will keep them safe is at the vanishing point. Even the mainstream media has noticed the spike in gun sales, but they predictably use that fact to explain the surge in gun homicides across the country in the past several months. More weapons, per The Washington Post, means more armed racist white people are out on the streets raising hell, but it ignores the fact that the gun deaths have been overwhelmingly black-on-black, as has always been the case.
I would also suggest that at least part of the explanation lies elsewhere, in less policing as cops have figured out that they have no one on their side and are best served by doing as little as possible when the shooting starts. Policemen have, in fact, been on the receiving end of much of the recent violence. Instead of seeking help from a cop, violent crime victims should call 911 and ask the operator to have Mayor Bill de Blasio send out a social worker whenever they get attacked by irate gang bangers. The NYPD cops are apparently too busy in any event as they are guardingthe black lives matter paintwork covering Fifth Avenue in front of the Trump Tower.
Another thing one is now having difficulty in buying is alcohol. People are depressed and are drinking a hell of a lot more than normal, which can, of course, result in impulsive behavior. I live in Virginia and our state store is constantly running out of everything. A cashier told me that they are selling 300% more booze than normal for this time of year. Last week I went into a large and well-known liquor store in Washington D.C. and bought the last few bottles of our favorite scotch The Famous Grouse. They had run out and didn't know when they would get more. My wife and I are anticipating a Famous Grouse crisis and we have discussed setting up a still in the basement.
Finally, a family member owns a construction company. He recently said that business is unexpectedly booming, in part because people are building panic rooms, safe havens and even 1960s style fallout shelters in and behind their houses. But unlike the threat of nuclear war in the sixties, the current fear is that with the wreckers being given a free hand by the authorities, organized home invasions penetrating prosperous neighborhoods cannot be that far away. Most of the construction work is being done as unobtrusively as possible because the clients don't want their neighbors to know how scared they are.
So, there we are. The United States is troubled by a pandemic that the government seems unable to respond to which has produced record unemployment and bankruptcies. Meanwhile, guns and liquor and even coins are in demand while frightened citizens are building home defenses. And much of the government at all levels acts like it is either on the side of or afraid of the destroyers. America certainly has always had flaws but it was once a land of opportunity where people could prosper and enjoy more freedom than nearly anywhere else. Those days are gone so just relax and turn on the evening news. Watch a once proud country with a resilient and hard-working people come apart before your very eyes.
Posted by
Philip Giraldi
on Jul 31 2020 . Filed under
CNI Authors
,
Commentary & Analysis
,
Philip Giraldi
. You can follow any responses to this entry through the
RSS 2.0
. Both comments and pings are currently closed.