A Tale of Two Poisonings
Jul 17 2018 / 1:08 pm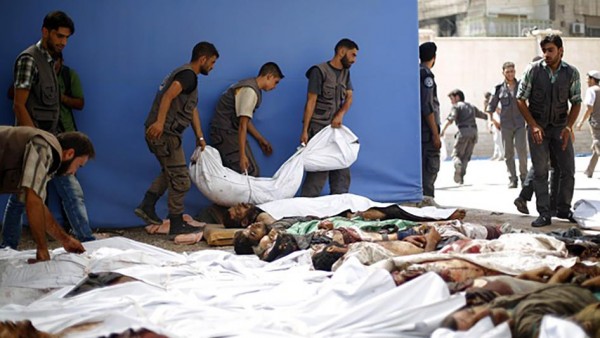 Shaping a story to fit the agenda
Poisoning enemies has a long history with Augustus Caesar's wife Livia allegedly a master of the art, as were the Borgias in Renaissance Italy. Lately there has been a resurgence in allegations regarding the use of poisons of various types by several governments. The claims are particularly damaging both morally and legally as international conventions regard the use of poisonous chemical compounds as particularly heinous, condemning their use because they, when employed in quantity, become "weapons of mass destruction," killing indiscriminately and horribly, making no distinction between combatants and civilians. Their use is considered to be a "war crime" and the government officials who ordered their deployment are "war criminals," subject to prosecution by the International Criminal Court in The Hague.
There are two important poisoning stories that have made the news recently. Both are follow-ups to reporting that has appeared in the news over the past few months and both are particularly interesting because they tend to repudiate earlier coverage that had been largely accepted by several governments as well as the media and the chattering class of paid experts that appears on television.
The first story relates to the poisoning of former Russian intelligence agent Sergei Skripal and his daughter Yulia in March. There was quite a bit that was odd about the Skripal case, which relied from the start "…on circumstantial evidence and secret intelligence." And there was inevitably a rush to judgment. British Foreign Secretary Boris Johnson blamed Russia less than forty-eight hours after the Skripals were found unconscious on a bench in Salisbury England, too soon for any chemical analysis of the alleged poisoning to have taken place.
British Prime Minister Theresa May threw gasoline on the fire when she addressed Parliament shortly thereafter to blame the Kremlin and demand a Russian official response to the event in 36 hours, declaring that the apparent poisoning was "very likely" caused by a made-in-Russia nerve agent referred to by its generic name novichok. The British media was soon on board with a vengeance, spreading the government line that such a highly sensitive operation would require the approval of President Vladimir Putin himself. The expulsion of Russian diplomats soon followed with the United States and other countries following suit.
Repeated requests by Russia to obtain a sample of the alleged nerve agent for testing were rejected by the British government in spite of the fact that a military grade nerve agent would have surely killed both the Skripals as well as anyone else within 100 yards. As the latest British account of the location of the alleged poison places it on the door handle of the Scripals' residence, the timetable element was also unconvincing. That meant that the two would have spent three hours, including a stop at a pub and lunch, before succumbing on a park bench. Military grade nerve agents kill instantly.
The head of Britain's own chemical weapons facility Porton Down even contradicted claims made by May, Foreign Minister Boris Johnson, and British Ambassador in Moscow Laurie Bristow. The lab's Chief Executive Gary Aitkenhead testified that he did not know if the nerve agent was actually produced in Russia, a not surprising observation as the chemical formula was revealed to the public in a scientific paper in 1992 and there are an estimated twenty countries capable of producing it. There are also presumed stocks of novichok remaining in independent countries that once were part of the Soviet Union, to include Russia's enemy du jourUkraine, while a false flag operation by the British themselves, the CIA or Mossad, is not unthinkable.
Nevertheless, the politically weak May government, desperately seeking a formidable foreign enemy to rally around against, insisted that Russia, almost certainly acting under orders from Vladimir Putin himself, carried out the killing of a former British double agent who had been released from a Kremlin prison in a spy swap and who was no longer capable of doing any damage to Russia. Putin apparently did all that in spite of the fact that he had an election coming up and would be the host of the World Cup in the summer, an event that would be an absolute top priority to have go smoothly.
Now there has been an actual death in Amesbury near Salisbury that has been attributed to novichok. On June 30th, Charlie Rowley and Dawn Sturgess were admitted to hospital after being found unconscious. Sturgess died eight days later. The May government has not yet blamed it on Putin or even on a clumsy Russian operative that might have inadvertently left behind a vial of poison or a used syringe, though Home Secretary Sajid Javid came close to that when he suggested that Russia was using Britain as a "dumping ground for poisons." Police suggestions that the poisoned couple appear to have handled novichok infused material of some kind before succumbing appears to be contradicted by inability to find the actual source of the alleged exposure.
British government dancing around the issue notwithstanding, there have been suggestions that the closest source of more novichok might well be the U.K. government labs at nearby Porton Down, only seven miles from Salisbury and Amesbury, which increases suspicion about the original story promulgated by Downing Street. Would the British government actually poison an expendable ex-Russian spy and his daughter to divert attention from a domestic political problem at home? It's worth considering as the "blame it all on Putin narrative" becomes even less credible.
The second story comes from Syria, where there is also a Russian hand as Moscow is aiding the government of Bashar al-Assad. The by now notorious April 7, 2018 alleged chemical attack on the rebel-held Syrian city of Douma was widely blamed by Western countries and the mainstream media on Assad's forces. This resulted in a decision by U.S. President Donald Trump to order massive U.S.-led retaliatory airstrikes against targets reportedly involved in chemical production in and around Damascus.
Trump blamed "animal Assad" for "using nerve agents" and both the media and most European governments followed that line, concluding that Damascus had ordered the chemical attacks a mere moments after videos purporting to show scores of chemical attack victims first surfaced from rebel sources, long before U.S. intelligence could have made its own assessment. A 5-page White House assessment released on April 13th, just days after the alleged attack asserted that sarin was used at Douma, claiming that "A significant body of information points to the regime using chlorine in its bombardment of Duma, while some additional information points to the regime also using the nerve agent sarin."
Independent sources warned at the time that not a single neutral observer was on the ground to confirm that chemical agents launched by the Syrian government had, in fact, been used, but were ignored. All of the sources reporting the attack were either affiliated with the rebels who occupied the area or were not physically present in Douma.
Now, finally, three months later, there has been a credible independent report on what was determined about the attack through chemical analysis of traces recovered in Douma. A preliminary report published last Friday by the Organization for the Prohibition of Chemical Weapons (OPCW) found no traces of any nerve agent like sarin at the site. The OPCW report states this clearly: "No organophosphorous nerve agents or their degradation products were detected in the environmental samples or in the plasma samples taken from alleged casualties."
This means that the Trump Administration claimed to have details relating to an event in a foreign country that it did not know and could not actually confirm to be true. And it used that as a justification for ordering an airstrike that killed people and destroyed targets in Syria. Will the White House respond to the OPCW report and apologize, possibly to include reparations for an unjustified attack on another sovereign nation? Don't hold your breath.
The Salisbury and Douma attacks are illustrative of just what happens when a government is prepared to dissimulate or even lie to go the extra mile to make a case to justify preemptive action that otherwise might be challenged. Theresa May is, unfortunately, still in power and so is Donald Trump. In a better world an outraged public would demand that they be thrown out of office and even possibly subjected to the tender ministrations of the International Criminal Court in The Hague. With power comes accountability, or at least that should be the rule, but it is a dictum that has for some
Posted by
Philip Giraldi
on Jul 17 2018 . Filed under
CNI Authors
,
Commentary & Analysis
,
Philip Giraldi
. You can follow any responses to this entry through the
RSS 2.0
. Both comments and pings are currently closed.