Activists Prevent Israeli Company From Painting Over Apartheid Wall for Papal Visit
May 25 2014 / 6:20 pm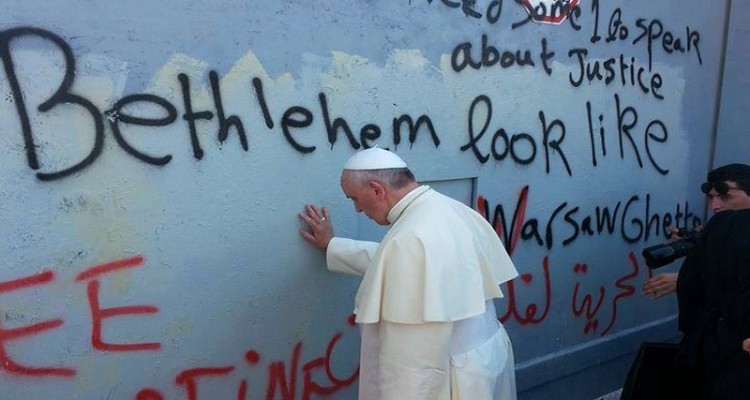 Palestinian Christians make cross from wall as gift to Pope Francis
IMEMC – Workers from an Israeli construction company were stopped by protesters, on Friday, as they were painting a section of the massive so-called "separation barrier" which is to extend approximately 430 miles througout the West Bank region upon completion.
The workers were painting, in white, over a part of the wall and gate located in the main entrance of the West Bank city of Bethlehem, according to the PNN, in order to improve its appearance for the visit of Pope Francis.
The activists asked the construction workers to stop painting because of the fake message that Israelis wish to present to the world during Francis' visit to Bethlehem, as the West Bank continues to be under siege by the wall, blocked by military checkpoints and subjected to suffering over ongoing land confiscations.
The activists concluded, PNN further states, by saying that Muslim and Christian residents of Bethlehem will send messages to the Pope in different ways, in order to show him and the world the reality of Palestinian life, in calling upon him to help end such policies by the Israeli government.
In preparation for the Pope's visit, a group of Palestinian volunteers from the Holy Land Christian Ecumenical Foundation (HCEF) made a cross using recycled concrete from the wall to give it as a gift to Pope Francis.
Antony Habash, the Local Director of HCEF, told PNN that this is to remind the Pope about the suffering of the Bethlehem residents, the city he will visit in just a few days.
He added that this gift will be given to President Abbas so he gives it to the Pope on behalf of the Bethlehem residents.
Posted by
Philip Giraldi
on May 25 2014 . Filed under
News from the Middle East
. You can follow any responses to this entry through the
RSS 2.0
. Both comments and pings are currently closed.