Admitted Spy Shows Up for Oscars – and Wins
Mar 3 2014 / 6:35 pm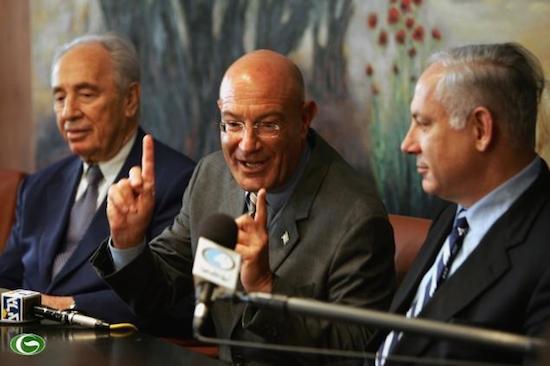 Under the Radar, 3/3/14 – And the winner is … Arnon Milchan!
Anyone watching the Oscars on Sunday – or reading/watching news Monday morning – knows that 12 Years a Slave earned the Academy Award for Best Picture.
But when the star-studded cast and director crowded the stage at Hollywood's Dolby Theatre to accept their trophies, it was evident that film producer and Israeli spy Arnon Milchan – who stood with them – also won big.

Though Milchan, an Israeli citizen, admitted in November that he engaged in espionage against the U.S for many years, including helping to smuggle American nuclear bomb parts to Israel, his appearance at the Oscars was pretty much proof not all spies are treated equally.
Forbes columnist Dorothy Pomerantz, who writes about Hollywood for the magazine, noted in her morning after rundown of the Oscars, "The Billionaire Winners of the 2014 Academy Awards," that it is "unlikely the admission will affect his standing in the film industry."
Since revealing his "James Bond"-like past on Israeli television in November, Milchan has apparently not generated interest among U.S. law enforcement agencies. The FBI won't even acknowledge that it investigated him previously (it has) and would not say it has plans to interview him about his spying activities now that he's admitted to them.
"Although [Milchan] has publicly acknowledged participation in alleged illicit activities, that in itself is not sufficient grounds for the FBI to override the subject's privacy interests," the FBI told Under the Radar.

Milchan is the founder of New Regency, the film production company behind 12 Years a Slave and other blockbuster films featuring "A list" stars such as Brad Pitt, Kevin Spacey, and Robert DeNiro. DeNiro even acknowledged in the Israeli TV interview that Milchan once admitted his spy role, though DeNiro said he didn't judge Milchan for it.
An FBI spokeswoman in Los Angeles would not tell Under the Radar if the bureau planned to interview Milchan or DeNiro in connection with what they said in the Israeli interview.
"As a matter of policy, the FBI neither confirms nor denies investigations.  I am unaware of any public information relative to this matter," she said.
Grant Smith, author of Divert, about the decades-long Israeli operation to funnel U.S. nuclear secrets, uranium and parts to Israel, was not surprised that Milchan was "unconcerned and on stage" at the Oscars. Smith said Milchan has dodged prosecution for more than 30 years, even as a colleague in the smuggling of nuclear triggers, Richard Kelley Smyth, ultimately was arrested and jailed.
What has made Milchan untouchable, according to Smith, is his connections. These include long time associations with Israeli leaders including Shimon Peres and current Prime Minister Benjamin Netanyahu, who worked at Heli Trading, a Milchan front company used for smuggling, according to Smith, who cites Justice Department documents that he acquired through the Freedom of Information Act.
During the interview with Israel's Channel 2, Milchan acknowledged being an arms dealer and that he also used his international connections to advocate for the apartheid government of South Africa in exchange for the regime helping Israel procure uranium.

Hollywood's stars, of course, frequently condemned apartheid South Africa, though none seemed to have any problems with Milchan.
That's entertainment.
Posted by
Philip Giraldi
on Mar 3 2014 . Filed under
Commentary & Analysis
,
Featured articles
,
Popular Media / News
,
Spying
. You can follow any responses to this entry through the
RSS 2.0
. Both comments and pings are currently closed.