Army Kidnaps Eight Palestinians In The West Bank
Apr 17 2014 / 12:25 am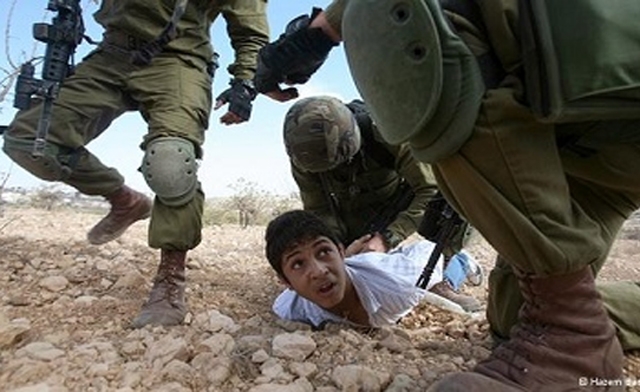 IMEMC – Israeli soldiers invaded various Palestinian communities in the occupied West Bank, broke into homes and searched them, installed roadblocks and kidnapped at least eight young Palestinian men. The army also attacked and detained teachers and students in a Hebron school.
Local sources in Beit Awwa town, southwest of Hebron, stated that dozens of soldiers invaded the town and kidnapped three Palestinians after violently searching their homes.
The three have been identified as Suleiman Salem Masalma, 20, Ezzeddeen Mohammad Masalma, 18, and Jihad Hasan Masalma, 24.
Soldiers also invaded Beit Einoun area, east of Hebron, broke into homes, using their rooftops as military towers, and restricted freedom of movement of the Palestinians as settlers marched into the city.
In addition, several military jeeps also invaded Ithna and Tarqoumia towns, and were heavily deployed on several main roads in the western area of Hebron city, while an Israeli drone hovered overhead.
Medical sources said sixteen Palestinians were shot and injured by Israeli army fire in the center of Hebron city, during clashes with the invading soldiers.
Also, eyewitnesses said dozens of soldiers invaded the Ibrahimiyya School in Hebron, attacked teachers and students, and detained its headmaster, Mohammad Kamel Ja'afra, three teachers, and at least one student.
Several Israeli military jeeps also invaded the al-Karmel village, near Hebron, occupied the rooftops of a number of homes, especially homes overlooking roads leading to Susiya, Ma'oun and Havat Ma'oun illegal settlements.
Furthermore, soldiers invaded Borqa village, near the northern West Bank city of Nablus, kidnapping one Palestinian.
Another Palestinian was also kidnapped in Arraba town, near the northern West Bank city of Jenin, while the army claimed locating two weapons.
A Palestinian was also kidnapped after the soldiers broke into his home in Yasouf village, southwest of Nablus city.
Israeli military sources claimed all kidnapped Palestinians are "wanted for security violations", and that they will be moved to various interrogation facilities.
Israeli soldiers invade Palestinian communities on a daily basis, conduct invasions of homes, arrests, and install roadblocks in different parts of the occupied territories.
Posted by
Philip Giraldi
on Apr 17 2014 . Filed under
News from the Middle East
. You can follow any responses to this entry through the
RSS 2.0
. Both comments and pings are currently closed.