Biden, at Israeli Independence Day party: U.S. will deliver new F-35 jets to Israel next year
Apr 24 2015 / 4:23 pm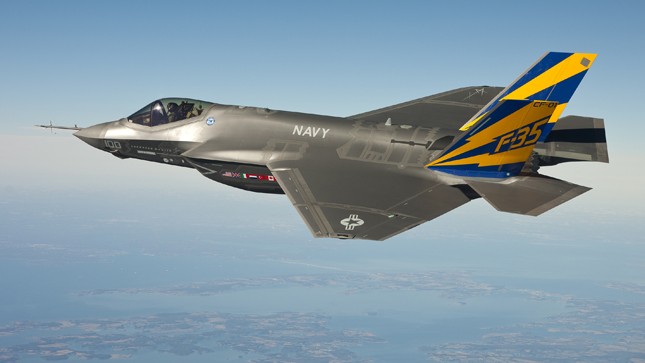 Deal will make Israel the only country in the Middle East to have the advanced aircraft, VP says. "We will always have your Back"…… "We would fight for you"
Ha'aretz (Reuters) – U.S. Vice President Joe Biden said on Thursday the United States would deliver new F-35 fighter jets to Israel next year to help its ally maintain its military edge in the Middle East.
Speaking at an Israeli Independence Day celebration in Washington, Biden described the aircraft as "our finest, making Israel the only country in the Middle East to have this fifth-generation aircraft."
Vowing the United States would make sure Israel maintained its "qualitative edge," Biden told the pro-Israel audience: "Next year, we will deliver to Israel the F-35."
The Defense Ministry announced in mid-February that it had signed a deal with the United States to purchase 14 more F-35 planes for the Israel Air Force at $110 million dollars each.
The deal is considered the continuation of a purchase agreement signed in 2010, when it was decided that 19 F-35 planes would be transferred to the Israel Defense Forces.
The Israel Air Force will receive a total of 33 F-35 planes. One of the acquisitions will serve as an experimental aircraft.
The first two planes are scheduled to land in Israel by the end of 2016. The rest of the aircraft are expected to arrive by 2021.
The defense establishment and the air force are interested in purchasing additional aircrafts to eventually form two stealth fighter squadrons, each comprising 25 planes.
#
Biden pledges delivery of F-35 stealth jets to Israel
TheHill – Vice President Biden on Thursday promised the U.S. would bolster Israel's military defenses by delivering the latest generation of stealth fighter jets in 2016.
"Next year we will deliver to Israel the F-35 joint strike fighter, our finest, making Israel the only country in the Middle East with a fifth generation aircraft," Biden said at the Israeli embassy in Washington, D.C.
Biden spoke at an event observing Israel's 67th Independence Day, The Jerusalem Post reported.
He promised America would always "have Israel's back" in his remarks.
"We will never stop working to ensure that Jews from around the world always have somewhere to go, we will never stop working to make sure Israel has a qualitative edge," Biden said of the upcoming F-35 delivery.
"But I promise you if you were attacked and overwhelmed, we would fight for you, in my view," he added. [There is no indication that Americans wish to send our soldiers to fight in another Mideast war – particularly since Israel's troubles are of its own making.]
Israel signed a contract last February for 14 F-35s worth nearly $3 billion. It previously purchased 19 of the Lockheed Martin planes for $2.75 billion in 2010.
Biden's pledge comes amid simmering animosity between President Obama and Israeli Prime Minister Benjamin Netanyahu. The two leaders have clashed over Obama's push for a deal with Iran over its nuclear weapons program.
Biden on Thursday dismissed these tensions and said the U.S. would not waver in its support of Israel and its people.
"We love each other and we protect each other," Biden said, comparing American-Israel relations to family ties.
"The truth of the matter is, we need you, the world needs you," he told listeners.
"Imagine what it would say about humanity and the future of the 21st century were Israel not sustained and vibrant and free."
Netanyahu maintains Iran's government is untrustworthy and that its quest for nuclear weapons threatens Israel's existence.
President Obama, though, insists only diplomacy will prevent a nuclear Iran.
The Obama administration announced a tentative pact with Iran over its nuclear energy program on April 2. It would lift economic sanctions on Iran in exchange for greater restrictions on its nuclear production capabilities.
Tehran has promised it will allow more frequent atomic inspections and caps on its centrifuge and uranium stockpiles as part of the bargain.
Posted by
Philip Giraldi
on Apr 24 2015 . Filed under
Commentary & Analysis
,
Featured articles
,
Politicians
. You can follow any responses to this entry through the
RSS 2.0
. Both comments and pings are currently closed.