Children burned with cigarettes by Israeli soldiers in illegal settlement
Jan 15 2014 / 8:40 pm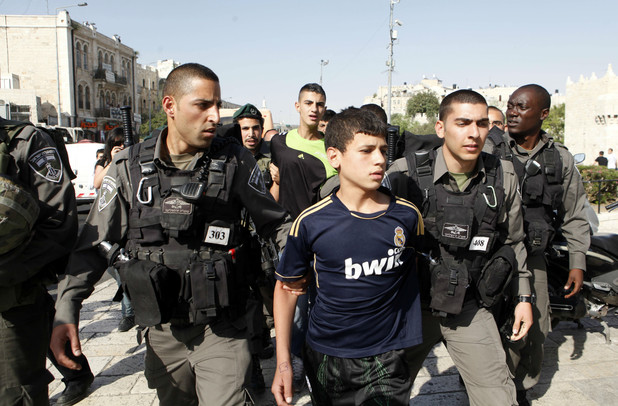 By Nora Barrows-Friedman.
Electronic Intifada, January 15, 2014 – Three Palestinian children were allegedly burned with lit cigarettes and denied access to food, water or toilet facilities after being arrested and detained by Israeli soldiers and police in September, a new report indicates.
In separate incidents, the three children were allegedly assaulted and abused during arrest and transfer to the Ariel police station, which is located inside the illegal Ariel settlement colony in the occupied West Bank.
Defence for Children International-Palestine section (DCI-Palestine) says that:
… Israeli soldiers severely and repeatedly beat Ali S, 14, from Azzun, Hendi S, 17, from Salfit, and Mohammad A, 15, from Tulkarem after arresting them. One soldier extinguished a cigarette butt on Ali's lip while another burned Hendi's arm with a cigarette, according to the sworn testimonies of the two teenagers. Hendi and Mohammad were denied access to food, water and toilet facilities for a long period. All three of them were accused of stone throwing.
DCI-Palestine adds that it submitted ten separate complaints in 2013 over alleged abuse and "torture of Palestinian children by Israeli soldiers and police," but that in eight of the cases, "Israeli authorities failed to notify DCI-Palestine whether they had opened an investigation. The remaining two cases resulted in the military advocate-general's decision to close the investigation due to insufficient evidence. Israeli authorities deem the refusal of victims to testify without the presence of a lawyer as insufficient evidence."
The group cites statistics by Yesh Din, an Israeli human rights organization, which reports that only five percent of complaints submitted to the Military Police Criminal Investigations Division have led to an indictment.
"Traumatic arrests"
In their press release, DCI-Palestine adds:
"Israeli soldiers conduct traumatic arrests of Palestinian children, often involving violence and humiliation, to prime them to quickly confess during interrogation," said Iyad Misk, a lawyer at DCI-Palestine. "Burning children with cigarette butts raises particular alarm that demands a prompt, transparent and impartial investigation by the Military Police Criminal Investigations Division where the abusers are held accountable."

Israeli authorities unconditionally released Hendi and sentenced Mohammad to time served during pretrial detention. Ali remains in Israeli custody.

This marks the second time Hendi endures ill treatment this year. In late February [2013], DCI-Palestine submitted a complaint to the Police Internal Investigations Department over the abuse Hendi suffered during interrogation at Ariel police station in February.
Just last month, it was revealed that Israeli soldiers put Palestinian prisoners — including children — in outdoor cages during a brutal winter storm.
And a week ago, Israeli soldiers were caught on video kidnapping and beating Palestinian youths near the Israeli wall in occupied East Jerusalem.
Human Rights Watch recently reported that at least twice in 2013, Israeli occupation forces ambushed, shot and killed Palestinian children near schools in the West Bank for no apparent reason.
Defence for Children International-Palestine section says that there was an average of 203 children in Israeli detention during 2013, an average of 33 of whom were between 12 and 15 years old. "The most common charge is for throwing stones," DCI-Palestine adds. "Currently 51.4 percent of Palestinian child prisoners are detained inside Israel in violation of Article 76 of the Fourth Geneva Convention.".
Posted by
Philip Giraldi
on Jan 15 2014 . Filed under
News from the Middle East
. You can follow any responses to this entry through the
RSS 2.0
. Both comments and pings are currently closed.