'Collaborators' publicly executed in Gaza
Aug 23 2014 / 11:14 am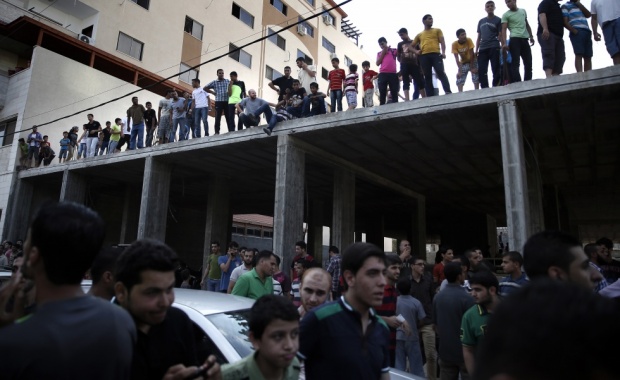 By Mohammed Omar.
Middle East Eye – GAZA- Friday's execution of 18 Palestinians, who allegedly collaborated with Israel during the recent conflict in Gaza, is part of the new "show no mercy" campaign which Palestinian resistance groups have announced.
It was not immediately clear on Friday how many of the 18 were alleged to have collaborated with Israel in the recent fighting or if they had been tried in court.
The new campaign – and the executions – follow an increase in Israeli assassination attempts, after fighting started again this week with the failure of truce talks in Cairo.
On Tuesday, hours after the talks broke up, an Israeli airstrike, which was thought to be targeting Hamas' military chief, Mohammed Deif, killed his wife and two children. Then, on Thursday, three Hamas military commanders were assassinated in Rafah.
The precision of the attacks led many to believe that Israel had been fed credible intelligence. The executions on Friday would seem to confirm, at the least, that Palestinian resistance groups believe that as well.
"Amidst the dangerous developments on the ground, decisive orders have been issued to start strangling the necks of collaborators, and to deal harshly with suspects and collaborators in the field," said a statement released on al-Majd Security, a website that is close to Hamas and Gazan security affairs.
"Those killed on Friday were responsible for the deaths of many Gazans and the destruction of their homes", the statement said. As part of the campaign, any future collaborators discovered will be punished immediately.
"The resistance will show no mercy to any collaborator caught in the field," the statement said.
On Friday morning, masked men ran into the police station in Gaza City, where alleged collaborators, many of whom have been incarcerated for years, are held.  Eleven men were shot.
Several hours after the 11 alleged collaborators were shot in the Gaza City police station on Friday, another seven men were publically shot in Palestine Square, one of Gaza's most crowded districts.
As worshippers came out of Friday prayers in Omari mosque, which is situated on the square, a group of masked gunmen dressed in black, shot the men whose faces were covered and hands were bound.
The identity of the men was hidden, as families associated with collaborators in Gaza suffer from discrimination for generations. A child, for example, whose father is caught as a collaborator, would be nicknamed "the son of the collaborator," at school.
The bodies of those killed, apparently as an example to the public, were later taken to al-Shifa hospital.
The killing was quickly denounced by human rights groups.
"We demand the Palestinian National Authority and the resistance to intervene to stop these extra-judicial executions, no matter what reasons and the motives are," says Raji al-Surani, the chairman of the Palestinian Centre for Human Rights in a statement.
These are the first executions to take place in Gaza since the 1990s.
Witnesses on the ground say that most of those killed had been convicted in military courts and were awaiting execution orders, seemingly having exhausted all appeals in the courts.
In recent months, the Palestinian interior ministry had offered mercy to any collaborators who voluntarily handed themselves in.
But security divisions of Gaza's resistance groups have now issued high orders to tighten security field procedures against collaborators and suspects, including permitting executions, in an attempt to discourage would-be collaborators, according to a source that preferred to remain anonymous.
Security sources say that another group of people were to be executed, once juridical and legal procedures were completed.
For years, Israel has relied on Palestinian collaborators, by either threatening to bomb their homes, blackmail their businesses, or offering alluring exit permits for travel or other incentives.
In his book "He who comes to kill," former head of Israeli security agency Shin Bet Yaakov Peri, stressed the importance of information provided by collaborators to the Israeli intelligence and security system.
But in Gazan culture, working as a collaborator is considered one of the most shameful of acts, and could haunt the extended family of an alleged collaborator for years. In a famous 'collaborator' case, a university student informed Israeli intelligence on the whereabouts of Sheikh Salah Shehdah, former chief of the Qassam Brigades. Due to the intelligence obtained from the 'collaborator,' an Israeli F16 bombed the residence of Shehdah, killing him, his wife and daughter, 7 members of the Matar family and injuring over 100 people. The bombings took place on 22 July 2002.
As a result of this, a group of 'collaborators' were executed in similar ways in the 2008 – 2009 war on Gaza, Operation Cast Lead.
Neither names or photos of those executed this morning have been published, as security forces say this would hit Gaza's social fabric and was done to prevent offence to the families of those killed.
Posted by
Philip Giraldi
on Aug 23 2014 . Filed under
Commentary & Analysis
. You can follow any responses to this entry through the
RSS 2.0
. Both comments and pings are currently closed.