Congress to Obama: Cut aid to Palestinians
Jun 3 2014 / 6:48 pm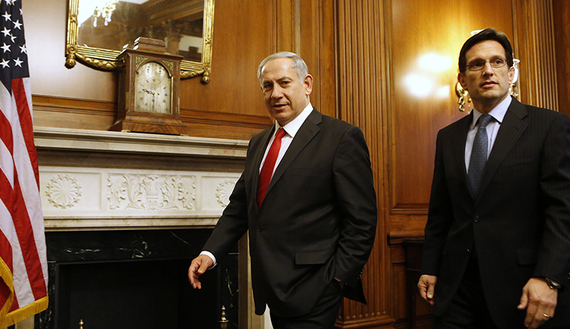 Al-Monitor – The Obama administration said Monday that it wouldn't cut off funds to the Palestinian Authority (PA) despite its unity government with Hamas, setting up a bruising battle with Congress.
State Department spokeswoman Jen Psaki told reporters that the administration believes the PA has "every desire and intent" to abide by its commitment to recognize Israel and forswear violence. She promised "close consultation" with Congress but made it clear that the administration intends to continue disbursing the $440 million in aid to the West Bank and Gaza requested in President Obama's 2014 budget.
"We continue to believe that our assistance to the PA and the Palestinian people are important," said Psaki, referring to the new Palestinian leadership agreement as an "interim technocratic government that does not include ministers affiliated with Hamas."
Lawmakers said the administration was being hoodwinked.
"The Palestinian leaders know that a unity government would trigger US law to cut off funding, so now they are trying to find loopholes in order to say that they are still abiding by the conditions our law's mandate," Rep. Ileana Ros-Lehtinen, R-Fla., the author of 2006 legislation that bars taxpayer support for a "Hamas-controlled Palestinian Authority," said in a statement.
"The PA deciding to partner with a designated foreign terrorist organization once again reaffirms that Abu Mazen is not a true partner for peace and the US must respond by withholding assistance to any Hamas backed unity government," Ros-Lehtinen said. "The administration must not fall for Abu Mazen's latest ploy and instead enforce US law and cut off funding."
House Foreign Affairs Chairman Ed Royce, R-Calif., expressed similar views.
"While the 'unity government' hides behind the facade of nonpartisan bureaucrats, it was only born out of support from Hamas — a terrorist organization that continues to call for Israel's annihilation," he said in a statement. "Hamas is no partner for peace; nor a legitimate recipient of aid."
Israeli Prime Minister Benjamin Netanyahu has urged the United States and others not to recognize the new unity government and has called for ending peace negotiations because of the agreement with Hamas, prompting a potential governing crisis for his coalition, as Ben Caspit reported for Al-Monitor. Secretary of State John Kerry called him on Monday to announce the administration's intention to continue working with the new government, leaving the Israelis internationally isolated.
Other top Republicans joined the call for an immediate halt to aid.
"Funding for the Palestinians is off-the-table until it is clear that the unity government is committed to peace and security," said Rep. Kay Granger, R-Texas, the chairwoman of the House Appropriations panel that controls the purse strings for State Department and Foreign Operations funding.
House Majority Leader Eric Cantor, R-Va., agreed.
"The administration, in consultation with Congress, should initiate an immediate review of this new government," Cantor said in a statement. "Until such time that it is determined that assistance to this so-called technocratic government is consistent with our own interests, principles, and laws it is incumbent on the Administration to suspend US assistance."
The lawmakers were buoyed by the American Israel Public Affairs Committee (AIPAC), a habitual defender of aid to the Palestinians.
"US law is clear — no funds can be provided to a Palestinian government in which Hamas participates or has undue influence," the pro-Israel lobby said in a statement. "We now urge Congress to conduct a thorough review of continued US assistance to the Palestinian Authority to ensure that the law is completely followed and implemented."
Several Democrats joined in the criticism, but stopped short of calling for an immediate aid cut.
House Minority Whip Steny Hoyer, D-Md., said the decision "places in jeopardy the millions of dollars in foreign assistance." And Rep. Ted Deutch, D-Fla., the top Democrat on the House Foreign Affairs panel on the Middle East and North Africa, called it a "deeply disturbing step away from the pursuit of peace."
Others adopted a wait-and-see attitude after PA President Mahmoud Abbas vowed to abide by the so-called Quartet principles, which call on the Palestinians to recognize Israel, cease violence and abide by past peace agreements. The United States — with Israel's blessing — has long supported the PA as a bulwark against Islamist extremists, notably by funding its security forces.
A spokesman for Sen. Patrick Leahy, D-Vt., Granger's equivalent in the Senate, told Al-Monitor that it was "too soon to know what this means" when asked if the unity government should trigger an aid cut-off.
The liberal pro-Israel lobby J Street urged "caution" in reviewing US aid.
"The Obama administration and Congress should review the composition and policies of the new government to ensure they are in line with US law," J Street President Jeremy Ben-Ami said in a statement. "It would be a mistake for either the United States or Israel to take rash punitive actions against the Palestinians that will only hurt their own interests and set back hopes of resuming peace negotiations."
Some inside Israel are also warning against immediate retribution.
Zehava Gal-On, head of the left-wing Meretz Party, warned Netanyahu against rushing into "an automatic Pavlovian response that could harm Israel's existential interests," Agence France-Presse reported. She said having one Palestinian — Abbas — in charge of both Gaza and the West Bank could be a "positive" development for Israel.
The 2006 law's requirements aren't entirely clear, adding to the uncertainty.
The Palestinian Anti-Terrorism Law bans funding for a "Hamas-controlled Palestinian Authority" unless Hamas recognizes Israel and otherwise abides by the Quartet principles. Psaki indicated the administration would cut off aid if the new government doesn't live up to that promise. "Based on what we know now, we intend to work with this government — but we'll be watching closely to ensure that it upholds the principles that President Abbas reiterated today," Psaki said. "We will continue to evaluate the composition of policies of the new government and calibrate our approach accordingly."
But the Anti-Defamation League (ADL) — like Cantor — said the onus should be on the new government to show its mettle before aid is restored.
"Although we do not believe the US should immediately end all funding to the Palestinian Authority," ADL National Director Abraham Foxman said in a statement, "We support the idea of a pause in funding US aid to see if the new government can qualify to avoid a full cut of funding under the 2006 Palestinian Anti-Terrorism Act prohibiting US foreign aid to a Palestinian government which includes Hamas."
Posted by
Philip Giraldi
on Jun 3 2014 . Filed under
Commentary & Analysis
,
Costs to the U.S.
,
Israel Lobby
. You can follow any responses to this entry through the
RSS 2.0
. Both comments and pings are currently closed.