Disenfranchised: How the NYT spins the status of Palestinian land
Feb 19 2014 / 7:17 pm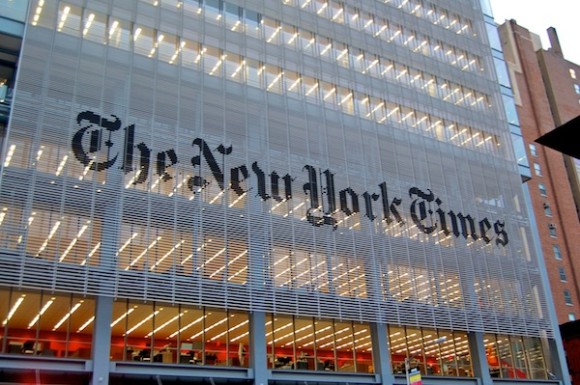 By Barbara Erickson.
TimesWarp, 2/18/14 – In The New York Times, Palestinian land has become something else again. It is not the State of Palestine, not simply Palestine, not the occupied Palestinian territories and not really Israel either. It is all murkier than that.
This should not be difficult for the Times. There is plenty of established precedence to point the way. Reporters and editors can check out United Nations agencies and find that the West Bank, Gaza and East Jerusalem have a legal name. In official parlance they are the occupied Palestinian territories: meaning the land belongs to Palestine and it is occupied by Israel.
But Times reporters will not say as much. Instead they have been hard at work to put a different face on it, not lying exactly, but using what we call now call "spin."
This spin involves a three-pronged formula: Israel "won" the West Bank and East Jerusalem from Jordan in the 1967 war; Palestinians "would like to use that land" for their future state; and many members of the international community "consider" Israel's occupation illegal, but Israel disputes this.
In the third prong, Times reporters have turned a solid legal finding into a political squabble. Former Jerusalem bureau chief Ethan Bronner made this clear in a 2011 piece where he refers to "land widely considered Palestinian by right" and then adds, "But geopolitics aside…"
According to Bronner the clear-cut legal status is a matter of opinion, something "considered" or "contended." It is no longer a fact or a legal finding but "geopolitics," with Israel and allies on one side and their opponents on the other.
This is just how Israel would like to frame it, and the Times plays along. So it repeats the claim that Israel "won" the West Bank and East Jerusalem from Jordan, failing to say that neither Jordan nor Israel have had sovereign authority over the area. The Times says nothing about United Nations Security Council Resolution 242 of 1967 (specifically addressing Israel's land grab), which asserted that territory cannot be acquired by war.
The paper also omits numerous UN resolutions that have since called for Israel to end the occupation. Here's a sample from Security Council Resolution 476 of 1980: The Council "determines that all legislative and administrative measures and actions taken by Israel, the occupying Power, which have altered or purport to alter the character and status of the Holy City of Jerusalem, and in particular the recent 'basic law' on Jerusalem, are null and void and must by rescinded forthwith."
In 2004 15 distinguished jurists on the International Court of Justice sifted through the pros and cons concerning Israel's notorious separation wall in the West Bank. They heard the Israeli arguments concerning ownership, necessity and procedure and dismissed them. In a series of lopsided 14 to 1 votes (with the US appointee the sole dissenter) they found that the wall is illegal and demanded that it be dismantled. The wall is built, the court said, not in a "disputed area" but in "the Occupied Palestinian Territory."
The Times is careful to write around the facts in connecting Palestinians to the land. Reporters avoid talk of international law and the fact that Palestinians are the indigenous inhabitants of the West Bank (and all of Israel). Instead, the newspaper has placed them in a shadowy role as outsiders longing for a land of their own.
In Times stories Palestinians have "claimed" or even "demanded" the right to that land. They also have "hoped" or "expected" to receive it sometime in the future. Thus, according to the Times, their present right does not exist.
In the most recent stories, the Palestinian role has receded even further. Last August Jerusalem bureau chief Jodi Rudoren wrote that the West Bank is an "area imagined as a future Palestinian state." A few weeks ago Isabel Kershner wrote of "an area the Palestinians envision as part of a future independent state."
A future Palestinian state can only be "imagined" or "envisioned," no longer even claimed. It has become little more than a dream.
At the same time illegal Jewish settlements in the occupied Palestinian territory have become "neighborhoods." In a 2012 story Jodi Rudoren writes of "Ramot and Pisgat Zeev, decades-old upscale Jewish neighborhoods of 40,000 plus residents," failing to say that both are settlements built in Palestinian East Jerusalem and that Palestinians have lived there not for decades but for centuries.
In the Times the Israeli claim gains solidity; the Palestinian right fades into a dream. Legal findings become "geopolitics," and readers are left in the dark.
It doesn't have to be this way. See how Harriet Sherwood tells it in a recent Guardian story: "The UK government has explicitly stated its position on settlements, which are illegal under international law…[indicating] frustration and anger at Israeli intransigence in the occupied Palestinian territories."
Sherwood can say it: the settlements are illegal, not "considered illegal by many in the international community," and the territory is Palestinian, not land the Palestinians "imagine" as a future state.
In normal newspaper procedure, a legal decision is the basis for facts, and a man convicted of embezzling can safely be called a thief. When the charges against him are proven in a court of law, we can drop the "alleged" from future stories.
Not so with Israel. In the Times there is no legal issue at stake, only a political one. There was no court decision, no legal consensus. Millennia of Palestinian stewardship have left no mark on the land and convey no right, not even the right to be mentioned in print.
—–
Read more analysis from Barbara Erickson at http://timeswarp.org/.
Posted by
Philip Giraldi
on Feb 19 2014 . Filed under
Commentary & Analysis
,
Media distortion
. You can follow any responses to this entry through the
RSS 2.0
. Both comments and pings are currently closed.