Do Jews Dominate in American Media? And So What If We Do?
Feb 17 2008 / 2:11 am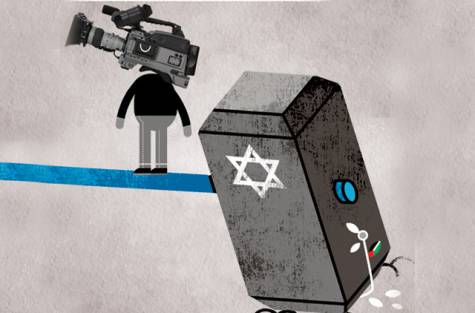 By Philip Weiss.
Mondoweiss – At least a half dozen times in recent months, the suggestion has come from serious people that Jews predominate in the American media–that if we are not dominant, we are a major bloc. In a Yivo event on Jews in journalism I've blogged about, a questioner said that Jews' outsize proportion in the media has granted us "a large influence over power." In his groundbreaking paper on the New York Times's role in shaping American policy toward Israel, Jerome Slater spoke of "religious beliefs and identifications" that affected the Times, and cited former executive editor Max Frankel's admission in his memoir (one also cited by Walt and Mearsheimer): "I was much more deeply devoted to Israel than I dared to assert."
Lately broadcast reporter John Hockenberry related that he wanted to do a piece on the hijackers' motivation after 9/11 but that NBC executive Jeff Zucker scotched the notion:
"Maybe," Zucker said, "we ought to do a series of specials on firehouses where we just ride along with our cameras. Like the show Cops, only with firefighters."… [H]e could make room in the prime-time lineup for firefighters, but then smiled at me and said, in effect, that he had no time for any subtitled interviews with jihadists raging about Palestine. [Weiss's emphasis]
Then last month at a forum at the Nixon Center, former Bushie Dov Zackheim said, Jews  don't dominate the policy-making process, but the media is a different story…
I don't know that anyone has visited the simple question raised by these statements: Do Jews dominate the media? This is something I know about personally. I've worked in print journalism for more than 30 years. I've worked for many magazines and newspapers, and for a time my whole social circle was editors and writers in New York. I don't know television. I don't know Washington journalism well. I don't know the west coast. My sample is surely skewed by the fact that I'm Jewish and have always felt great comfort with other Jews. But in my experience, Jews have made up the majority of the important positions in the publications I worked for, a majority of the writers I've known at these place, and the majority of the owners who have paid me. Yes my own sample may be skewed, but I think it shows that Jews make up a significant proportion of power positions in media, half, if not more.
Before considering what this means, let me make my experience concrete:
My serious journalism began at the Harvard Crimson in the 70s.  A friend said the paper was a Jewish boys club; it was dominated by middle class
Jews– as apparently today there are a lot of Asians. Many of these Jews are now powerful presences in the media. Zucker is one of them. My first paying job was in Minneapolis. Five Harvard guys started a weekly; four of them were Jewish, including the publisher paying our meager salaries. I remember our editor walking the halls parodying the jingle we had on the radio. The jingle went: "We've got the news, we've got the sports…" He sang it as "We've got the Jews, we've got the sports." Funny.
I was hired by a Jewish editor at my next job, the Philadelphia Daily News in 1978, and when I started freelancing in 1981, Jewish Harvard friends
got me work at the Columbia Journalism Review and the Washington Monthly. A gentile brought me in at Harper's and the New Republic.  It was at the New Republic, a launching pad for any number of highly-successful journalists, that I briefly associated with Marty Peretz, and did a story for him mocking the United Nations, whose judgment  he seeks at every turn to nullify because the U.N. is critical of Israel.
Fast forward. In New York, I have worked for a dozen magazines. Most of my editors have been Jewish. Both my book publishers were Jewish. At one point at one publishing house, the editor, his boss, and her boss were all Jewish, and so was the lawyer vetting the work—I remember her saying she would never travel to Malaysia because of the anti-Semitic Prime minister. Oh–and the assistant editor was half-Jewish.
I should point out that I have worked with many gentile editors and writers, and I have never been aware of any employment discrimination against them (though I may not be the best source). In fact, at Spy, the three top editors were all non-Jews and when I used the epithet WASP it was removed from my copy. But that is the exception. Generally it's been Jews Jews Jews. When I hear NPR do a piece with its top political team and both are Jews… when a Jewish friend calls me and gossips about lunches with two top news execs at major publications who are both Jewish and who I've known for 20 years… when a Jewish editor friend tells me that Si Newhouse would be disturbed if Vanity Fair editor Graydon Carter– who has done such courageous work against the Iraq war– did anything to expose the Israel lobby… and when I say that my income has been derived overwhelmingly from Jewish-owned publications for years—this is simply the ordinary culture of the magazine business as I know it.
I have some ideas why Jews have predominated, but that's not the purpose of this posting. Last year Senator Russ Feingold, buttonholed on CSPAN about why so many speakers on air were Jewish, said, "Well, we're good at talking…" That'll do for now.
The real issue is, Does it matter? Most of my life I felt it didn't. It's just the way it is, at this point in history. It will change (as Clyde Haberman pointed out at that Yivo event). Jews are the latest flavor of the establishment. In his landmark book, The Jewish Century, Slezkine reports that Jews were the majority of journalists in Berlin and Vienna and Prague, too, in the late 1800s, if I remember correctly.
Now I think it does matter, for two reasons. Elitist establishment culture, and Israel. As to elitism, I worry when any affluent group has power and little
sense of what the common man is experiencing. I feel the same discomfort with my prestige-oriented "caste" that E. Digby Baltzell did with his calcified caste, the WASPs–when he called for an end to discrimination against Jews in the early '60s. The values of my cohort sometimes seem narrow: globalism, prosperity, professionalism. In Israel the values are a lot broader. None of my cohort has served in the military, myself included. A lot of our fathers did; but I bet none of our kids do. Military service is for losers–or for Israelis.
So we are way overrepresented in the chattering classes, and way underrepresented in the battering classes. Not a great recipe for leadership, especially in wartime.
Then there's Israel. Support for Israel is an element of Jewish religious practice and more important, part of the Jewish cultural experience. Even if you're a secular Jewish professional who prides himself on his objectivity, there is a ton of cultural pressure on you to support Israel or at least not to betray Israel. We are talking about a religion, after all, and the pressures faced by Jews who are critical of Israel are not that different from what Muslim women who want greater freedom undergo psychically or by evangelical Christians who want to support gay rights. It is worth noting that great Jewish heretics on the Israel question suffer anger or even ostracism inside their own families. Henry Siegman talked about this on Charlie Rose once, I recall–that even close family were not speaking to him over Israel. And I have seen this for myself on numerous occasions. There is not a lot of bandwidth on this issue. Conversations about Israel even inside the liberal Jewish community are emotionally loaded, and result in people not speaking to one another.  I lost this blog at a mainstream publication because the editor was Jewish and conservative on Israel and so was the new owner, and the publisher had worked for AIPAC. And all of them would likely call themselves liberal Democrats.
As former CNN correspondent Linda Scherzer has said, "We, as Jews, must understand that we come with a certain bias …We believe in the Israeli narrative of history. We support the values that we as Americans, Westerners, and Jews espouse. Thus, we see news reporting through our own prism."
There are many American Jewish journalists who have done great independent work re Israel/Palestine. Richard Ben Cramer and the late Robbie Friedman leap to mind. But both these guys are exceptional, and had to overcome/ignore a ton of pressure that most of us would quail under. They had to step outside the Jewish family to do their work…
The result is that Americans are not getting the full story re Israel/Palestine. Slater says this dramatically in his paper–that the Times has deprived American leadership of reporting on the moral/political crisis that Israel is undergoing, one that Haaretz has covered unstintingly. At Columbia the other night, Jew, Arab and gentile on a panel about the human-rights crisis in Gaza all said that Americans are not getting the full story. Ilan Pappe has marveled in his book The Ethnic Cleansing of Palestine, that the Nakba is all but unmentioned in the U.S.–while Haaretz has sought at times to document it, for instance a former officer saying in 2004 that if he had not helped to destroy 200 villages in southern Israel in '48, there would be another million Palestinians in Israel. To repeat Scherzer's admission: "We believe in the Israeli narrative of history…"
Why does the American press behave differently from the Israeli press? I think the answer is guilt. The Jewish cohort of which I am a part has largely accepted the duty that Max Frankel felt, of supporting Israel. This duty is rarely interrogated, and yet consciously or not we all know that American public opinion/leadership is critical to  Israel's political invulnerability; and we think that if we take their fingers out of the dike, who knows what will happen. That is a ton of responsibility. This responsibility is not executed with special care.
Generally, my cohort hasn't been to Israel, hasn't seen the West Bank. But they do feel kinship with Israeli Jews, and–above all–have guilt feelings about the Holocaust, or the American Jewish silence about it during the event, the Jewish passivity; and they are determined not to be passive during Israel's neverending existential crises. And thus they misunderstand Israel and fail to serve their readers.
Posted by
Philip Giraldi
on Feb 17 2008 . Filed under
Featured articles
,
Media distortion
. You can follow any responses to this entry through the
RSS 2.0
. Both comments and pings are currently closed.