Dozens Injured by Israeli Army In Nonviolent Protests In West Bank
Apr 5 2014 / 11:48 pm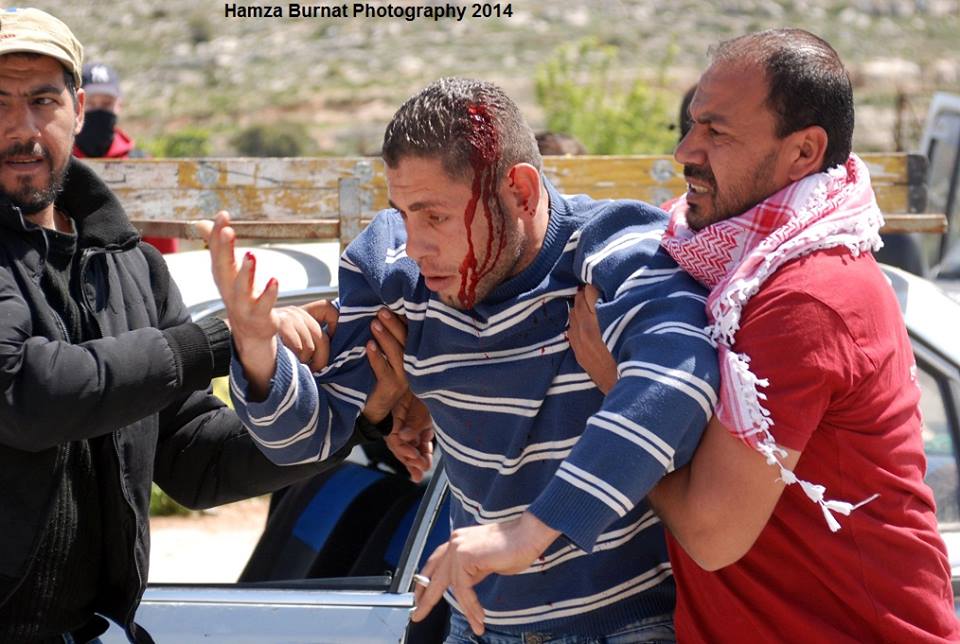 IMEMC – Palestinian medical sources have reported that dozens of Palestinians have been injured, including several residents shot by rounds of live ammunition, after Israeli soldiers attacked nonviolent protests in different parts of the occupied West Bank.
Medical sources in Kufur Qaddoum, near the northern West Bank city of Qalqilia, said that dozens suffocated after inhaling gas fired by the army when the soldiers attacked their weekly protest demanding Israel to reopen the main road of their village that the army closed 13 years ago.
Morad Eshteiwy, coordinator of the Popular Committee against the Wall in Qalqilia, said dozens of soldiers attacked the nonviolent protesters from different sides, and fired gas bombs, concussion grenades, rubber-coated metal bullets, and several rounds of live ammunition.
The protesters marched denouncing the ongoing Israeli violations and crimes against the Palestinians people, Israel's refusal to release the fourth phase of veteran detainees, and its ongoing and escalating illegitimate settlement construction and expansion activities.
In Bethlehem, several Palestinians suffered the effects of tear gas inhalation after the soldiers attacked the weekly protests at the northern entrance of the city, near the illegal Annexation Wall in the area.
The protesters, including political leaders and representatives several organizations, marched close to the Caritas Hospital, and held Friday prayers before marching towards roadblock #300, north of Bethlehem, carrying Palestinian flags, and posters, and chanted for the liberation of Palestine and the release of all political prisoners held by the Israeli occupation army.
The soldiers attacked the protesters, fired gas bombs and concussion grenades at them, and violently assaulted several journalists.
Also in Bethlehem, soldiers assaulted nonviolent protesters holding their weekly protest against the Annexation Wall and settlements in the al-Ma'sara village, and prevented them from reaching their orchards.
In Ramallah, dozens of Palestinians were injured, some with live rounds, after the army assaulted nonviolent protesters near the Ofer Israeli military prison.
At least two journalists were injured, one of them, Mohammad Basman Yassin, a cameraman from Bil'in nearby village, was seriously injured after being shot in the chest.
Posted by
Philip Giraldi
on Apr 5 2014 . Filed under
News from the Middle East
. You can follow any responses to this entry through the
RSS 2.0
. Both comments and pings are currently closed.