Dumb Moves Have Consequences The nuclear agreement with Iran is worth preserving
May 1 2018 / 1:23 pm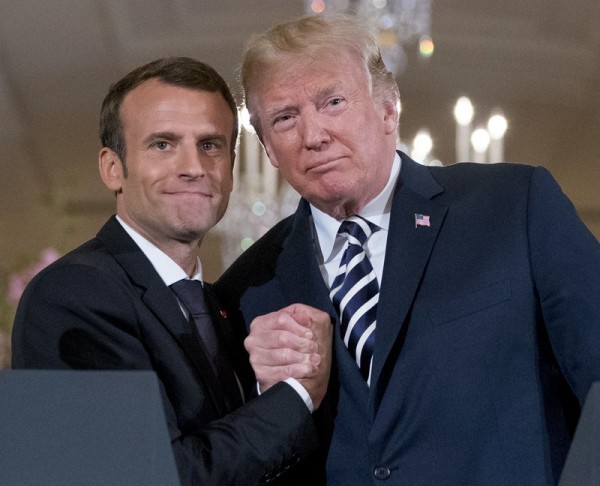 The analysis of the recent exchanges between French President Emmanuel Macron and President Donald Trump suggest that Washington is most likely about to withdraw from the Joint Comprehensive Plan of Action (JCPOA) nuclear agreement with Iran that was signed by the U.S. and five other governments in July 2015. The decision will likely be made public before the deadline on re-ratifying the agreement, which is May 12th. As one informed observer has noted, "a train wreck is probably coming, with very damaging consequences that are hard to predict."
Macron was polite, both in his meeting with Trump and during his speech before Congress, not hammering on the unimaginable awfulness of the White House decision while also offering an alternative, i.e. cooperation with the United States to improve the nuclear agreement while also supporting the principle that it is worth saving. Whether that subtle nudge, coupled with a pledge that Iran will never get a nuclear weapon, will be enough to change minds either in Congress or the White House is questionable as the unfortunate truth is that going to war with Iran is popular among the policy makers and media for the usual reason: it is a major foreign policy objective of the Israeli government and its powerful U.S. lobby.
Iran has been vilified for decades in the American media and it rarely gets a fair hearing anywhere, even when its behavior has not been particularly objectionable. Currently, it is regularly demonized by the Israelis and their supporters over its apparent plan to create an arc of Shi'a states extending through Iraq and Syria to Lebanon, a so-called "land bridge" to the Mediterranean Sea. What that would accomplish exactly has never really been made clear and it assumes that the Syrians and Iraqis would happily surrender their sovereignty to further the project.
The Iranians for their part have made it clear that no modification of the agreement is possible. They note, correctly, that the JCPOA was not a bilateral commitment made between Tehran and Washington. It also included as signatories Russia, China, France, Britain and the European Union and was ratified by the United Nations (P5+1). They and others also have noted that U.S. exit from the agreement will mean that other nations will negotiate with Washington with the understanding that a legal commitment entered into by the President of the United States cannot be trusted after he is out of office.
Under the JCPOA, Iran agreed to eliminate its stockpile of medium-enriched uranium, cut its stockpile of low-enriched uranium by 98%, and reduce by two-thirds the number of its gas centrifuges for 13 years. For the next 15 years, Iran will only enrich uranium up to non-weapons level of 3.67%. Iran also pledged not to build any new heavy-water facilities and to limit uranium-enrichment activities for research and medical purposes to a plant using old technology centrifuges for a period of 10 years. To guarantee compliance with the agreement, Iran accepted the International Atomic Energy Agency (IAEA) proposal that it have highly intrusive access by a team of unannounced inspectors of all the country's nuclear facilities. In return, Iran was to receive relief from U.S., European Union, and United Nations Security Council sanctions, an aspect of the agreement that the United States has never fully complied with.
Trump's objection to the agreement is that it is a "bad deal" that virtually guarantees that Iran will have a nuclear weapon somewhere down the road. There is, however, no factual basis for that claim and that it is being made at all is largely reflective of Israeli and Israel Lobby propaganda. It is, on the contrary, an American interest not to have another nuclear proliferator in the Middle East in addition to Israel, which Washington has never dared to confront on the issue. The JCPOA agreement guarantees that Iran will not work to develop a weapon for at least ten years which is a considerable benefit considering that Tehran, if it had chosen to initiate such a program, could easily have had breakout capability in one year.
The U.S. and Israel are also expressing concern about Iranian ballistic missile capability. Again, ballistic missiles would appear to be a weapon that Israel alone seeks to monopolize in its neighborhood because it seeks to regard itself as uniquely threatened, that is, always the victim. It is an argument that sells well in the U.S. Congress and in the media, which has apparently also obtained traction in the White House. It is nevertheless a fake argument contrived by the Israelis. The missiles under development do not in any way threaten the United States and they were not in any event part of the agreement and should not be considered a deal breaker.
Ironically, the JCPOA is approved of by most Americans because it prevents the development of yet another potentially hostile nuclear armed power in a volatile part of the world. American Jews, in fact, support it more than other Americans, according to opinion polls. Even the generals in the Pentagon favor continuing it as do U.S. close allies Germany, France and Britain. The ability of Israel and its Lobby to dominate U.S. foreign policy formulation in certain areas is thereby exposed for what it is: sheer manipulation of our system of government by a small group dedicated to the interests of a foreign government using money and the political access that money buys to achieve that objective.
Those who argue that the withdrawal of the U.S. from JCPOA will be countered by the continued cooperation of the other signatories to the agreement are, one might unfortunately note, somewhat delusional. The U.S. has tremendous leverage in financial markets. If it chooses to sanction Iran over its missiles while also re-introducing the old sanctions relating to the nuclear developments, it would be a brave European or Asian banker who would risk being blocked out of the American market by lending money or selling certain prohibited goods to the Iranians. The United States could force the entire JCPOA quid pro quo agreement to collapse, and that might be precisely what the White House intends to do.
Add into the equation the clearly expressed and oft-times repeated Israeli intentionto begin a war with Iran, starting in Syria, sooner rather than later, a disaster for American foreign policy is developing that might well make Iraq and Afghanistan look like cake walks. Iran will surely strike back in response either to the termination of the JCPOA or to Israeli bombing of its militiamen and surrogates in Syria. America forces in the region will surely be sucked into the conflict by Israel and will wind up taking the fall. Someone should tell Donald Trump that there are real world consequences for breaking agreements and rattling sabers. But who will tell him? Will it be John Bolton or Nikki Haley or Mike Pompeo? I doubt it.
Posted by
Angela Giraldi
on May 1 2018 . Filed under
Commentary & Analysis
,
Philip Giraldi
. You can follow any responses to this entry through the
RSS 2.0
. Both comments and pings are currently closed.