Elizabeth Warren Finally Speaks on Israel/Gaza, Sounds like Netanyahu
Aug 28 2014 / 8:56 am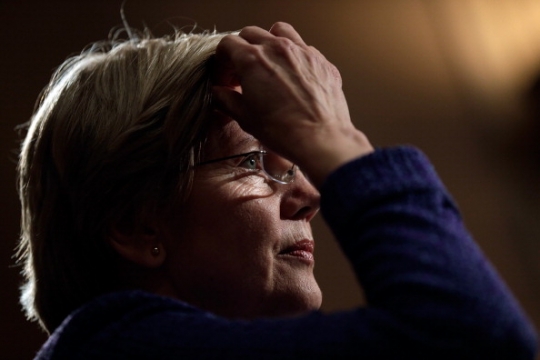 By Glenn Greenwald.
The Intercept – The last time Elizabeth Warren was asked about her views on the Israeli attack on Gaza – on July 17 – she, as Rania Khalek put it, "literally ran away" without answering. But last week, the liberal Senator appeared for one of her regularly scheduled "office hours" with her Massachusetts constituents, this one in Hyannis, and, as a local paper reported, she had nowhere to run.
One voter who identified himself as a Warren supporter, John Bangert, stood up and objected to her recent vote, in the middle of the horrific attack on Gaza, to send yet another $225 million of American taxpayer money to Israel for its "Iron Dome" system. Banger told his Senator: "We are disagreeing with Israel using their guns against innocents. It's true in Ferguson, Missouri, and it's true in Israel . . .  The vote was wrong, I believe." To crowd applause, Bangert told Warren that the money "could have been spent on infrastructure or helping immigrants fleeing Central America."
But Warren steadfastly defended her "pro-Israel" vote, invoking the politician's platitude: "We're going to have to agree to disagree on this one." According to the account in the Cape Cod Times by reporter C. Ryan Barber, flagged by Zaid Jilani, Warren was also asked about her Israel position by other voters who were at the gathering, and she went on to explain:
"I think the vote was right, and I'll tell you why I think the vote was right. America has a very special relationship with Israel. Israel lives in a very dangerous part of the world, and a part of the world where there aren't many liberal democracies and democracies that are controlled by the rule of law. And we very much need an ally in that part of the world."

Warren said Hamas has attacked Israel "indiscriminately," but with the Iron Dome defense system, the missiles have "not had the terrorist effect Hamas hoped for." When pressed by another member of the crowd about civilian casualties from Israel's attacks, Warren said she believes those casualties are the "last thing Israel wants."

"But when Hamas puts its rocket launchers next to hospitals, next to schools, they're using their civilian population to protect their military assets. And I believe Israel has a right, at that point, to defend itself," Warren said, drawing applause.
Warren even rejected a different voter's suggestion that the U.S. force Israel to at least cease building illegal settlements by withholding further aid: "Noreen Thompsen, of Eastham, proposed that Israel should be prevented from building any more settlements as a condition of future U.S. funding, but Warren said, 'I think there's a question of whether we should go that far.'"
In her defense, Warren has long been clear that this is what she would do. Her Senate campaign website still contains statements such as "it is a moral imperative to support and defend Israel" and "as a United States Senator, I will work to ensure Israel's security and success."
During her time in the national spotlight, Warren has focused overwhelmingly on domestic issues, rarely venturing into foreign policy discussions. Many of those domestic views, particularly her strident-for-D.C. opposition to banks, have been admirable, elevating her to hero status for many progressives.
But when Warren has spoken on national security, she has invariably spouted warmed-over, banal Democratic hawk tripe of the kind that she just recited about Israel and Gaza. During her Senate campaign, for instance, she issued wildly militaristic – and in some cases clearly false – statementsabout Iran and its nuclear program that would have been comfortable on the pages of The Weekly Standard. 
Even as conservative Democratic Senate candidates from red states such as Nebraska's Bob Kerrey were vehemently condemning the threat of war against Iran during their campaigns, Warren was claiming (contrary to the U.S. Government's own assessment) that "Iran is pursuing nuclear weapons", adding: "I support strong sanctions against Iran and believe that the United States must also continue to take a leadership role in pushing other countries to implement strong sanctions as well." Those claims about Iran's pursuit of nuclear weapons remained her position even after she was told that they squarely contradict the U.S. intelligence community's clear assessment of Iran's actions.
In related news, the British newspaper The Telegraph yesterday published the names of all 504 children who were killed in Gaza over the last 50 days by Israel. In the last week, Israel deliberately destroyed an entire largeresidential apartment building after giving its residents less than an hour to vacate, leaving more than 40 families homeless, and also destroyed a seven-story office building and two-story shopping center (the video of the apartment building destruction is online and ugly to watch).
Echoing Benjamin Nentayahu (and Hillary Clinton), Elizabeth Warren's clear position is that Israel bears none of the blame for any of this. Or, to use her words, "when Hamas puts its rocket launchers next to hospitals, next to schools, they're using their civilian population to protect their military assets. And I believe Israel has a right, at that point, to defend itself." Such carnage is the "last thing Israel wants." The last thing. That, ladies and gentlemen, is your inspiring left-wing icon of the Democratic Party.
Posted by
Philip Giraldi
on Aug 28 2014 . Filed under
Commentary & Analysis
. You can follow any responses to this entry through the
RSS 2.0
. Both comments and pings are currently closed.