Facing criticism, Lt. Gov. candidate Hutchison discloses all-expenses-paid Israel trip
Feb 6 2014 / 8:21 pm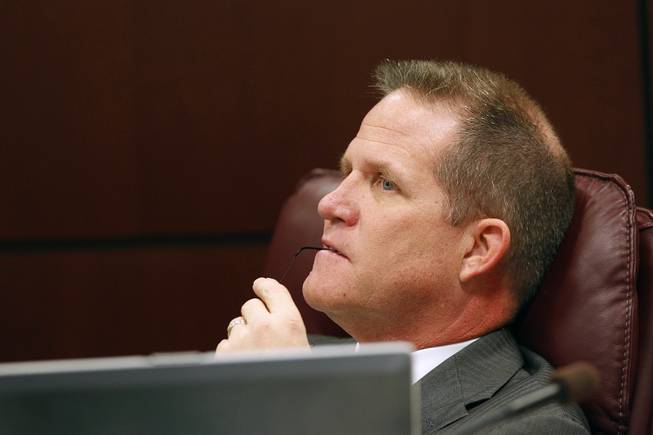 By Andrew Doughman.
Las Vegas Sun, 1/28/14 – State Sen. Mark Hutchison, a Republican candidate for lieutenant governor, decided Monday to disclose an all-expenses-paid trip to Israel last year.
Hutchison had faced criticism from another Republican lieutenant governor candidate, Sue Lowden, who called on Hutchison to disclose the trip as a gift.
Although state law calls for elected officials to annually disclose any gifts worth $200 or more, Hutchison and several other state senators who went on similar trips to Israel cited a legislative legal opinion that said it's OK to keep such "educational" trips private.
Noting Hutchison had once served as a state ethics commissioner and advertises his specialty in ethics law at his legal practice, Lowden said Hutchison should report the trip so as to be "on the safe side of integrity."
After being contacted by the Sun about the omission, Hutchison now lists on his annual financial disclosure form the $15,000 trip sponsored by the American Israel Education Foundation as an "Educational Seminar in Israel for Southern Pacific Republican Leaders." The American Israel Education Foundation is a nonprofit affiliate of the American Israeli Public Affairs Committee, a lobbying group that advocates for pro-Israel policies.
Sens. Michael Roberson, R-Henderson, and Greg Brower, R-Reno, were also on the trip. Sen. Aaron Ford, D-Las Vegas, took a separate sponsored trip to Israel.
Roberson reported today a $11,100.26 gift from the American Israel Education Foundation, and Brower also reported today an $11,613.86 gift from the same organization.
Ford reported Monday a $12,000 gift from the foundation.
Hutchison's disclosure takes place within a larger legal and regulatory debate between legislative lawyers and the Secretary of State's Office, which contends such educational trips do need to be disclosed.
Several elected officials did not report gifts they received in 2013, but legislative lawyers are still contesting whether legislators need to report such trips.
"There seems to be a difference of opinion between the secretary of state and Legislative Counsel Bureau," Brower said "So rather than exacerbating that dispute, we would just amend our reports and let the secretary of state and the LCB continue to try to resolve it. People will try to make political hay out of it, but it's really a very simple matter of following legal counsel's advice."
The Secretary of State's Office took no action to compel the legislators to disclose the trip, said Catherine Lu, spokeswoman for the Secretary of State's Office.
Although elected officials sign their financial disclosure forms by affirming "the information I have provided herein is accurate and complete," they can amend these forms later with little to no penalty.
Neither Hutchison nor Lowden's campaign commented about the new disclosure.
Brower said much of the confusion stems from the lack of a definition of a gift in Nevada law.
Although legislators have tried to pass bills defining what is and isn't a gift, those efforts have failed.
"This situation obviously brings to light the fact that there's some vagueness in the law that probably needs to be cleared up," Brower said.
The Legislature next meets in 2015..
Posted by
Philip Giraldi
on Feb 6 2014 . Filed under
Commentary & Analysis
,
Featured articles
,
Israel Lobby
. You can follow any responses to this entry through the
RSS 2.0
. Both comments and pings are currently closed.