Five Palestinians Injured After Israeli Fanatics Invade Al-Aqsa Mosque
May 28 2014 / 6:31 pm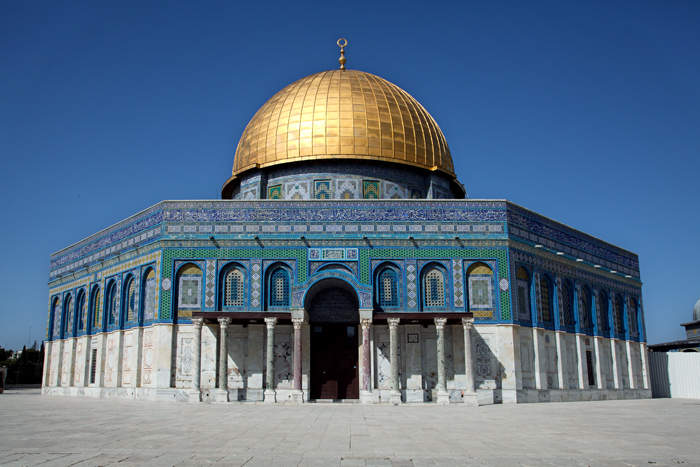 IMEMC – At least Five Palestinians were injured when more than 200 Israeli militants invaded the yards of the al-Aqsa Mosque, in occupied Jerusalem. The Palestinians managed to push the invading radicals away.
Local sources said that dozens of Israeli police officers accompanied the settlers, attacking local worshipers before withdrawing and taking the settlers with them due to ensuing protests.
They added that at least five worshipers were injured in their heads after being assaulted by the police and settlers, and were moved to local hospitals.
Israeli settlers were dancing to loud music and were chanting against the Arabs and Palestinians while waving Israeli flags in the Chain Gate area, as dozens of soldiers surrounded the mosque.
Later on, soldiers closed the al-Magharba Gate, and reopened the gates of the al-Aqsa Mosque but continued to stop and questions local youth while inspecting their ID cards.
The WAFA News Agency said workers of the Palestinian Islamic Waqf and Endowment Department, said they fear more attacks are still to come, especially since today's attack came only 24 hours after a similar attack, in addition to previous frequent attacks.
They said Palestinians would counter all Israeli attempts to invade the mosque area, especially amidst the escalating Israeli assaults prompted by Israel's so-called "Jerusalem Day", the 47th Anniversary of the illegitimate Israeli occupation of Jerusalem and the West Bank.
While hundreds of settlers are still gathered in nearby areas, dancing and waving Israeli flags, dozens of soldiers were also deployed in alleys and Arab neighborhoods in the Old City.
Sheikh Omar al-Kisawny, head of the Al-Aqsa Mosque, held the Israeli police responsible for the clashes, saying police were asked, on Tuesday, to close the al-Magharba Gate, to prevent the settlers from invading it, but the police failed to act.
He added that the police enabled the assault, protected the attackers, and allowed them to conduct provocative acts that led to clashes.
"The occupation government supports those extremists, and knows their intentions very well," al- Kisawny said. "They allowed the attack to take place through al-Magharba Gate and the Chain Gate, and they also attacked Palestinian worshipers and mosque employees."
Posted by
Philip Giraldi
on May 28 2014 . Filed under
News from the Middle East
. You can follow any responses to this entry through the
RSS 2.0
. Both comments and pings are currently closed.