Florida Congresswoman Sides with Israeli Police Over Her Own Brutalized Teenage Constituent
Jul 13 2014 / 7:49 pm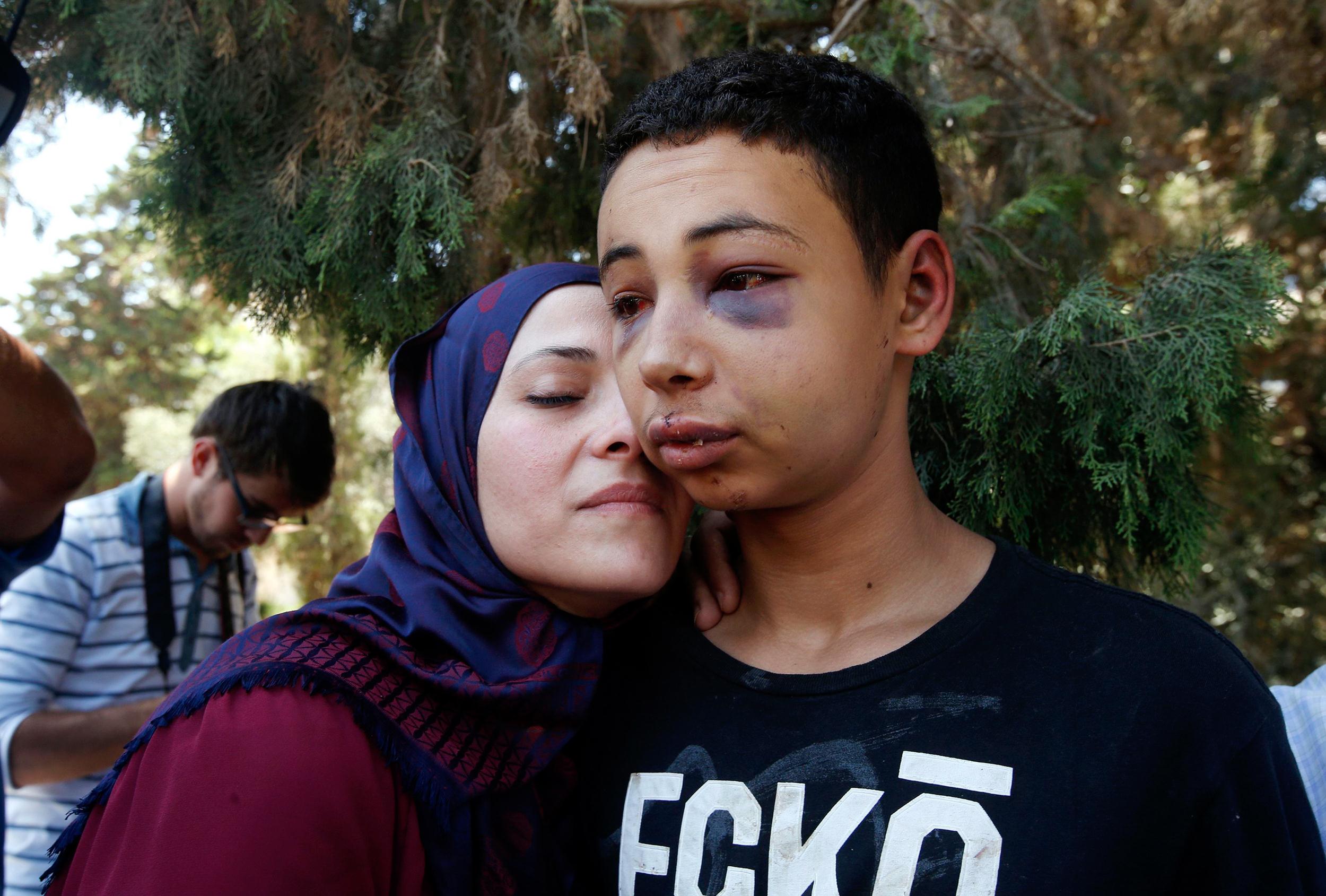 By Max Blumenthal.
Alternet – On July 10, Democratic Representative Kathy Castor of Florida's Tampa Bay area issued an impassioned plea for the protection of endangered manatees. At the same time, she remained conspicuously silent about the brutal beating and ongoing detention of one of her constituents by a foreign government.
Tarek Abu Khdeir, a 15-year-old Palestinian-American high school student from Tampa, was brutally beaten in a videotaped July 3 incident in occupied East Jerusalem by Israeli border police. After being thrown in prison, he is now held under house arrest without charges, unable to receive adequate medical care for the extensive injuries he sustained during the beating. (Video of the alleged beating at the bottom of this article)
Abu Khdeir's family has beseeched their congressional representative, Castor, to publicly call for his release and immediate return to the United States. Though her staff has met repeatedly with the family, she has said and done nothing of substance to assist them.
"If Tarek [Abu Khdeir] was a Jewish American teen, everybody and their mother would be howling for his release," Hassan Shibly, chief director of CAIR-Florida and the Abu Khdeir family's legal representative told me. "What we're seeing here is a clear double standard."
While sources close to Abu Khdeir's family say Castor's staff has treated the family with respect even as they rebuffed their demands, a distant relative who visited Castor's field office in Washington D.C. to plead for help said she was "yelled out, intimidated, and insulted" by a staffer.
Despite my repeated requests for an interview, members of Castor's staff have refused to discuss the case with me.
In a private letter issued to Abu Khdeir's family, Castor pointedly stated that she had not called for the teen's release and return to the US. Instead, she assured them that she "requested for Tariq to be provided with the appropriate and needed medical care and for [her] to be kept apprised of any plans of his return to the United States." In a separate letter to the US consulate in Jerusalem, Castor merely stated that she would "appreciate being kept apprised of any plans for the return of Tariq and his parents to the United States."
Florida Rep's Bill Deutsch and Ileana Ros-Lehtenin recently embarked on a junket to Israel where they met with Prime Minister Benjamin Netanyahu, issued statements of sympathy for the three Jewish Israeli teens kidnapped and killed last month apparently by Palestinian militants, and expressed vehement support for Israel's ongoing military assault on the West Bank and Gaza Strip. Neither lawmaker has said a word on Abu Khdeir's beating and detention, however.
While Florida Senator Bill Nelson has kept mum over Abu Khdeir, another Florida Democrat, Representative Dennis Ross, a Republican, sent a letter to a member of the Abu Khdeir family questioning whether Tariq Abu Khdeir was actually innocent. "Though all of the facts surrounding the incident remain somewhat unclear," Ross wrote, "it is widely reported that Tariq was participating in a protest in Palestine in response to the kidnapping and murder of his cousin, a Palestinian teenager."
In fact, Abu Khdeir was in Jerusalem for a family wedding and denied any participation in the rioting sparked by the news of his cousin's murder. "[The police] just kept beating him," Leen Barghouti, a Georgetown University graduate student from East Jerusalem who witnessed the incident told journalist Alex Kane. "It was pretty much an ambush."
Barghouti added, "It was really crazy. [Tariq Abu Khdeir] wasn't anywhere near the main street, that's the weird part. I know they keep saying he was taking part in the demonstration or clashes, but he wasn't anywhere near the street."
In CCTV video footage of the beatingaired on international media outlets and disseminated across the internet, Abu Khdeir appeared prostrate, fully immobilized and restrained as two cops gratuitously kicked and pummeled his head and torso. He told reporters that he was beaten so badly he lost consciousness.
After the beating, Abu Khdeir was jailed in the Russian Compound in central Jerusalem, a detention center where Palestinian suspects are occasionally tortured. There, according to his family, he was badly beaten again.
Through their lobbying of the US Embassy in Israel, family members were able to get Abu Khdeir transferred to a nearby hospital, where he was handcuffed to his bed. "I thought I was dead for a second until I woke up in the hospital," he told reporters. The teen was then taken back to prison.
Only after the State Department called for an investigation into the incident and his parentsposted $877 in bail did the Israeli police release Abu Khdeir to his family in Jerusalem, where he remains under house arrest. He has yet to be formally charged for any crime.
Abu Khdeir had been caught in the maelstrom of rioting sparked by the discovery of the body of his cousin, Mohammed Abu Khdeir, a 16-year-old kidnapped and burned alive by young supporters of Israel's right-wing governing parties. A sadistic revenge attack preceded by the killing of three Israeli teens in the occupied West Bank, the murder followed a tide of inflammatorystatements by Prime Minister Benjamin Netanyahu and members of his government.
As Israel's assault on the Gaza Strip intensifies, leaving over 150 dead and more than 1000 badly wounded — almost entirely civilians, according to the UN — the Abu Khdeir family has kept up the pressure on Castor, Nelson, and the rest of Florida's congressional delegation. After more than a week without action from their representatives, their patience is running out.
Shibly, the Abu Khdeir family's legal representative, captured the sense of frustration: "The silence we're witnessing from Castor and the rest of Congress gives the impression that they care more about Israeli police officers than an American teen."
Watch: Palestinian TV shows alleged beating of TarekAbu Khdeir
Posted by
Philip Giraldi
on Jul 13 2014 . Filed under
Commentary & Analysis
,
Featured articles
,
Israel Lobby
. You can follow any responses to this entry through the
RSS 2.0
. Both comments and pings are currently closed.