Gaza Crisis: Israel Outflanks the White House on Strategy
Aug 14 2014 / 1:14 pm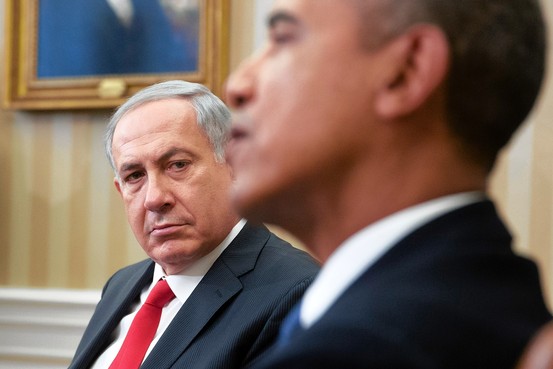 By Adam Entous.
Wall Street Journal – JERUSALEM—White House and State Department officials who were leading U.S. efforts to rein in Israel's military campaign in the Gaza Strip were caught off guard last month when they learned that the Israeli military had been quietly securing supplies of ammunition from the Pentagon without their approval.
Since then the Obama administration has tightened its control on arms transfers to Israel. But Israeli and U.S. officials say that the adroit bureaucratic maneuvering made it plain how little influence the White House and State Department have with the government of Israeli Prime Minister Benjamin Netanyahu —and that both sides know it.
The munitions surprise and previously unreported U.S. response added to a string of slights and arguments that have bubbled behind the scenes during the Gaza conflict, according to events related by senior American, Palestinian and Israeli officials involved.(See photos and maps surveying the destruction in Gaza.)
In addition, current and former American officials say, U.S.-Israel ties have been hurt by leaks that they believe were meant to undercut the administration's standing by mischaracterizing its position and delay a cease-fire. The battles have driven U.S.-Israeli relations to the lowest point since President Barack Obama took office.
Now, as Egyptian officials shuttle between representatives of Israel and Hamas seeking a long-term deal to end the fighting, U.S. officials are bystanders instead of in their historic role as mediators. The White House finds itself largely on the outside looking in.
U.S. officials said Mr. Obama had a particularly combative phone call on Wednesday with Mr. Netanyahu, who they say has pushed the administration aside but wants it to provide Israel with security assurances in exchange for signing onto a long-term deal.
As a 72-hour pause in the fighting expired at midnight Wednesday, a senior Hamas official said negotiators agreed to another cease-fire, this one of five days. The cease-fire was holding on Thursday.
The frayed relations raise questions about whether Mr. Obama and Mr. Netanyahu can effectively work together. Relations between them have long been strained over other issues, including Mr. Obama's outreach to Iran and U.S.-backed peace talks with the Palestinians.
Today, many administration officials say the Gaza conflict—the third between Israel and Hamas in under six years—has persuaded them that Mr. Netanyahu and his national security team are both reckless and untrustworthy.
Israeli officials, in turn, describe the Obama administration as weak and naive, and are doing as much as they can to bypass the White House in favor of allies in Congress and elsewhere in the administration.
While Israeli officials have privately told their U.S. counterparts the poor state of relations isn't in Israel's interest long term, they also said they believed Mr. Netanyahu wasn't too worried about the tensions. The reason is that he can rely on the firmness of Israeli support in Congress, even if he doesn't have the White House's full approval for his policies. The prime minister thinks he can simply wait out the current administration, they say.
"The allegations are unfounded," said Israel's ambassador to the U.S., Ron Dermer. "Israel deeply appreciates the support we have received during the recent conflict in Gaza from both the Obama administration and the Congress for Israel's right to defend itself and for increased funding of Iron Dome."
A senior Obama administration official said the White House didn't intend to get into a "tit for tat" with the Israelis when the war broke out in Gaza. "We have many, many friends around the world. The United States is their strongest friend," the official said. "The notion that they are playing the United States, or that they're manipulating us publicly, completely miscalculates their place in the world."
American officials say they believe they have been able to exert at least some influence over Mr. Netanyahu during the Gaza conflict. But they admit their influence has been weakened as he has used his sway in Washington, from the Pentagon and Congress to lobby groups, to defuse U.S. diplomatic pressure on his government over the past month.
Tensions really started to flare after Israel launched Gaza ground operations July 17 and the civilian death toll started to rise sharply, prompting U.S. officials to complain that Israel wasn't showing enough restraint. Israeli officials rejected that notion, saying Hamas was using civilians as human shields.
U.S. officials say Mr. Netanyahu told them he was interested in a cease-fire from the start, but the two sides clashed over the process of achieving one and the players who would take part.
Bracing for a longer military campaign than expected, Israel approached the Defense Department within days of the start of the ground fighting to request money for more interceptors for the Iron Dome, which shoots down rockets aimed at population centers.
After consulting with the White House, Defense Secretary Chuck Hagel told aides to submit a proposal to Congress for $225 million.
Within the administration, the request was deemed noncontroversial because the Iron Dome was defensive and couldn't be used in Gaza ground fighting, U.S. officials said.
In meetings at the Pentagon, the State Department and the White House, Israeli officials told the Americans Israel had enough Iron Dome interceptors for the current Gaza operation, but wanted to replenish its stocks, according to U.S. officials who attended. So with Israel's consent, the administration didn't seek immediate emergency funding, Pentagon officials said, adding that they expected Congress to approve the request sometime in the fall.
Unknown to many policy makers, Israel was moving on separate tracks to replenish supplies of lethal munitions being used in Gaza and to expedite approval of the Iron Dome funds on Capitol Hill.
On July 20, Israel's defense ministry asked the U.S. military for a range of munitions, including 120-mm mortar shells and 40-mm illuminating rounds, which were already kept stored at a pre-positioned weapons stockpile in Israel.
The request was approved through military channels three days later but not made public. Under the terms of the deal, the Israelis used U.S. financing to pay for $3 million in tank rounds. No presidential approval or signoff by the secretary of state was required or sought, according to officials.
A U.S. defense official said the standard review process was properly followed.
While the military-to-military relationship between Israel and the U.S. was operating normally, ties on the diplomatic front were imploding. For the Americans, they worsened dramatically on July 25, when aides to Secretary of State John Kerry sent a draft of a confidential cease-fire paper to Mr. Netanyahu's advisers for feedback.
The Americans wanted the Israelis to propose changes. The U.S. didn't intend or expect the draft paper to be presented to the Israeli cabinet, but that was what Mr. Netanyahu did. U.S. officials say Mr. Netanyahu's office breached protocol by sending back no comments and presenting the paper to the cabinet for a vote.
The paper was also leaked to the Israeli media. U.S. officials say they believe the Israeli government publicly mischaracterized Mr. Kerry's ideas with the intent of buying more time to prosecute the fight against Hamas because Israeli officials were angry over outreach by Mr. Kerry to Qatar and Turkey.
Israel and Egypt had sought to sideline Qatar and Turkey—two countries that backed Hamas—rather than increase their influence. U.S. officials say Mr. Kerry reached out to the two because they had leverage with Hamas that would be critical to getting the group to agree to another cease-fire.
From Israel's perspective, Mr. Kerry's cease-fire draft reflected an approach "completely out of sync with Israel, not just on a governmental level but on a societal level," said Michael Oren, a former Israeli ambassador to the U.S. under Mr. Netanyahu.
"The best thing that Kerry can do is stay out… We need time to do the job, we need to inflict a painful and unequivocal blow on Hamas. Anything less would be a Hamas victory," Mr. Oren said.
The watershed moment came in the early morning in Gaza July 30. An Israeli shell struck a United Nations school in Jabaliya that sheltered about 3,000 people. Later that day, it was reported in the U.S. that the 120-mm and 40-mm rounds had been released to the Israeli military.
"We were blindsided," one U.S. diplomat said.
White House and State Department officials had already become increasingly disturbed by what they saw as heavy-handed battlefield tactics that they believed risked a humanitarian catastrophe capable of harming regional stability and Israel's interests.
They were especially concerned that Israel was using artillery, instead of more precision-guided munitions, in densely populated areas. The realization that munitions transfers had been made without their knowledge came as a shock.
"There was no intent to blindside anyone. The process for this transfer was followed precisely along the lines that it should have," another U.S. defense official said.
Then the officials learned that, in addition to asking for tank shells and other munitions, Israel had submitted a request through military-to-military channels for a large number of Hellfire missiles, according to Israeli and American officials.
The Pentagon's Defense Security Cooperation Agency, or DSCA, was about to release an initial batch of the Hellfires, according to Israeli and congressional officials. It was immediately put on hold by the Pentagon, and top officials at the White House instructed the DSCA, the U.S. military's European Command and other agencies to consult with policy makers at the White House and the State Department before approving any additional requests.
A senior Obama administration official said the weapons transfers shouldn't have been a routine "check-the-box approval" process, given the context. The official said the decision to scrutinize future transfers at the highest levels amounted to "the United States saying 'The buck stops here. Wait a second…It's not OK anymore.' "
White House and State Department officials were worried about public reaction.
The Palestinians, in particular, were angry, according to U.S. diplomats.
"The U.S. is a partner in this crime," Jibril Rajoub, a leader in Palestinian President Mahmoud Abbas's Western-backed Fatah party, said of the decision to provide arms to Israel during the conflict.
Even as tensions with the White House and the State Department were spilling over, Israeli officials worked to expedite the Iron Dome money on Capitol Hill.
Republican Sen. John McCain of Arizona said Israeli officials told lawmakers the money was urgently needed because they were running out of interceptors and couldn't hold out for a month or more.
Sen. Lindsey Graham, a South Carolina Republican, said Congress's goal in approving the money quickly on Aug. 1 was to send a message to the administration to stop calling Israel out about civilian casualties.
A senior Republican congressional aide said Israeli officials told senators they wanted the money sooner rather than later. He said Israel's main purpose in accelerating the vote in Congress to before legislators' August recess was to provide an overwhelming "show of support" for the military operation.
The last straw for many U.S. diplomats came on Aug. 2 when they say Israeli officials leaked to the media that Mr. Netanyahu had told the U.S. ambassador to Israel, Dan Shapiro, that the Obama administration was "not to ever second-guess me again" about how to deal with Hamas.
The White House and State Department have sought to regain greater control over U.S.-Israeli policy. They decided to require White House and State Department approval for even routine munitions requests by Israel, officials say.
Instead of being handled as a military-to-military matter, each case is now subject to review—slowing the approval process and signaling to Israel that military assistance once taken for granted is now under closer scrutiny.
A senior U.S. official said the U.S. and Israel clashed mainly because the U.S. wanted a cease-fire before Mr. Netanyahu was ready to accept one. "Now we both want one," one of the officials said.
A top Israeli official said the rift runs deeper than that. "We've been there before with a lot of tension with us and Washington. What we have now, on top of that, is mistrust and a collision of different perspectives on the Middle East," the official said. "It's become very personal."
—Joshua Mitnick contributed to this article.
Write to Adam Entous at adam.entous@wsj.com
Posted by
Philip Giraldi
on Aug 14 2014 . Filed under
Commentary & Analysis
,
Featured articles
. You can follow any responses to this entry through the
RSS 2.0
. Both comments and pings are currently closed.