Gaza outraged at Israel's use of GBU-28 missile
Aug 20 2014 / 9:23 am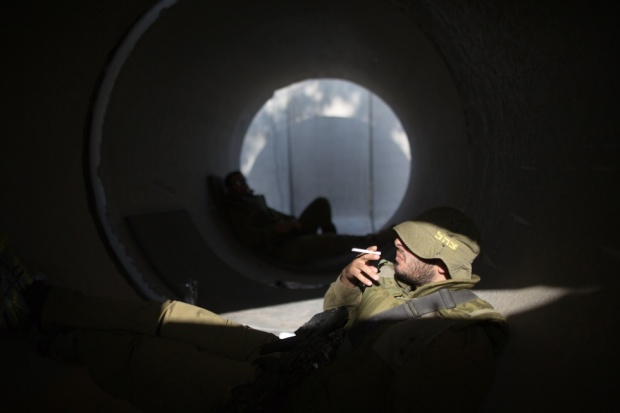 By Mohammed Omer.
Middle East Eye – GAZA CITY – "We either die as one or live as one," said Abu Suliman al-Buriem and his 11 family members, as they fled their home in al-Zannah area, east Khan Yunis.
Life doesn't have much pleasant news for the family of Abu Suliman; during the ceasefire, he leaves one UN school shelter in search of another – he said this time, Israel broke the ceasefire to evade signing a long-term ceasefire agreement.
"If it was just me alone, I'd have known how to cope, but this also involves the lives of my 11 family members – mostly children" he said, as he hurried his children to another shelter. This time, he said, he does not feel safe anywhere – the more the war continues the more Israel wants to test new weapons.
Yesterday, Israeli military used GBU-28 missiles to kill the Aldalou family.
Palestinians in Gaza were made to believe that peace was being negotiated toward an end to the war – but last night's airstrikes tell Abu Suliman that no-one is safe, still.
"Not even a child in his mother's womb," said Abu Suliman, referring to Nabila Allouh, whose home was hit by an Israeli airstrike, killing seven family members, including a heavily pregnant woman and her unborn baby.
In Gaza, the public is shocked that all targets, so far, are civilian – there is a general belief that this is to turn Gaza against resistance factions. But Abu Suliman said, "If we let the resistance down, who else will protect us from Israeli missiles?"
He said UN and Arab leaders remain silent on the constant murders of residents in Gaza. Anger is mounting more toward Arab states for not supporting long-occupied and besieged Palestinians.
Israel said that one airstrike was meant to assassinate Mohammed Deif – the chief of Hamas' military wing, Qassam Brigades. However, medical sources said that his wife and small baby were killed. Hamas sources said the apartment that Deif's wife was staying in is known among the public, and is not a resistance building.
Anger is also mounting among Gazans at Israel for testing its GBU-28 missile, apparently more destructive than F16 missiles.
Meanwhile, it appears that Israel didn't manage to assassinate Deif. Both Ismail Haniyeh and Mohammed Deif became leaders of the resistance after Israel assassinated Sheikh Ahmed Yassin, Dr. Abdelaziz al-Rantisi, and Ahmed al-Jabari.
Hamas sees any targeting of Hamas leaders as unlikely to crush the resistance spirit, although Qassam Brigades and many Gazans fear that it will spur more retaliation than ever before.
Abu Suliman said that Netanyahu tried to justify the war on Gaza to the international community, but that the United Nations reported that the majority of those killed and injured have been civilians.
During an interview on Al Aqsa TV, Hamas said that Mohammed Deif is the one who holds the authority to stop rockets fired from Gaza.
Six weeks of fierce bombardment has taken the lives of over 2,100 people and has injured 13,000 people, the majority of whom are civilians – and those numbers are increasing hourly. The public is confused as to what Israel's target could be.
Most of the targets are not informed of strikes – an eyewitness in Rafah said that he received a call from an Israeli officer, telling him to evacuate a home he had already left in 2009. The apartment was bombed and he didn't have time to tell the family who was living there to evacuate.
Hamas spokesman Fawzi Barhoum said that Israel started this war, as he asked Egypt to note that Palestinian factions did not fire rockets – it was Israeli troops that were recalled eight hours before the ceasefire expired in order to murder the wife and child of Mohammed Deif.
Egypt expressed "profound regret" at the end of the 10-day period of calm and said it would continue trying to secure a lasting truce.
It seems the apparent assassination attempt on Mohammed Deif may explain the intensity of rocket fire coming after the collapse of the Cairo peace talks.
Azzam al-Ahmed, a senior member of the Fatah movement of Palestinian Authority President, Mahmoud Abbas, said that Israel is responsible.
"Israel thwarted the contracts that could have brought peace."
Meanwhile, Hamas said the strike was an attempt to assassinate Deif and said Israel had opened the "gateway to hell." Barhoum of Hamas said the coming days were going to be tough, without precedent.
Hamas spokesman Abo Obaida warned that international airlines should stop service into Ben Gurion Airport in Tel Aviv, assuring the public that Deif was not killed.
Sadi Hamd, 39, arrived from northern Gaza Strip to find shelter – and expressed anger at the displacement of children. He said that he would never direct his anger at the resistance – only towards Israel's occupation and the killing of people in the school where he sought shelter.
"A shelter is supposed to be safe, and I feel America shares much responsibility for providing missiles to kill innocents," he said, as he pulled his four daughters into a UN school, to seek a safe haven.
"It appears certain that the Obama administration is satisfied with such massive destruction, using the GBU-28 missile on a defenseless people who can't even find milk for their babies."
"I cheered for Obama when he came to power, thinking he was better than Bush, but now I say that a man who fought injustice is shamefully supplying weapons to the Israeli occupation."
In Gaza, rage is rising against the international community for lack of reaction to Israel's attacks. "For once he [Obama] should stand up and speak his mind – but maybe he'll just wait until all US-made missiles are tested on our bodies."
Posted by
Philip Giraldi
on Aug 20 2014 . Filed under
Commentary & Analysis
. You can follow any responses to this entry through the
RSS 2.0
. Both comments and pings are currently closed.