How the Israel Lobby Set Beto O'Rourke Right
Oct 3 2014 / 6:18 pm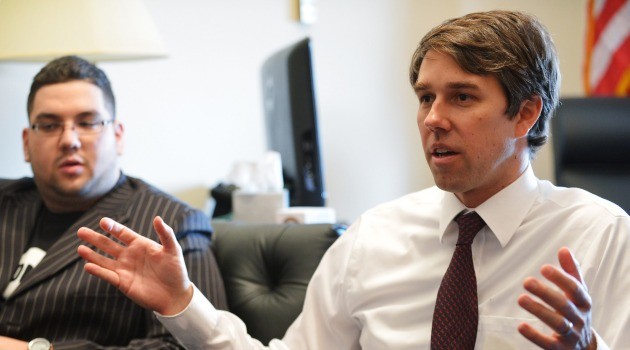 By Nathan Guttman.
The Jewish Daily Forward – It took only one wrong vote to teach a freshman Democrat from Texas how sensitive, and even wrathful, the Jewish community can be when it comes to Israel.
But the real story of what happened to Rep. Beto O'Rourke did not stop with the angry reaction he got when he cast one of only eight votes in Congress against special funding for Israel's Iron Dome rocket defense system during the recent Gaza war.
What is notable is how quickly the carrot followed the stick.
It was almost a textbook case of how the establishment pro-Israel lobby works its magic — and a story not yet completed in early September, when The New Yorker magazine took note of what had happened to O'Rourke.
In an in-depth report on the work of the American Israel Public Affairs Committee, the large Washington-based lobby, during the Gaza war, New Yorker writer Connie Bruck recounted the blasts that rained down on the El Paso congressman following his vote.
The reactions, as Bruck reported, included a mass email blast labeling O'Rourke as "an anti-Israel congressman" and denouncing his vote as "shameful." Critical local press coverage included a public comment by one of his own Jewish donors to the El Paso Times that in voting as he did, O'Rourke "chooses to side with the rocket launchers and terror tunnel builders" of Hamas.
But since then, behind the scenes, what has followed is a long process of mutual outreach and hours of hashing out differences, until the final act, which is now in the works: an El Al flight to Tel Aviv on the pro-Israel lobby's dime.
"He's a good guy, but he didn't know how the Jewish community would react," said Daniel Cheifec, executive director of the Jewish Federation of El Paso. "Now he knows that this community is not going to be very happy if he screws up again."
O'Rourke, in fact, had no prior record of criticizing or voting against Israel. He did not even oppose more funding for the Iron Dome system. He only opposed rushing through the large appropriation with no debate as members of Congress were hurrying home for the summer recess when a more considered vote to boost the program was coming in October.
Israel, which receives more than $3.6 billion per year in various forms of aid from Washington, is already the single largest recipient of American largesse. But the August 1 House vote appropriating $225 million to Israel above and beyond its usual aid was meant to allow the Jewish state to restock on Iron Dome interceptors that had proved effective in countering Hamas rocket attacks into the country.
Congressional leaders squeezed the vote into the legislative schedule just as members were packing up to leave for their summer recess. The overwhelming support of 395 representatives with only eight voting against was not unusual for a pro-Israel piece of legislation, especially one that deals with military assistance at a time of war.
"I really don't understand how he makes his decision," Rabbi Stephen Leon of Congregation B'Nai Zion, a local synagogue, told the El Paso Times even before The New Yorker piece picked up on the pushback. "It's a great, great disappointment to the Jewish community here. We had meetings with him prior, to talk to him about the importance of Israel, and the way he voted makes very little sense."
Posted by
Philip Giraldi
on Oct 3 2014 . Filed under
Commentary & Analysis
,
Featured articles
,
Israel Lobby
. You can follow any responses to this entry through the
RSS 2.0
. Both comments and pings are currently closed.