Israel kills two Palestinians during nonviolent demonstrations by prison
May 15 2014 / 7:51 pm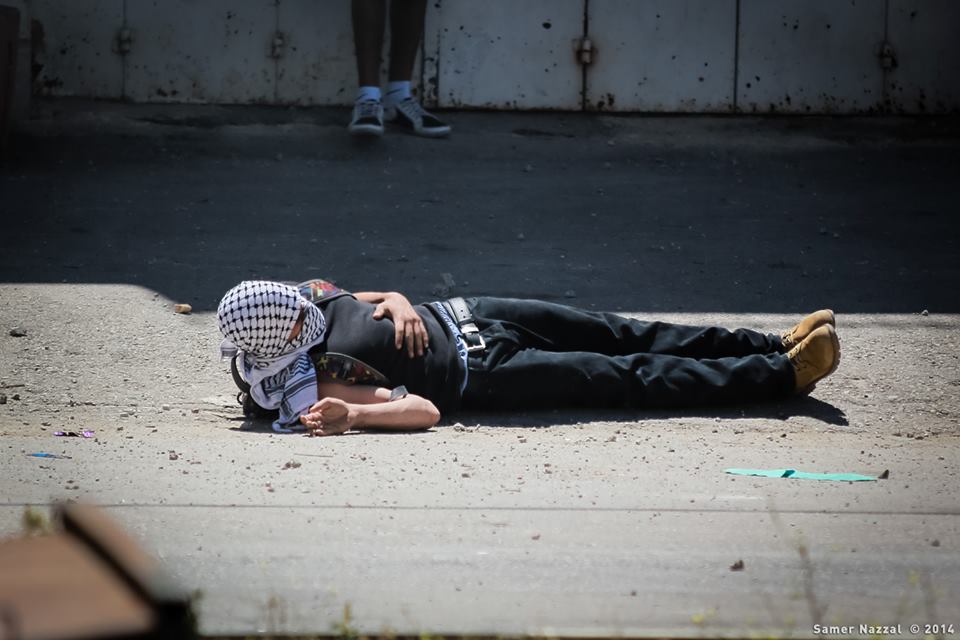 IMEMC – Palestinian medical sources have reported that two Palestinians have been killed and several others injured by Israeli army fire, after soldiers attacked a nonviolent protest near the Ofer Prison, west of the central West Bank city of Ramallah. At least eleven Palestinians were injured in Hebron.
The Palestinian News & Info Agency (WAFA) has reported that dozens of Palestinians held a nonviolent protest near the prison compound, and that the soldiers attacked them with rounds of live ammunition.
The Israeli military attack against the nonviolent protesters led to clashes between the soldiers and the unarmed Palestinians.
The two slain Palestinians have been identified as Nadim Nuwwara, 17, from the al-Mazra'a al-Gharbiyya village, northwest of Ramallah, and Mohammad Abu Thaher, 20, from Ramallah.
WAFA said that Israeli army sharpshooters targeted the protesters, killing the two Palestinians and wounding several others.
Most of the wounded Palestinians were shot in the upper parts of their bodies.
The Palestinians were protesting the ongoing illegitimate Israeli occupation of Palestine, and marking the 66th anniversary of the Nakba (Catastrophe), when Israel was created in the historic land of Palestine by displacing an entire nation, and destroying hundreds of villages and towns, turning the vast majority of the Palestinians into a nation of refugees.
On Thursday at noon, at least eleven Palestinians have been shot and injured by Israeli army fire, and dozens suffered the effects of tear gas inhalation, after Israeli soldiers attacked Palestinian protesters, marking the Nakba in the Bab az-Zaweya and the ash-Shallala Streets, in Hebron city, in the southern part of the occupied West Bank.
Medical sources said the eleven Palestinians were shot by rubber-coated metal bullets, while one of them, identified as Ali Abu Hamdiyya Gheith, 17, was moderately injured after being shot in his eye, and was moved to the Al-Ahly Hospital in the city.
Several residents were moved to the Hebron Governmental Hospital due to the severe effects of tear gas inhalation, while the rest received treatment by local medics.
Posted by
Philip Giraldi
on May 15 2014 . Filed under
News from the Middle East
. You can follow any responses to this entry through the
RSS 2.0
. Both comments and pings are currently closed.