Israel Lobby Thwarted in Iran Sanctions Bid for Now
Jan 16 2014 / 7:38 pm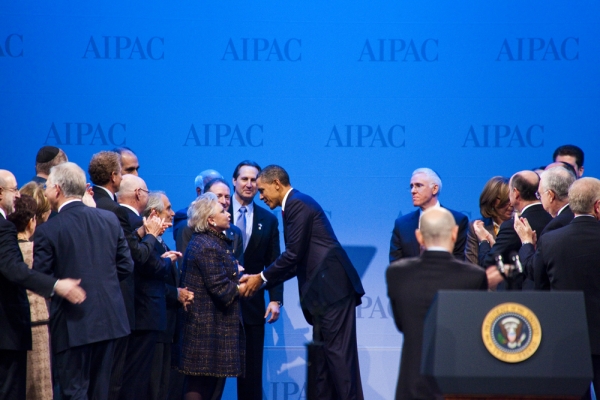 By Jim Lobe.
AntiWar.com, January 16, 2014 – In what looks to be a clear victory – at least for now – for President Barack Obama, a major effort by the Israel lobby and its most powerful constituent, the American Israel Public Affairs Committee (AIPAC), to pass a new sanctions bill against Iran has stalled in the U.S. Senate.
While the legislation, the "Nuclear Weapon Free Iran Act of 2013," had gathered 59 co-sponsors in the 100-member upper chamber by last week, opposition to it among Democrats appears to have mounted in recent days.
That opposition apparently prompted Senate Majority Leader Harry Reid, who controls the floor calendar, to back away from a previous commitment to permit a vote on the measure some time over the next few weeks. As a result, AIPAC is now reportedly hoping to get the bill through the Republican-dominated House of Representatives.
Democratic resistance to the bill, which its critics say is designed to scuttle the Nov. 24 Joint Plan of Action (JPA) between Iran and the so-called P5+1 (US, Britain, France, Russia, China plus Germany) and any chances for a U.S.-Iranian rapprochement, has grown stronger since Sunday's successful conclusion of an implementation agreement between the two sides and by Obama's explicit pledge to veto the bill if it comes to his desk.
Even one of the bill's 16 Democratic cosponsors, Sen. Richard Blumenthal, said this week that he saw no need for a vote "as long as there is progress" in implementing the Nov. 24 accord.
The accord, which formally takes effect Jan. 20, will ease some economic sanctions that have been imposed against Iran and ban any new ones in exchange for Tehran's freezing and, in some cases, a rolling back key elements of its nuclear program pending the negotiation within a year of a comprehensive agreement designed to prevent Tehran from achieving a nuclear "breakout capacity", or the ability to build a bomb within a short period of time.
That goal is widely considered to be the single-most important – and potentially dangerous, both politically and strategically — foreign policy challenge facing Obama in his second term.
While Obama has pledged to use all means necessary, including taking military action, to prevent Tehran from obtaining a bomb, he has made little secret of his strong desire to avoid becoming engaged in yet another war in the Middle East, a desire that appears widely held both within the foreign policy and military elite, as well as the general public, according to recent opinion polls.
For its part, Iran has long said it has no intention of building a bomb. But it has also insisted that any final agreement must recognize its "right" under the Non-Proliferation Treaty (NPT) to enrich uranium to levels consistent with the needs of a civil nuclear program.
While the administration and the other P5+1 powers appear inclined to accept a deal that would, among other things, permit limited enrichment under an enhanced inspection regime, Israeli Prime Minister Benjamin Netanyahu has demanded that any final accord should effectively dismantle Iran's nuclear program, including its enrichment capabilities.
Netanyahu's demands are largely reflected in the pending Senate bill which is named for its cosponsors, Republican Sen. Mark Kirk and Democratic Sen. Robert Menendez,each of whom received more campaign money from AIPAC-related political-action committees than any other senatorial candidates during their runs for office – in 2010 and 2012, respectively.
The bill would impose sweeping new sanctions against Tehran if it fails either to comply with the terms of the Nov. 24 accord or reach a comprehensive accord within one year. Such sanctions would also take effect if Iran conducts a test for ballistic missiles with a range exceeding 500 kms or if it is found to have directly or by proxy supported a terrorist attack against US individuals or property.
While the bill's supporters insist that those provisions will strengthen the administration's hand in negotiations over a comprehensive agreement, critics, including administration officials, argue that they violate the spirit, if not the letter, of the Nov. 24 agreement and would, if passed, open up Washington to charges by its P5+1 partners, as well as Iran, of bad faith.
The bill also requires that any final agreement include, among other things, "dismantlement of Iran's enrichment …capabilities" – a condition that Tehran has already declared a deal-breaker.
And it calls for Washington to provide military and other support to Israel if its government "is compelled to take military action in legitimate self-defense against Iran's nuclear weapon program" – a provision that was denounced on the Senate floor by Intelligence Committee chairwoman, Dianne Feinstein, as "let(ting) Israel determine when and where the US goes to war." In a detailed speech Tuesday, she also described the bill as facilitating a "march to war."
All of these provisions have lent credibility to the administration's charge that the main purpose of the legislation is to sabotage the Nov. 24 deal and the negotiations, rather than support to them.
When first introduced nearly a month ago, the bill was co-sponsored by 26 senators, equally divided between Republicans and Democrats, apparently in order to give it a bipartisan cast. But all but three of the additional 33 cosponsors are Republicans, thus making it an increasingly partisan issue.
Eleven Democratic committee chairs, including Feinstein and Senate Armed Services Committee chief Carl Levin, have come out against a vote on the bill, as has Reid's deputy, Majority Whip Dick Durbin, who, like Reid, normally defers to AIPAC's wishes.
In recent days, a number of other influential voices have come out in opposition to the bill. Bill Clinton's second-term national security adviser, Sandy Berger, warned that a vote on the legislation now raised the "risk of upending the negotiations before they start," while former Sen. Dick Lugar, until last year the top Republican on the Foreign Relations Committee, told a Yale University audience Wednesday that Congress "ought to give diplomacy a chance."
Similarly, former Pentagon chief Bob Gates, currently touting his memoir of his years under Obama and President George W. Bush, warned Tuesday that enacting new sanctions would be "a terrible mistake" and a "strategic error."
Several prominent newspapers, including the New York Times, the Minneapolis Star-Tribune, USA Today, the Denver Post, and the strongly pro-Israel Washington Post, have also editorialized against the bill in recent days.
The bill, moreover, appears to have created dissension within the organized Jewish community, which ordinarily rallies behind AIPAC's legislative agenda.
While progressive Jewish groups, notably J Street and Americans for Peace Now, joined 60 other grassroots religious, humanitarian, antiwar, and civic-action organizations in actively opposing the bill by flooding Democratic senators with emails, petitions and phone calls over the past few days, more conservative Jewish groups and influential opinion-shapers, such as New York Times columnists Tom Friedman and Jeffrey Goldberg, also defended the administration's opposition.
Rabbi Jack Moline, the director of the National Jewish Democratic Council (NJDC), publicly accused AIPAC of using "strong-arm tactics, essentially threatening people that if they didn't vote a particular way, that somehow that makes them anti-Israel or means the abandonment of the Jewish community."
"The bill before the US Senate …will not achieve the denuclearization of Iran," Goldberg, a self-described "Iran hawk," wrote in his Bloomberg column this week. "What it could do is move the US closer to war with Iran and, crucially, make Iran appear – even to many of the US's allies – to be the victim of American intransigence, even aggression."
Jim Lobe's blog on U.S. foreign policy can be read at Lobelog.com..
Posted by
Philip Giraldi
on Jan 16 2014 . Filed under
Commentary & Analysis
. You can follow any responses to this entry through the
RSS 2.0
. Both comments and pings are currently closed.