Israel police shoot dead US killer Sheinbein in prison
Feb 24 2014 / 7:32 pm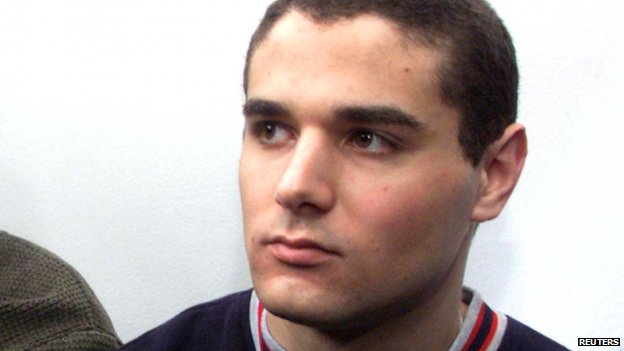 The Guardian, 2/23/14 – Israeli special forces have shot dead an American-Israeli prisoner – jailed for a brutal murder in the US – after he opened fire on prison guards.
A police spokesman said Samuel Sheinbein had shot three security officers, critically injuring one, and barricaded himself in the compound.
Sheinbein was serving a 24-year sentence for a 1997 murder in Maryland.
He fled to Israel shortly after the killing, in a case that briefly soured US-Israeli relations.
It led to a change in Israel's extradition laws.
Dispute
Sunday's shoot-out happened at Rimonim prison north of Tel Aviv. Israel media reports said Sheinbein holed himself up in a room and fired at prison guards and special forces officers, who returned fire, shooting him dead.
It is not clear how Sheinbein got hold of the weapon.
Hospital officials said one of the wounded guards was fighting for his life on Sunday, according to Reuters.
In 1999, a court in Tel Aviv found Sheinbein, then aged 19, guilty of killing and dismembering Alfredo Enrique Tello in the US state of Maryland two years earlier.
Sheinbein had fled to Israel shortly after the body was found.
He had never lived in Israel but claimed citizenship because his father had been born in 1944 in what was then British-ruled Palestine.
Israel's refusal to extradite the teenager to the US – where he would have faced a harsher penalty – outraged US authorities. Some legislators threatened to cut aid to Israel.
The dispute was smoothed over when Israel changed its law, which now requires proof of residency before Israelis can claim immunity from extradition.
Posted by
Philip Giraldi
on Feb 24 2014 . Filed under
Commentary & Analysis
,
Israel Lobby
. You can follow any responses to this entry through the
RSS 2.0
. Both comments and pings are currently closed.