Israel Refuses to Let Gaza Athlete Run in Bethlehem Marathon
Apr 7 2014 / 11:52 pm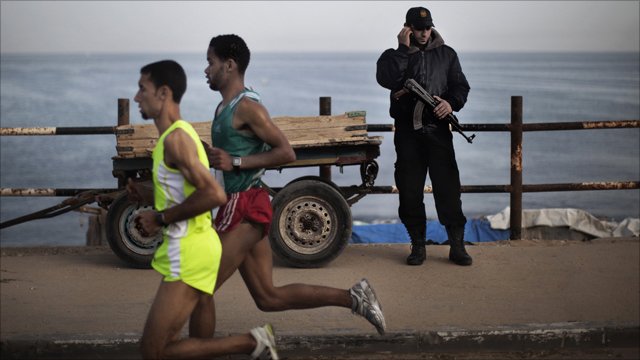 IMEMC – The Bethlehem marathon will host hundreds of runners from around the world in the ancient West Bank city next Friday, with one omission: The Palestinian Authority's top runner, who happens to reside in the Gaza Strip.
GAZA (PNN/Haaretz) — Nader al-Masri, 34, with 14 years of running under his belt, was the only athlete to represent the Palestinian Authority in the 2008 Beijing Olympics. The next year, he took part in a competition in Bahrain. But this time, Israel is refusing to let him out of the Hamas-controlled enclave and into the West Bank.
Al-Masri is set to petition the Supreme Court on Thursday, demanding the state reverse its decision and let him participate in the competition.
"I don't have any security background or anything. I'm an athlete, I represent my country, go out, come back, and that's it," al-Masri told Army Radio. "I'm 34. I only have two, three more years before I retire," he added.
Gisha, a human rights group which will file the petition on al-Masri's behalf, say Israel's denial of his request was issued on a whim, without justification, and claim the state abused its power.
The state says it made its decision based on the fact that al-Masri does not fall under any criteria granting exit from the Gaza Strip, Army Radio reported.
Posted by
Philip Giraldi
on Apr 7 2014 . Filed under
News from the Middle East
. You can follow any responses to this entry through the
RSS 2.0
. Both comments and pings are currently closed.