Israel Right or Wrong: But What's In It For Americans?
Jul 29 2014 / 7:30 pm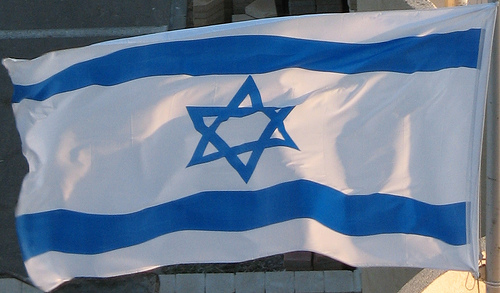 By Philip Giraldi.
UNZ – It is a familiar scenario. Israeli is killing hundreds of civilians, mostly women and children, and the Zionist propaganda machine is working overtime. The President of the United States reaffirms America's solemn pledge to protect Israel at all costs and justifies the carnage by stating that Israel has a right to defend itself. Secretary of State John Kerry repeats the message and the US House and Senate pass unanimously American Israel Public Affairs Committee (AIPAC) drafted resolutions affirming the same.
Israeli Prime Minister Benjamin Netanyahu lies repeatedly and the US media gives him a bully pulpit to spread his disinformation about what is occurring, including the propaganda cartoon depicted above explaining why he had to use artillery and bombs to level a residential district, killing nearly 100 civilians in what was described as a "heinous massacre."
The mainstream media obligingly toes the line, depicting something like a battle between equals pitting the Israeli Army (IDF) against Hamas militants, obfuscating the essential asymmetry of a conflict that has killed more than 1,000 Palestinians civilians. A very large percentage of the commentators on television and radio as well the authors of mainstream print media opinion are American and Israeli Jews, to include a piece by Michael Oren, former Israeli Ambassador to the US and current CNN "expert," entitled "Israel Must be Permitted to Crush Hamas" as well as the featured appearances by Prime Minister Netanyahu on national television.
Oren's call to crush Hamas is particularly ironic as it runs directly contrary to American interests. The US intelligence community believes that the group would likely be succeeded by something far more radical. The media, Congress, and Netanyahu all also connive to ignore the deliberate targeting of civilians to include hospitals, schools and private homes by the IDF, producing massive infrastructure damage and increasing the numbers of dead and wounded. The US media did not report how Israelis watching the bombing from their lawn chairs on a hill near Sderot were photographed cheering and applauding each time a target in Gaza exploded. They were also sharing popcorn and one described the event as "just good fun."
Also missing in the discussion is the damage that the conflict does to the United States, which is seen throughout the world as Israel's puppet, manifested most recently when Washington alone opposed and will presumably veto any United Nations inquiry into possible war crimes connected to the Gaza conflict.
America diplomats are supposed to support American interests while the Founding Fathers created an army and navy to defend the United States, not Israel, a fact that seems to have escaped the notice of many in the White House, Congress and in the media. In reality, Washington has no obligation to protect the Netanyahu government in international fora nor is there any treaty obligation to defend Israel or anyone else outside the NATO alliance. Israel is neither an ally nor is its self-defined security a compelling US national interest if one excludes the drumbeat of the domestic lobby that protects it no matter how badly it behaves.
The sequence of events leading up to the current slaughter is clear, though Israel's friends pretend that it all started when the first homemade rocket landed inside Israel, justifying any subsequent steps necessary for "defense." But the Israel-Palestine problem truly began in 1948, when armed Jews deliberately terrorized and then drove more than 700,000 Palestinians from their homes. It was exacerbated when in 1967 the military occupation of the West Bank and Gaza began, leading to the creation and expansion of illegal settlements on Arab land.
The current cycle of violence, rooted in the denial of viable statehood for the Palestinian people, began in April when Israel deliberately torpedoed US brokered peace talks by accelerating settlement building and failing to comply with an agreement to release prisoners. On May 15th Israeli soldiers shot dead two Palestinian teenagers, an event that was videoed. They were among the 26 Palestinians killed by Israelis since January, with no one being held accountable. Four weeks later three Israeli teenagers from Hebron were kidnapped and later discovered dead. Netanyahu, who knew that the three young men were already dead and that the abduction had not been carried out by Hamas cynically used the kidnapping as a pretext to attack Hamas on the West Bank, blaming the group for the crime without producing one shred of evidence. An Arab teenager was subsequently burned to death by Jewish extremists and the boy's American citizen cousin was badly beaten by police when he joined a demonstration.
Netanyahu may or may not have cared who was killing or kidnapping whom on a micro level, but he knew a good opportunity when he saw one. He took advantage of the situation to launch a plan to destroy Hamas and pari passu the Palestinian unity government. Hundreds of arrests were made, again without any evidence linking those detained with the kidnapping, and homes of suspects were demolished. When Hamas in Gaza eventually struck back with its homemade rockets, killing or injuring no one, Israel unleashed its modern army and air force on the largely unarmed and defenseless Palestinians.
Israel also has found allies in the usual places in the US media and political circles to help explain the ensuing massacre. Ayman Mohyeldin, the NBC News correspondent who personally witnessed and reported the killing by Israel of four Palestinian boys on a Gazan beach was ordered by NBC executives to leave Gaza immediately, presumably because he had strayed from the acceptable message, which is that the deaths of Palestinians is somehow their own fault. CNN also "reassigned"reporter Diana Magnay who tweeted regarding an Israeli mob that threatened her when she filmed their celebration of missile strikes in Gaza. She called her attackers "scum" and was quickly removed.
The far fewer deaths of Israelis in the conflict are, however, rather more celebrated than the mass high tech execution of Palestinians. American volunteers in the IDF are depicted as somehow doing their patriotic duty, albeit in a foreign army. The Washington Post described how the "Death of two Americans in Israel brings conflict home." Both men identified in the article though born in the US had chosen to live in Israel, producing some pushback in the blog comments. One noted that bearing arms for a foreign country that is not in NATO is illegal (and used to lead to automatic loss of citizenship) while another comment observed that if you are by choice fighting in a foreign army you are no longer really American. I might add that directly supporting Israel's militarized colonization of Palestinian lands is against stated US government policy and does actual damage to American interests.
The Gazans are, to be sure, an easy target, crowded into a narrow strip of land with no place to go as they are controlled on all sides by Egypt and Israel. Fleeing inhabitants cannot even turn to the sea which is controlled by the Israeli navy. A comprehensive ten year truce offer by Hamas has been rebuffed by Israel and the slaughter will presumably continue until Netanyahu decides to stop. The United Nations has suggested that what Israel is doing might fit the definition of a war crime, just as was the case back in 2009 for Operation Cast Lead, when more than 1,400 Gazans were killed and schools run by the UN were deliberately targeted, as has been the case also currently.
That the US is so tied to a rogue nation like Israel would be incomprehensible but for the action of what has been described as the Israel Lobby. As Harvard Professor Stephen Walt puts it, "AIPAC is the only explanation for America's morally bankrupt Israel policy." Israel is in reality a place that most Americans would find unsympathetic. It is a corrupt theocracy that denies equal rights to Christians and Muslims, a fact that is conveniently overlooked by Congress and the media. There is also a strong dose of racism and ethnocentrism in is political matrix, with broad popular support for either disenfranchising or expelling all non-Jews. Or even killing them, with crowds in Tel Aviv routinely chanting "Death to Arabs."
An Israeli member of parliament Ayelet Shaked of the ultra-nationalist Jewish Home party has called all Palestinians terrorists, saying women should be especially targeted for killing during the ongoing Israeli assault on the besieged Gaza Strip because they give birth to "little snakes." She explained "They have to die and their houses should be demolished so that they cannot bear any more terrorists," adding "They are all our enemies and their blood should be on our hands. This also applies to the mothers of the dead terrorists." A prominent Rabbi has also endorsed complete destruction of Gaza and genocide, as a "deterrent measure to exterminate the enemy."
Perhaps most discouraging is the visceral hatred directed at American critics of Israeli policies that surfaces occasionally among that nation's most zealous supporters. Rabbi Shmuley Boteach, former Michael Jackson spiritual adviser and self-designated "America's Rabbi," has penned a piece entitled, "By Condemning Israel, Presbyterians Condemn Themselves." He writes regarding the Presbyterian decision to divest from companies supporting the Israeli occupation of the West Bank, stating that "The rotting corpse of the Presbyterian Church suffered another nail in the coffin with its general convention vote on Friday to divest from companies doing business with Israel."
Boteach, who has also become close to a number of prominent politicians, received no mainstream censure for this comments attacking a major Christian denomination in the vilest terms. His article also plays fast and loose with the facts. He observes "In the wake of the Oslo Accords, in which Israel granted the PLO political autonomy in the West Bank, about 60,000 Americans were murdered in Israel." Since Oslo in 1993 the actual figure for dead Americans, many of whom were Israeli dual nationals, is 53.
That the United States has provided political support for a monster like Benjamin Netanyahu is criminal but it is a tribute to the grip that Israel's lobby has on America's political class and media. For starters, one might reasonably suggest that people like Boteach and the American volunteers including Chicago mayor Rahm Emanuel who go to fight for Israel while eschewing any service in the US Army should perhaps move permanently to the country that they love most. The charge of dual loyalty which surfaces regularly regarding Israel's most passionate Jewish supporters misses the point. Boteach and his friends, most certainly to include the likes of multi billionaire casino magnate Sheldon Adelson of Las Vegas, have no dual loyalty at all. Their only concern is for Israel and they stay in the United States to cash in and to make sure that the rest of the American people are coerced and propagandized sufficiently so as to guarantee that the US will remain Israel's patsy. But more and more Americans are waking up to the fraud and the ongoing slaughter of another thousand or so Palestinians in Gaza virtually guarantees that there will be more questions about the relationship with Israel than answers. Eventually the truth will out.
Posted by
Philip Giraldi
on Jul 29 2014 . Filed under
Commentary & Analysis
,
Featured articles
,
Philip Giraldi
. You can follow any responses to this entry through the
RSS 2.0
. Both comments and pings are currently closed.