Israel Seals Off West Bank and Gaza, Further Clashes and Abductions Reported
May 4 2014 / 9:27 pm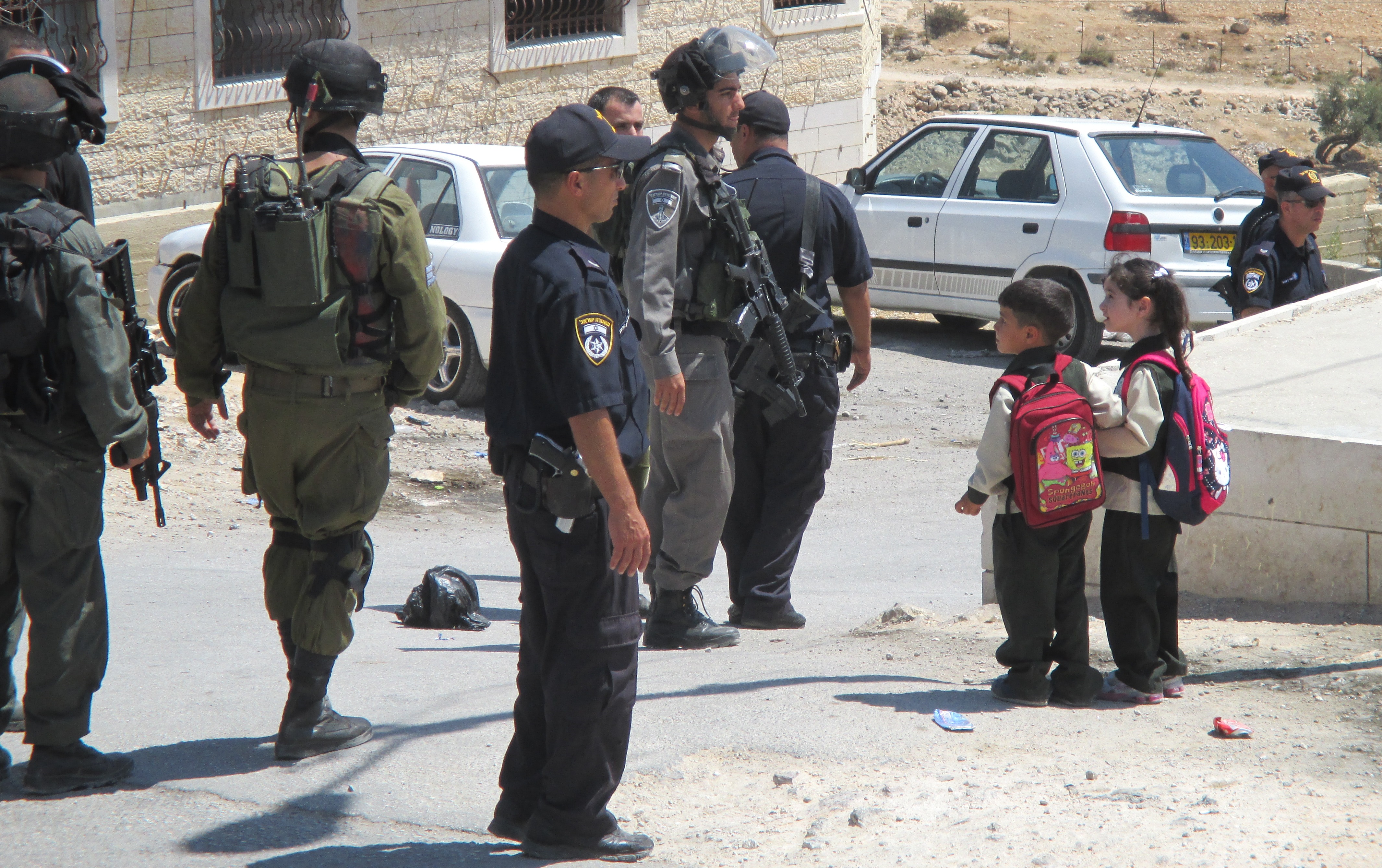 IMEMC – The Israeli authorities sealed their border crossings with the West Bank and the Gaza Strip, on Sunday, under a pretext of celebrating the anniversary of the establishment of Israeli State, according to Israeli sources.
The seal-off is expected to continue until next Tuesday, according to WAFA.
To the south of Bethlehem, the army cordoned the village of Beit Fajjar, blocking the roads into the village with sand barriers and hindered the traffic movement in and out of the village.
In the Nablus region, army forces stormed the village of Burqa in the predawn hours, kidnapping three people after raiding and searching several houses in the village.
Soldiers further stormed the village of Madama, southwest of Nablus, taking with them a youngster after breaking into his home and damging the contents.
Also subject to Sunday's invasions was the town of Abu Dis, east of Jerusalem, where forces arrested 37-year-old Hassan Shehadah, member of the central committee of the Democratic Front for the Liberation of Palestine (DFLP) and one ex-detainee, after they raided and searched his home, seizing his personal laptop and cellular phones.
Witnesses said soldiers also broke into the home of Shehadah's parents, damaging its content and leading to confrontations between army and a number of youth, in which soldiers fired tear gas canisters and live bullets towards them.
No injuries were reported.
Meanwhile Israeli forces stormed the village of Nabi Saleh, west of Ramallah, firing tear gas canisters towards residential areas and the village school.
Several cases of suffocation were reported among students and teachers, WAFA reports.
Also on Sunday, soliders kidnapped four people in Nablus, one of which is a leader of the Democratic Front for the Liberation of Palestine in Jerusalem, according to reports by local and security sources.
In the village of al-Asakrah, near Bethlehem, the army served one youth with a summons to appear for interrogation before Israeli intelligence, in the settlement bloc of Gush Etzion.
Just yesterday, soldiers detained two children from Silat al-Harithiya, to the west of Jenin.
They were detained for several hours in local olive orchards and interrogated at the nearby Salem military camp.
That same day, Israeli settlers from the nearby illegal settlement of Beit 'Ayn chopped down 50 olive trees with a chainsaw, near Nahalin, according to a local official.
Some of the trees were ancient, from the Roman-era, it was reported.
Settlers have recently intensified their attacks against lands in Nahalin, where they have persisted in their attempts to level property, uproot and chop down trees and pump waste onto the land.
These attacks aim at preventing farmers from accessing their lands in order to seize them for settlement construction.
Graffiti reading "price tag" and "Arab thieves" was found at the scene.
In the northern city of Akka car was found with its tires slashed and vandalized with graffiti.
"Price tag" is a term used by Israeli extremists for attacks on Palestinians and their property, often in response to Israeli moves to dismantle settlements, according to Ma'an.
Similar graffiti was found on a Muslim grave near the northern Israeli city of Haifa, Friday.
The grave is named after Ezzedine al-Qassam, who led fighting against the British and French, in Mandate Palestine, and was killed during a firefight, in 1935.
The State Department's 2013 Country Reports on Terrorism included "price tag" attacks for the first time, citing UN figures of some "399 attacks by extremist Israeli settlers that resulted in Palestinian injuries or property damage", Ma'an further states.
Such attacks were "largely prosecuted," according to the report.
According to the UN, over 90 percent of investigations into settler violence, by Israeli police, fail to lead to any indictment.
More than 500,000 Israeli settlers live in settlements across the West Bank and East Jerusalem, in direct violation of international law.
Posted by
Philip Giraldi
on May 4 2014 . Filed under
News from the Middle East
. You can follow any responses to this entry through the
RSS 2.0
. Both comments and pings are currently closed.