Israeli Army Demolishes Two Palestinian Homes Near Jerusalem
Feb 5 2014 / 10:19 pm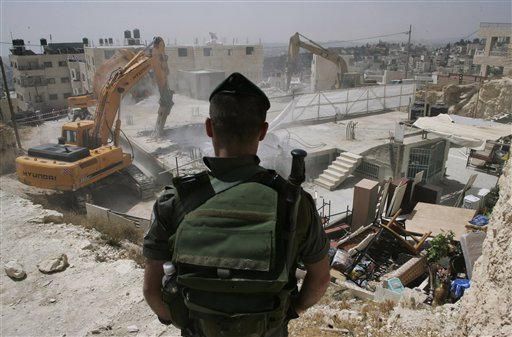 IMEMC, 2/5/14 – Israeli soldiers invaded, on Wednesday morning [February 5, 2014], the town of Sur Baher, south of occupied East Jerusalem, demolished one home, and partially demolished another.
The Palestinian News & Info Agency (WAFA) stated that the soldiers partially demolished the home of Mojahed Atiyya Abu Sarhan, 28, in the al-Mintar neighborhood, and completely demolished the home of resident Mohammad Jebrin Sandouqa, 37.
The army alleged that the two homes were built without construction permits from the city council.
Abu Sarhan said several Israeli military jeeps surrounded his home, nearly at 5:30 at dawn, and demolished a 35 square/meter room, where he lived with his wife and two children.
He added that the soldiers did not show any destruction order setting a date for demolishing the property, and refused to allow the family to remove the furniture and belongings.
The resident previously received a 12.500 NIS fine, and has been paying it since then.
"I will not leave my land, I will build a tent, I will rebuild my home", he said, "The occupation wants us out of occupied Jerusalem, to replace us with settlers, we will stay, and we will remain steadfast."
Furthermore, the soldiers demolished a home belonging to the Sandouqa family, rendering eight family members homeless.
Ala' Sandouqa told WAFA that several Israeli police vehicles, military jeeps and bulldozers surrounded his home at around 5 am, threw the furniture out and demolished it.
Sandouqa said that his family built their 65 square/meter home 17 years ago.
He added that he previously filed an appeal against the destruction of his property, and that the court never rendered a final decision. Sandouqa further stated that he recently paid a 10.000 NIS fine.
WAFA said several Israeli bulldozers and jeeps are surrounding neighborhoods in Jabal al-Mokabber town, south of Jerusalem, likely preparing to demolish Palestinian homes and property..
Posted by
Philip Giraldi
on Feb 5 2014 . Filed under
News from the Middle East
. You can follow any responses to this entry through the
RSS 2.0
. Both comments and pings are currently closed.