Israeli Army Invades Various West Bank Communities, Kidnaps Three Palestinians
Jan 26 2014 / 6:47 pm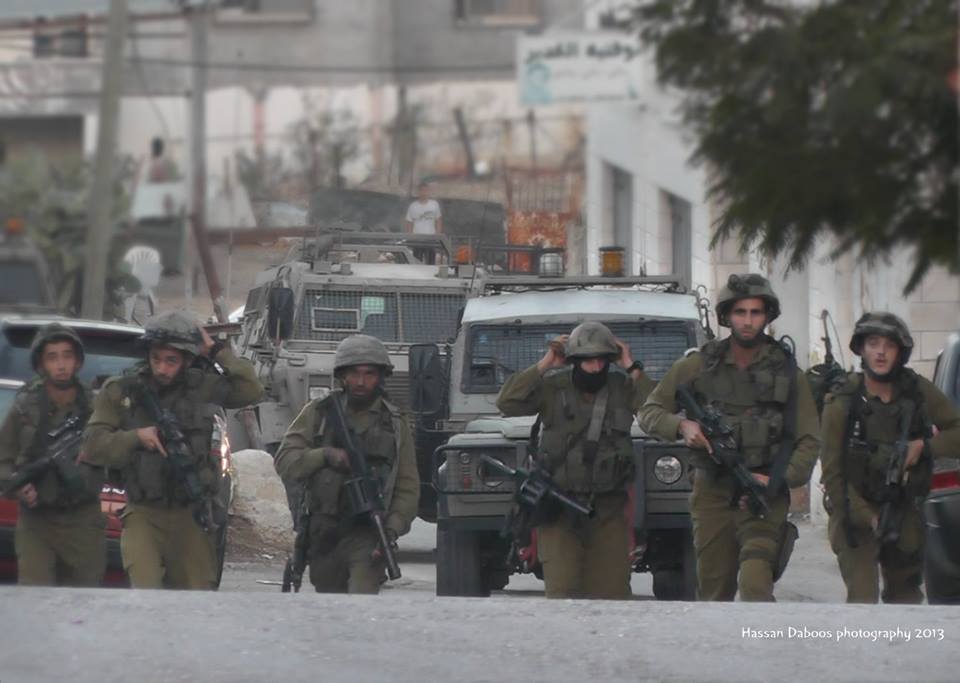 IMEMC, January 26, 2014 – Israeli soldiers invaded various Palestinian communities in the occupied West Bank, conducted military searches of homes and property, and kidnapped three Palestinians.
Local sources in Bethlehem have reported that soldiers invaded a bakery in the Aida refugee camp, in Bethlehem, and conducted searches.
The soldiers kidnapped Ahmad Ma'moun, who works at the bakery, after breaking into his home and searching it.
Another resident was also kidnapped from his home in the Al-Obeydiyya town, near Bethlehem, and was taken to an unknown destination.
Furthermore, dozens of soldiers invaded the As-Samoa' town, south of the southern West Bank city of Hebron, broke into homes and searched them, kidnapping one Palestinian.
Local sources said that the soldiers broke into the home of resident Odah Al-Mahareeq, age 31, and kidnapped him.
Also in Hebron, soldiers invaded Yatta town, south of the city, invaded several homes and searched them before handing a number of Palestinians military orders to head to a nearby military base for interrogation.
Furthermore, an Israeli military jeep installed a roadblock on a bypass road close to the Al-Fawwar refugee camp, south of Hebron, stopped and searched several Palestinian cars.
In related news, medical sources in Hebron said that a Palestinian child, identified as Yazan Zeidan Sharabaty, 13 years of age, was injured after being attacked by a number of fanatic Israeli settlers.
His father told the Palestinian News & Info Agency (WAFA) that a number of settlers of the Beit Hadassah illegal settlement, installed on Palestinian lands, assaulted his son as he was heading to a nearby bakery.
Following the attack, Israeli soldiers detained the father and his child, and moved them to a police station near Keryat Arba' settlement in the city.
The police alleged that the father and his child "attempted to attack settlers and soldiers". The two were released later on, but had to sign an affidavit to go to court if ordered.
Dozens of soldiers also invaded the Qabatia and Ejja towns, south of the northern West Bank city of Jenin, broke into and searched several homes.
Palestinian security sources in Qabatia said that the army invaded the homes of Nasser Khuzaymiyya and his brother, Makhzoom, interrogating them and their families.
The sources added that the soldiers also invaded homes in Ejja town, photographing their exterior and interior before invading Jaba' town, nearby..
Posted by
Philip Giraldi
on Jan 26 2014 . Filed under
News from the Middle East
. You can follow any responses to this entry through the
RSS 2.0
. Both comments and pings are currently closed.