Israeli Forces Shoot, Kill Palestinian Woman in Southern Gaza
Mar 1 2014 / 7:02 pm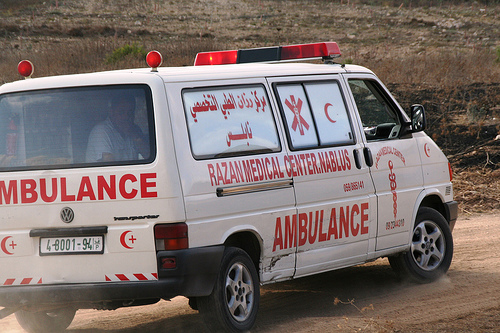 Ma'an News, 3/1/14 – A Palestinian woman was shot dead by Israeli forces in the southern Gaza Strip late Friday, witnesses and medics said.
Witnesses said 57-year-old Aminah Atiyeh Qudeih was shot and killed by Israeli forces east of Khan Younis when she approached the separation barrier between Israel and the Gaza Strip.
Ambulances were not allowed access to the area at the time, and when they reached the area Saturday morning, Qudeih was found dead, witnesses said.
The woman's relatives told AP she was mentally ill, and assumed she wandered toward the border by mistake.
An Israeli army spokeswoman said a suspect approached the border fence east of Khan Younis late Friday.
After telling the suspect to stop and firing warning shots into the air, "Israeli forces fired toward the lower extremities," the spokeswoman said.
"Hits were confirmed," she said.
The site of the woman's death saw demonstrations Friday, and Israeli soldiers fired tear gas canisters and warning shots into the air. No injuries were reported.
Also Friday, a man in Beit Lahiya the northern Gaza Strip was shot in the leg by Israeli forces during a similar protest.
The man, who is in his twenties but has not been identified by name, was shot in the leg near Beit Lahiya and taken to hospital with moderate injuries.
On Feb. 13, Israeli forces killed Ibrahim Suleiman Mansour, 26, after shooting him in the head during a protest near the border east of Gaza City..
Posted by
Philip Giraldi
on Mar 1 2014 . Filed under
News from the Middle East
. You can follow any responses to this entry through the
RSS 2.0
. Both comments and pings are currently closed.