Israeli Forces Tear Down Tents Donated to Homeless Families Near Nablus
Apr 10 2014 / 12:12 am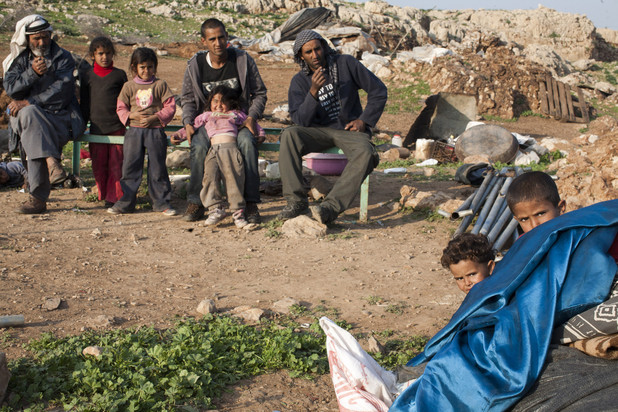 IMEMC – Israeli forces, on Thursday, tore down and confiscated several tents that the Palestinian Red Crescent had erected, east of Nablus, in order to house families whose houses were demolished by Israeli forces a few days before, a Palestinian official said.
Ghassan Daghlas, a Palestinian Authority official who monitors settlement-related activities in the northern West Bank, told Ma'an that several Israeli military vehicles raided the al-Jawana area between the villages of Tana and Beit Furik, Thursday, morning and pulled down four tents.
He explained that the tents were donated by the Palestinian Red Crescent Association and had served as temporary dwellings for Palestinian families.
The families used to live in structures made of metal bars and tin sheets in the area, but Israeli forces had demolished those structures last week.
Daghlas added that Israeli soldiers delivered demolition orders to other residents on behalf of the Israeli Civil Administration. In addition, a number of agricultural tractors were confiscated.
A spokesperson for the civil administration could not be reached for comment.
Israel rarely grants Palestinians permits to build in the West Bank, including East Jerusalem. It has demolished at least 27,000 Palestinian homes and structures since occupying the West Bank in 1967, according to the Israeli Committee Against House Demolitions.
Israel destroyed more than 663 Palestinian properties in the West Bank and East Jerusalem in 2013, displacing 1,101 people, according to UNOCHA. Around 241 more people have been displaced just since the beginning of 2014.
The internationally recognized Palestinian territories of which the West Bank and East Jerusalem form a part have been occupied by the Israeli military since 1967.
Posted by
Philip Giraldi
on Apr 10 2014 . Filed under
News from the Middle East
. You can follow any responses to this entry through the
RSS 2.0
. Both comments and pings are currently closed.