Israeli military rules that mock attacks in Palestinian villages are acceptable
Nov 4 2013 / 1:54 pm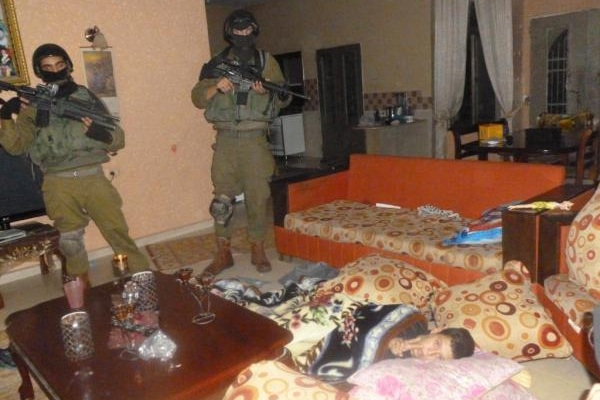 IMEMC, November 4, 2013 – The Israeli Military's Advocate General ruled Sunday that Palestinian villages can continue to be used for Israeli military trainings under the principle of "belligerent occupation".
This is an Israeli military concept that allows its soldiers virtual impunity with regard to their behavior in the Occupied West Bank and Gaza Strip, under the pretext that the Israeli military is the sovereign authority over the entire territory. This edict contradicts international law and numerous United Nations resolutions that question the Israeli claim to sovereignty over all Palestinian land.
The Israeli military frequently invades Palestinian towns and villages, with soldiers running through streets and alleys with loaded automatic weapons, ransacking homes and terrorizing residents, for the purposes of 'training'.
When a human rights organization filed a challenge to this practice earlier this year after several particularly egregious 'training' raids, the Israeli military said they would respond to the complaint. Today, several months later, the military ruled that the trainings are all in accordance with the dictates of martial law as it applies to the Israeli military occupation of Palestinian land in the West Bank and Gaza Strip.
According to the military Advocate General's statement, there is "no legal obstacle to holding training in inhabited areas as part of maintaining security in the area. The orders issued for the drills that take place in populated urban areas include a statute requiring coordination with the ones doing the drill. It will also be made clear that as part of the training exercises, the soldiers must avoid putting the population at risk, damaging their property or causing unreasonable disturbance to their daily routine."
However, the Palestinian residents subjected to these 'training exercises' and the human rights groups representing them have provided numerous examples of the soldiers tearing through homes and yards, breaking into houses, running up and down stairs and taking over rooftops of family homes as part of these exercises.
All of the villages where these trainings take place have experienced actual Israeli military invasions on a regular basis, and since the military makes no attempt to differentiate or announce that any particular invasion is a 'training exercise', the villagers are just as terrorized as they are during actual raids.
Posted by
Philip Giraldi
on Nov 4 2013 . Filed under
News from the Middle East
. You can follow any responses to this entry through the
RSS 2.0
. Both comments and pings are currently closed.