Israeli Missile Kills Two Palestinians, Wounds Child In Gaza
Mar 4 2014 / 7:08 pm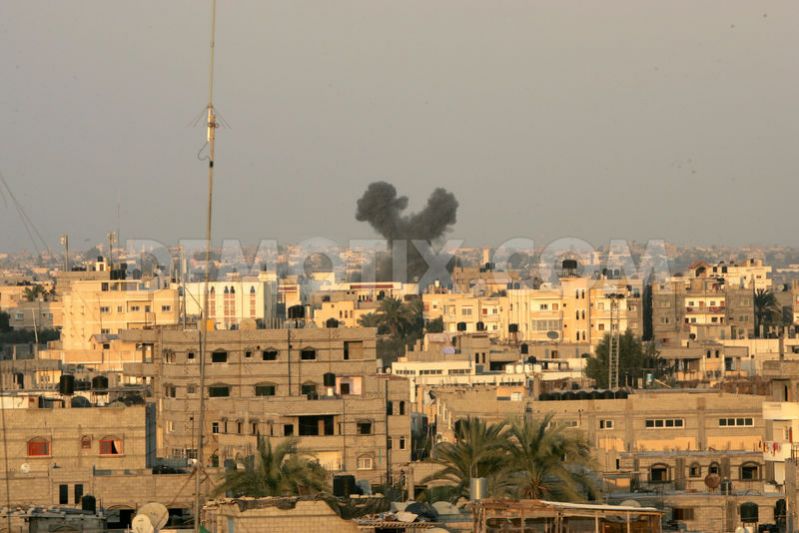 IMEMC, 3/4/14 – An Israeli fighter jet reportedly dropped a missile, Monday night, near Beit Hanoun, in northern Gaza, killing two Palestinians and wounding three others, including a child.
The two men killed in the attack were identified as Musab Moussa al-Zaneen, 21, and Sharif Nasser, 31. The two men wounded in the Israeli airstrike have not been identified.
Medical sources in Beit Hanoun said that they received three wounded Palestinians, including a female child.
Although an Israeli military spokesperson claimed that the airstrike targeted Palestinian fighters who were attempting to launch a homemade shell towards Israel. No Palestinian groups have claimed that the men were fighters with any armed resistance group.
The area where the missile struck was a piece of farmland near the town of Beit Hanoun.
This is the fourth Israeli attack on the Gaza Strip in three days. An Israeli attack in southern Gaza, on Saturday, took the life of a mentally-ill 57-year old woman, when Israeli troops stationed at the southern border opened fire, after the woman allegedly walked too close to the border.
Israeli troops have established what they call a 'kill zone' along the border, demolishing hundreds of homes to establish a wide swath of open space on the Palestinian side of the border that Palestinians are not allowed to step into, under penalty of death.
Prior to Saturday's attack, an Israeli airstrike on Friday targeted an area near Beit Hanoun. It damaged property, but caused no casualties. The airstrike allegedly targeted a launch site used by Palestinian fighters to fire homemade shells toward Israel.
Also on Friday, Israeli troops opened fire at a demonstration in southern Gaza, injuring one demonstrator.
Posted by
Philip Giraldi
on Mar 4 2014 . Filed under
News from the Middle East
. You can follow any responses to this entry through the
RSS 2.0
. Both comments and pings are currently closed.