Israeli Settlers Attack Homes, Stores, In Hebron, Soldiers Kidnap Three Palestinians
Mar 30 2014 / 8:32 pm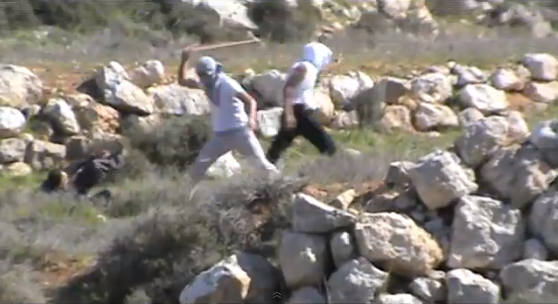 IMEMC – A group of Israeli settlers of the Keryat Arba' settlement, and nearby illegal outposts, in the southern West Bank city of Hebron, attacked Palestinian homes and stores in the city. Soldiers have been reported to have kidnapped three Palestinians.
The settlers attacked homes in the al-Ja'bary neighborhood, and the ar-Ras area, hurling stones and empty bottles at them while shouting and cursing at Palestinian families.
Resident Bassam al-Ja'bary told the Ma'an News Agency that dozens of settlers surrounded local homes, and attacked them. And, when Palestinians objected to the Israeli army's actions, the soldiers kidnapped his brother and his cousin.
He added that the families filed a complaint at the District Coordination Office, in an attempt to have the army remove the settlers, but the soldiers failed to act against the assailants and, instead, attacked the residents, kidnapping two.
The WAFA News Agency has reported that the settlers broke into several stores. in the Old City of Hebron, smashing doors, displacing several pottery items in a number of stores.
Eyewitnesses told WAFA the settlers came from Keryat Arba' and a number of illegitimate outposts installed on private Palestinian property.
Furthermore, soldiers based on a roadblock close to the Ibrahimi Mosque in Hebron, kidnapped a young Palestinian man, taking him to an unknown destination.
In related news, several Israeli military jeeps invaded Kufur Qaddoum town, east of the northern West Bank city of Qalqilia, leading to clashes with local residents.
Medical sources said that at least three Palestinians, including a child, were injured by Israeli army fire during the invasion. No arrests were reported.
Posted by
Philip Giraldi
on Mar 30 2014 . Filed under
News from the Middle East
. You can follow any responses to this entry through the
RSS 2.0
. Both comments and pings are currently closed.