Israeli settlers attack Palestinian village, young boy in "revenge attacks"
Jan 8 2014 / 8:11 pm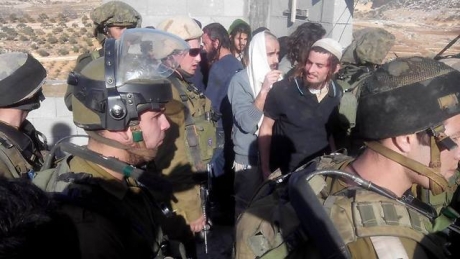 IMEMC, January 8, 2014 – A potentially violent confrontation was defused Tuesday in the Palestinian village of Qusra, south of Nablus, after a group of 11 Israeli settlers invaded the village to carry out a "revenge attack", after Israeli troops dismantled one of their illegal settlement outpost structures.
The settlers attacked a young boy, according to local villagers, and many of the local residents ran outside to try to defend him.
The attack led to clashes, while another group of settlers invaded Jaloud nearby village, and clashed with local residents.
The invading settlers ran into a partially-constructed Palestinian home for cover.
There, the settlers found themselves surrounded by angry local residents, some of whom apparently wanted to attack them for harming the child, and for inhabiting a settlement outpost illegally built on land stolen by force from the villagers.
A group of Palestinian peace activists set up a human chain to prevent further escalation, that would pententially have led to casualties.
The Israeli military then stormed the village, and accompanied the 11 settlers out of Qusra.
The settlerslive in the Esh Kodesh outpost, a settlement which is considered illegal under both international and Israeli law.
One of the Palestinian journalists who was on the scene taking pictures, Ahmed Talat Hasan, was later kidnapped by the Israeli military.
Following the incident, dozens of Palestinian security officers were deployed in the village, and around it, to prevent further attacks by the settlers..
Posted by
Philip Giraldi
on Jan 8 2014 . Filed under
News from the Middle East
. You can follow any responses to this entry through the
RSS 2.0
. Both comments and pings are currently closed.