Israeli Settlers Attack, Wound Two Palestinian Children Near Nablus
Mar 21 2014 / 5:55 pm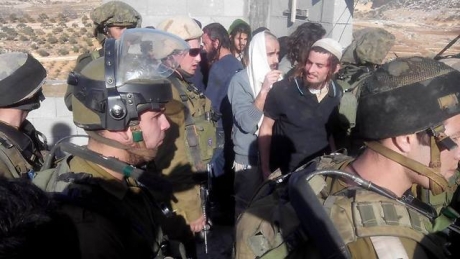 IMEMC, 3/21/14 – Palestinian medical sources reported Thursday [March 20, 2014] that two children were injured after a number of Israeli settlers attacked them near Beit Furik village, east of the northern West Bank city of Nablus.
The sources said the two children, Mos'ab Fuad Khataba, 11, and Amir Mohammad Saleh, 11, suffered moderate injuries, due to the attack which took place on Palestinian land close to the illegal Itamar settlement.
The settlers used sticks to hit the children on various parts of their bodies, included their heads and backs.
They also kidnapped the two children and took them to the settlement, before handing them over to the Israeli army.
Later on, the children were handed to the Palestinians before they were moved to a local hospital.
The attack led to clashes between Palestinian youth and Israeli settlers, the Ma'an News Agency has reported. The army did not comment on the attack.
The latest attack is part of hundreds of attacks carried out by Israeli settlers against the Palestinians in different parts of occupied Palestine, including occupied East Jerusalem.
Despite countless official complaints, the army largely fails to act, and the assailants manage to escape, unpunished for their crimes.
Last year, fanatic settlers carried out around 400 attacks against the Palestinians, their land, property and even Islamic and Christian holy sites and graveyards.
Posted by
Philip Giraldi
on Mar 21 2014 . Filed under
News from the Middle East
. You can follow any responses to this entry through the
RSS 2.0
. Both comments and pings are currently closed.