Israeli Settlers Continue to Storm Al-Aqsa Mosque Compound
Mar 24 2014 / 1:37 am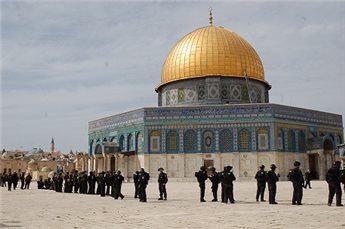 IMEMC, 3/24/14 – Israeli settlers raided, on Monday, al-Aqsa mosque through Bab al-Magharbeh (Maghrabi Gate), under the protection of Israeli police.
Local and media sources said that the groups raided the mosque in small groups and carried out tours at the mosque's compound, according to the PNN.
The sources added that Israeli police stationed at the main entrances of the mosque imposed strict restrictions on the Palestinians, detaining the IDs of the young men and women until they leave the mosque.
It's worth mentioning that Israeli police arrested Sunday evening, an employee of the Islamic awqaf, Fadi Bakeer, while he was working in the mosque.
The raids on al-Aqsa are continuous and have been escalating over the past few months, resulting in violent clashes with settlers and police.
Posted by
Philip Giraldi
on Mar 24 2014 . Filed under
News from the Middle East
. You can follow any responses to this entry through the
RSS 2.0
. Both comments and pings are currently closed.