Israeli Soldiers Demolish Seven Agricultural Structures Near Hebron
Apr 2 2014 / 11:24 pm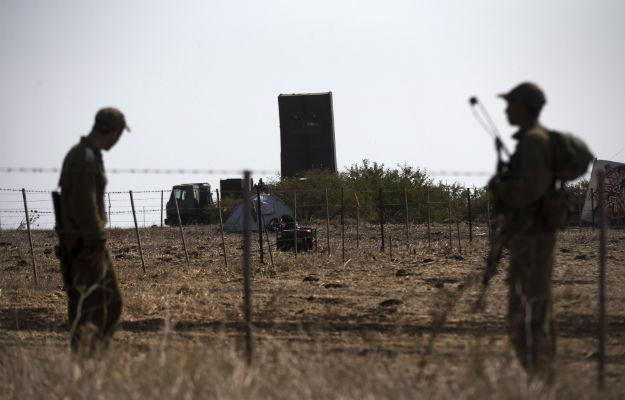 IMEMC – Israeli soldiers demolished seven agricultural sheds and structures in the Tiwani village, east of Yatta, in the southern West Bank district of Hebron.
Rateb Jabour, Coordinator of the Popular Committee against the Wall and Settlements in Hebron, stated that several Israeli military jeeps, armored vehicles and bulldozers invaded the area, and demolished the seven structures.
He added that the representative of the so-called Civil Administration Office, run by the army in the occupied West Bank, accompanied the army. He further stated that the residents sometimes live in the sheds, and use them to store agricultural tools and equipment. The village is located close to the Ma'on illegal Israeli settlement, built on private Palestinian property.
The demolished structures belong to residents Ahmad Reb'ey, Mohammad Issa Reb'ey, Ribhy Ahmad Reb'ey, Mafdy Ahmad Reb'ey, Mohammad Ali Reb'ey, Jadallah Shihada Reb'ey, and Naim Salem al-'Adra.
The structures were also filled with wheat and fodder belonging to several residents of the village. Jabour denounced the destruction, and said such attacks are frequent, targeting the residents, their sources of livelihood, and their structures in different parts of Yatta and other areas of Hebron, and in different parts of the West Bank.
He added that Israel aims at forcing the Palestinian to leave their lands so that it can build and expand its illegitimate Jewish-only settlements and military camps, by alleging that those areas are "state property" and uninhabited by the Palestinians. Israel's settlements, military and security centers in these areas are built in occupied Palestinian territory and, therefore, illegitimate under International Law.
In March, the Israeli government authorized the construction of 2,840 units in Israeli settlements, in the occupied West Bank and occupied Jerusalem. On April 1, Israel decided to issue illegal orders confiscating 600 dunams of Palestinian belonging to residents of Qaryout village, south of the northern West Bank city of Nablus. Israel intends to use the confiscated lands to build parking lots and other structures for Jewish settlers..
Posted by
Philip Giraldi
on Apr 2 2014 . Filed under
News from the Middle East
. You can follow any responses to this entry through the
RSS 2.0
. Both comments and pings are currently closed.