Israeli soldiers shoot unarmed Italian in stomach and chest, in critical condition
Nov 28 2014 / 3:27 pm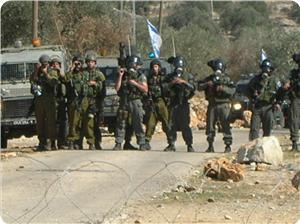 2012 File photo: Israeli forces attack unarmed marchers in Kafr Qaddum village
Israeli forces also shoot three Palestinians with rubber-coated steel bullets
Ma'an — An Italian was critically injured on Friday afternoon after Israeli forces opened live fire on a protest march in the village of Kafr Qaddum west of Nablus.
Palestinian Minister of Health Jawad Awwad told Ma'an that an Italian solidarity activist he identified as Prodo Corsi, 30, was injured after Israeli forces fired several bullets at him in the stomach and chest.
The minister said that Corsi was in "critical" condition as a result of the shooting, which took place during a protest march against the Israeli occupation.
Awwad said that "shooting live fire at the upper part of the bodies of protesters is directly targeting them and is a deliberate attempt at murder."
"Israel does not differentiate between foreign solidarity activists, Palestinians, or even journalists," he added.
Khaldoun Ishtewi, media coordinator for public campaigns in Kaf Qaddum, told Ma'an that the Italian national was taken to the Rafidia Public Hospital in Nablus for treatment.
Ishtewi added that several Palestinians suffered from excessive tear-gas inhalation as a result of canisters fired by Israeli soldiers during the clashes.
The Twitter account of the International Solidarity Movement, an activist group whose members frequently attend Palestinian protests to monitor the actions of Israeli soldiers, said that one of its members had been shot in the chest in Kafr Qaddum and was in critical, but stable, condition.
The ISM also said that three Palestinians were shot with rubber-coated steel bullets during the same demonstration.
An Israeli military spokesman did not immediately return a request for comment.
Protests are held every Friday in Kafr Qaddum against Israel's closure of a main road linking the village to its nearest city, Nablus, as well as against the Israeli occupation more generally.
The internationally recognized Palestinian territories of which the West Bank and East Jerusalem form a part have been occupied by the Israeli military since 1967.
Posted by
Philip Giraldi
on Nov 28 2014 . Filed under
Featured articles
,
News from the Middle East
. You can follow any responses to this entry through the
RSS 2.0
. Both comments and pings are currently closed.