Israel's corrupt political system is a breeding ground for crooked leaders connected to diaspora tycoons
May 26 2015 / 3:07 pm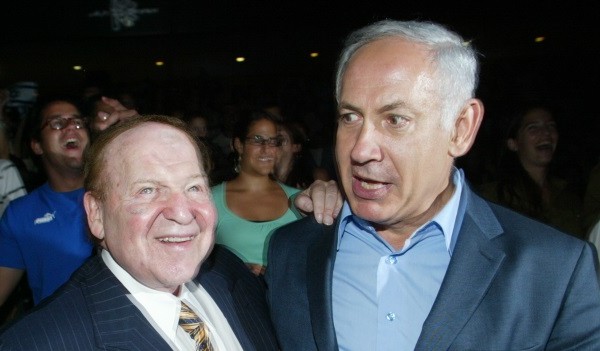 Israeli Prime Minister Olmert wasn't a pioneer of the financial connection between shadowy Diaspora tycoons and senior Israeli politicians. Leaders of all the major parties were in on it … Ariel Sharon, Ezer Weizman, Shimon Peres – all had their benefactors…
Ha'aretz, excerpt: – Olmert wasn't a pioneer of the financial connection between shadowy Diaspora tycoons and senior Israeli politicians. Leaders of all the major parties were in on it when he was still a young organized-crime-busting MK. Ariel Sharon, Ezer Weizman, Shimon Peres – to name but a few – all had their benefactors. Olmert was more brazen and blatant perhaps and certainly more avaricious, but he didn't invent anything.
Some of Olmert's fellow favored members of the club are Avigdor Lieberman, Ehud Barak and Arye Dery, who have all enjoyed the largess of money-men from Vienna to Vegas. And of course Olmert's successor Benjamin Netanyahu has only streamlined this sordid relationship by accepting the patronage of Sheldon Adelson and his Bibi-supporting Israel Hayom freesheet. Jewish money corrupted the politics of the Jewish State decades ago, and it was a wonder that Olmert hadn't been caught much earlier.
With Israel's wave of prosperity (for a select few) over the last couple of decades, local tycoons have also got in on the show. What a coincidence that hours after Olmert's sentence came the resignation of Antitrust Authority head David Gilo, who refused to swallow Netanyahu's decision to allow Yitzhak Tshuva's natural gas monopoly to continue controlling most of Israel's offshore gas-fields. Did you expect the new reforming finance minister Moshe Kahlon to object? Don't be ridiculous: Kahlon spent the last couple of years heading a research center at the Netanya College of which Tshuva is the main donor.
True, these connections between big business and politics are not unique to Israeli leaders; they're part and parcel of nearly every western democracy. But what is pretty unique is how Israel's dysfunctional political system allowed Olmert to become prime minister in the first place.
Everyone knew that the mayor of Jerusalem was dodgy. He was elected twice simply because the shrinking left-wing and liberal communities of the capital were too weak to field a credible challenger to the Likud's representative, given a blanket endorsement by the ultra-Orthodox rabbis. But he was deeply unpopular even within his own party. He did so badly in Likud's 2003 primaries that he barely scraped into the Knesset and Prime Minister Ariel Sharon refused to give him one of the top ministerial jobs.
Only when Olmert threatened to stay out of cabinet, Sharon, who was worried about the damage his vengeance could cause, inveigled him with the sop of the vice premiership. Two and a half years later, when Sharon was felled by a second stroke, Israel got its accidental crooked prime minister.
Netanyahu so far hasn't made that same mistake. He has refused to appoint a number two, but the way he cobbled together on Monday a portfolio for Gilad Erdan from bogus roles such as "Strategic Affairs" and "anti-BDS" prove once again how the system leaves even the most powerful prime ministers vulnerable to retribution from recalcitrant colleagues.
Just as Sharon was to Olmert, Netanyahu has been to Erdan. Every bastard is a king building his fiefdom of patronage and pressure. Olmert went too far and eventually his kingdom fell apart at the seams. But the Olmertism is still there and being played by wily successors.
PHOTO: Billionaire Sheldon Adelson and Israeli Prime Minister Binyamin Netanyahu in Jerusalem in 2007.
Posted by
Philip Giraldi
on May 26 2015 . Filed under
Commentary & Analysis
,
Featured articles
,
Israel Lobby
,
News from the Middle East
. You can follow any responses to this entry through the
RSS 2.0
. Both comments and pings are currently closed.