Israel's spy recruitment puts Gazans in tough spot
May 3 2015 / 3:39 pm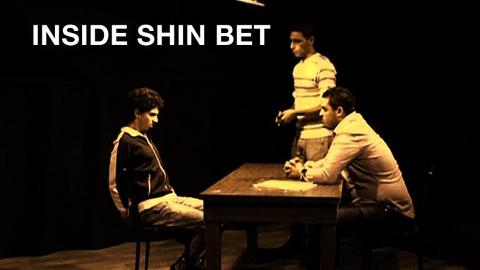 Gaza security services have been receiving complaints submitted by citizens who have been blackmailed or threatened by Israeli security and intelligence officers to work for them as informants
Almonitor, Rasha Abou Jalal,Translator Joelle El-Khoury, GAZA CITY – Gazans are increasingly issuing complaints with security services in the Gaza Strip of being blackmailed by Israeli security and intelligence services. Israel is seeking to recruit new Palestinian spies, by exploiting their need for work, money, medical treatment or travel.
A latent security war is underway between Shin Bet and the security services in Gaza. The former has the means to recruit Gazans to collect information on everything going on in the Gaza Strip, while the latter is seeking to thwart these attempts, according to Col. Mohammed Abu Harbeed, the information security specialist at the Gaza Interior Ministry.
Abu Harbeed told Al-Monitor, "In 2014, 70-80% of citizens passing through the Erez crossing — which is under Israeli supervision — were subject to recruitment attempts by Israel." He said they include merchants, patients, Gazans who are traveling for leisure purposes and students studying at foreign universities.
He added, "According to the complaints filed by those citizens, the Israeli Shin Bet officers have asked them to get information on the security headquarters in Gaza, spy on the movements of certain people and help the Israeli army collect information on ordinary citizens by providing reports on their personal lives. In other words, those officers are pushing the people to spy on their behalf."
The father of a seven-year-old boy who crossed through Erez with his son for the boy's chemotherapy session in an Israeli hospital was blackmailed by an Israeli officer. He told Al-Monitor, "I had to get my son the [necessary] cancer treatment at an Israeli hospital nearly six months ago. But the Israeli officer gave me an offer, namely [payment for] a treatment in exchange for spying for [Israel]. I rejected the offer, which prompted him to deny me an entry permit. So we had to return to Gaza."
The Al Mezan Center for Human Rights in Gaza revealed in September 2013 that the Israeli authorities "continue to exploit the Gazans' needs to travel to the West Bank and Israel for treatment, and arrest or pressure them and have them choose between spying or returning to Gaza where they could die."
Gazans who have been subject to these practices by Israel are encouraged to contact the Interior Ministry's internal security apparatus — which is a civil body established by Hamas, following the movement's military takeover of Gaza in June 2007 — that follows up on these cases.
Abu Asem, a member of the internal security apparatus who refused to disclose his full name, told Al-Monitor that out of fear of being accused of espionage and betrayal of the homeland, citizens — who have been blackmailed by Israeli officers — contact the internal security apparatus.
"The community is collaborating with us. They are providing us with information without fear, because they know that we will be protecting them … They do not want to be involved in espionage," he said.
He added, "The extortion and exploitation of citizens in need represent 25% of cases involving Israeli officers attempting to recruit new collaborators and spies. Other methods include threats, persuasion and enticement." He noted that this does not only happen at the Erez crossing, but also via cell phone contact and the Internet.
Abu Asem spoke about a complaint he dealt with that involved a Gazan merchant who was traveling from Gaza to the West Bank via the Erez crossing. "A merchant in his 40s incurred a significant business loss. While he was at the Erez crossing, an Israeli officer spoke to him about the possibility of supporting him financially and providing him with significant tax benefits, in exchange for giving him information on the security headquarters in Gaza," he said.
He said the merchant filed a complaint with the security services, which provided him with moral and psychological support, so as not to fall prey to these practices by Israel.
The Euro-Mediterranean Human Rights Network (EMHRN) said in a statement April 12 that the Israeli authorities deliberately limit the number of Palestinians crossing through Erez, by humiliating them, threatening to arrest them or denying them the entry permit.
Al-Majd, a security website close to the Izz ad-Din al-Qassam Brigades, Hamas' military wing, quoted a security source ​on April 17 as saying, "Shin Bet is making attractive offers to lure Gazans into working for it under the poor economic conditions. … The citizens said that Shin Bet contacted them by phone and offered to provide them with financial aid to pay off their accumulated debt in light of the difficult economic conditions, in exchange for providing information on the resistance." He said some Shin Bet officers introduced themselves with their own names, while others used pseudonyms.
Al-Majd continuously publishes complaints that the security headquarters receive on the Israeli officers' methods in blackmailing citizens, to raise awareness among Gazans. It also gives advice on how to act in these circumstances.
The website offers tips on how to use the Internet and social networking sites: delete suspicious followers on Twitter and friends one has never met, do not respond to fishy emails, avoid chat messages on all social networking sites (on the work of the resistance) and do not open messages received from unknown sources.
It also offers tips to those passing through the Erez crossing: "If you have something you're worried about, do not try to get out through the crossings controlled by the occupation. Composure and calm are your weapons in all the enemy's attempts to trick you. Do not be afraid of the threats [by Shin Bet officers] as they are only signs of weakness. The intelligence officer will try to intimidate you with accurate information about your surroundings to make you feel that he knows everything; do not respond to that and only give brief answers."
According to Abu Harbeed, Israeli officers who are trying to exploit citizens' needs and coerce them to work as informants use the term "shared interest," which means, he said, "What are you going to give us in exchange for our offer?" He said the officers are targeting the poor and those in need to increase their chances of finding someone willing to cooperate.
He said Gaza's security services are fully aware of the Israeli methods to engage its citizens, and added, "We have divided the groups targeted by the occupation into several categories: those targeted at the Erez crossing or the border line, fishermen, those working abroad and those targeted by phone and Internet, which involves 60% of the occupation's [blackmail] attempts."
On the number of complaints the security services in Gaza receive from citizens, Abu Harbeed said, "They are numerous and continuous. Yet, the most prominent issue is that all of the victims of the Israeli exploitation are those in humanitarian need."
---
Rasha Abou Jalal is a writer and freelance journalist from Gaza specializing in political news and humanitarian and social issues linked to current events.
Posted by
Philip Giraldi
on May 3 2015 . Filed under
Featured articles
,
News from the Middle East
. You can follow any responses to this entry through the
RSS 2.0
. Both comments and pings are currently closed.