Jewish extremists ban Christian prayer in Jerusalem – Call it "pagan"
Jun 5 2015 / 9:52 pm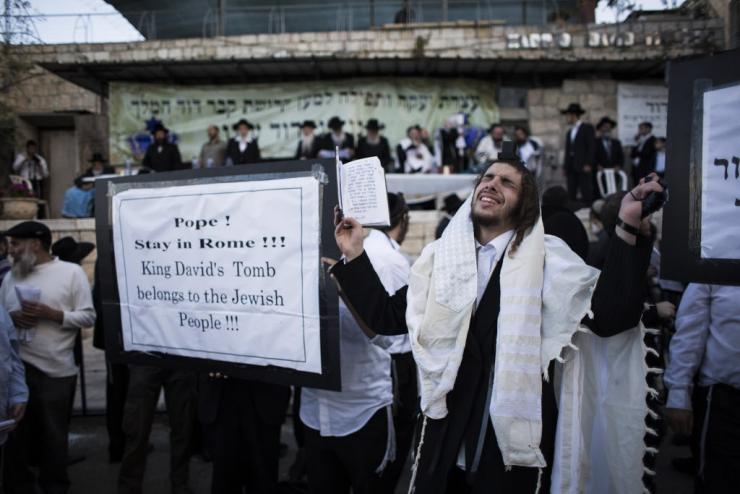 IMEMC – On Monday Israeli Jews banned Christian prayer at the holy site of Jesus' Last Supper, calling it a "pagan ceremony."
Witnesses said that clashes erupted between the Israeli Jews and Christians –Palestinian and Israeli– when the Christians wanted to perform their prayer.
The Jewish extremists said the Christian worshippers were desecrating their holy site and violating the Jews' right to pray there, but Vatican representatives denied the claims and referred to the incident as "grave."
According to witnesses from the area of Mount Zion, where the sacred site is located, such incidents occur frequently when extremist Jews undermine Christian prayers in the area.
On Sunday last week, dozens of Jews also attempted to block Christian prayer there for the holiday of Pentecost and were forcibly removed.
"Jews come to pray at Zion, at a holy site, a very internal and intimate place," extremist Jewish Professor Hillel Weiss told Israeli Yedioth Ahronoth on Sunday. "The priests arrive there to forcibly impose their pagan ceremony, in a place which is sacred to the Jews."
Weiss argued: "This is an intolerable situation. So it was our full right to ward off the invaders. The Vatican is playing with fire."
The Mount Zion compound near Jerusalem's Old City includes, according to religious beliefs, the tomb of King David on the first floor and the room of Jesus' Last Supper on the second floor.
The Israeli newspaper said that David's Tomb is under the jurisdiction of the Department of Holy Sites and the Last Supper site is under the jurisdiction of the Interior Ministry. Today Christians are allowed to visit the room, but can only pray in it on two specific days a year.
Posted by
Philip Giraldi
on Jun 5 2015 . Filed under
Commentary & Analysis
,
Featured articles
,
News from the Middle East
. You can follow any responses to this entry through the
RSS 2.0
. Both comments and pings are currently closed.