NJ High Schooler Called To The Principal's Office "For Being Anti-Israel" On Twitter
Jan 7 2016 / 2:38 pm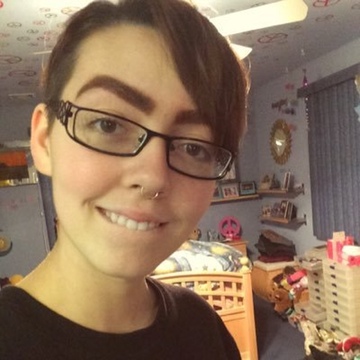 Bethany Koval, 16, said she has family in Israel and grew outraged about the country's treatment of Palestinians in 2014 after seeing video of civilians bombed in Gaza
by Nathan Tempey, Gothamist
Administrators at a northern New Jersey high school are getting angry phone calls from Palestinian rights activists after a junior there says administrators accused her of bullying over tweets she made that were sympathetic to the Palestinian cause.
Bethany Koval, 16, is prolific on Twitter, having dashed off more than 21,000 messages and gained nearly 4,000 followers since joining in February 2015. She got the attention of online activists including members of Anonymous this morning after tweeting about her trip to the principals office. The tweets include recordings of a man she says is her principal saying she could be formally charged with bullying, which under New Jersey's Anti-Bullying Bill of Rights Act (pdf) can lead to suspension or expulsion.
Koval grew up in the New Jersey suburb of Fair Lawn and attends Fair Lawn High School, where part of the mission statement reads, "We believe that the optimal environment is one in which students feel free to challenge themselves and have opportunities to take initiative, to articulate clearly and imaginatively, to be creative, and to learn from their inquiry and experience."
She said she became interested in politics over the last few years after realizing "I've been fed all kinds of kinds of propaganda and I started to question a lot of it." She said she joined Twitter because "I really wanted an outlet to express my views and find people who had similar views." Koval posted wide-ranging discussions of abortion rights, Hillary Clinton's record, and the Syrian civil wear. She said she has family in Israel and grew outraged about the country's treatment of Palestinians in 2014 after seeing video of civilians bombed in Gaza.
"I was just really hurt by what was going on, hurt by how much money the United States gives to Israel," she said. "I was so shocked because it seemed so undemocratic."
Koval tweeted about the bombings and the Israeli-Palestinian political situation over her winter break, and said that it's those tweets that caught the attention of a classmate who she describes as a former friend. In one, Koval described Hamas as "not extreme."
In another, she described Israel as a "terrorist force."
Koval thinks that the reaction might have come more swiftly had she not been on holiday break, but says word got back to her that the unidentified girl was unhappy with what she'd said. Online, she speculated about the kind of trouble that her online activity could get her in.
She also celebrated the classmate unfollowing her.
In another recording, the administrator seems to refer to this tweet, and possibly this one, perhaps the most directly confrontational.
Koval said she did message the girl's name to L_Chevere, a classmate, "but of course it didn't go farther. She didn't even know the girl."
This morning, she narrated the beginning of the fallout.
Koval said that upon arriving at school today, her teacher had received a memo and told her to report to the main office. There she says principal James Marcella showed her printouts of the tweets, and said, "Do you realize that what you put out electronically can also get you in trouble in school, or put you in some kind of problem?"
"I haven't put anything problematic out there," she says on the recording. "Maybe controversial."
"That's your interpretation," he replied. "There's a state law that might interpret it different."
Koval said she was let go, only to be called back and told to write a statement of the events. She said she told Marcella she wouldn't do it without a lawyer but that he told her they could only go on the other girl's account if she didn't write it then and there.
Koval said she has since been allowed to rescind this version of events and draw something up for tomorrow morning, when some sort of justice is supposed to meted out. Also, she said, concerned that she might have "filmed" the proceedings, Marcella told her the Department of Education could sue her if she had.
She said she thinks she's been targeted "because I'm not pro-Israel."
The response online was swift, prompting an #IStandWithBenny hashtag, and a deluge of calls and emails to the school from around the world. There was also reaction close to home. She said one boy at her school messaged her, "bitch let's fight son." When she got home this evening, she said the school called her mom and she overheard someone say the administration was getting calls from far and wide. Her mom walked into the other room for the rest of the call.
Koval said she is not especially concerned for her safety now that she is internet famous: "I'm just worried for my parents, really."
Her parents, who she describes as "apolitical" are now "REALLY mad."
Koval said that she did not intend to start this controversy. Rather, she said she did what was instinctive.
"I documented it because i was nervous. That's what I do," she said. "I didn't think it would get that bad either. I felt like I was really stripped of my rights."
At the moment she is frantically trying to get legal advice before tomorrow morning. And convince her followers to lay off the school.
Administrators at Fair Lawn High School did not immediately respond to calls and an email requesting comment.
SEE Tweets & listen to recording
Posted by
Alison Weir
on Jan 7 2016 . Filed under
Commentary & Analysis
,
Featured articles
,
Impact on Academia
. You can follow any responses to this entry through the
RSS 2.0
. Both comments and pings are currently closed.