Northeastern University SJP chapter suspended as members are subjected to police interrogation
Mar 12 2014 / 8:06 pm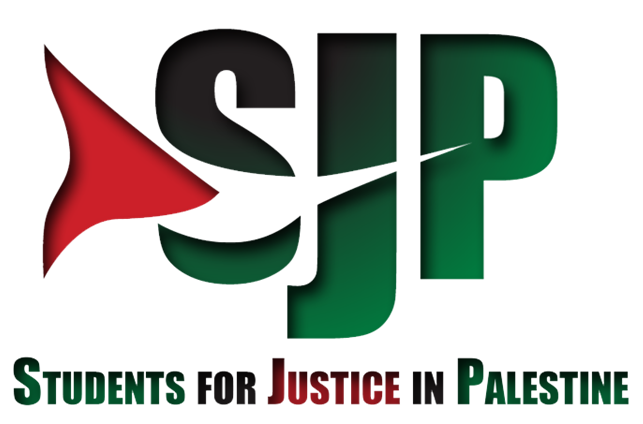 By Max Blumenthal.
Mondoweiss – On March 7, members of Northeastern University's Students for Justice in Palestine (SJP) were informed by the school's Center for Student Involvement that their chapter had been suspended for at least a year.
In a letter sent to the SJP chapter and provided to me by Max Geller, a second year Northeastern University School of Law student who actively campaigns with SJP, the school's Director of the Center for Student Involvement, Jason Campbell-Foster, offered a litany of charges against the students. At the top of the list was the SJP's February 24 distribution of notices across Northeastern campuses that mocked the sort of eviction notices slapped on Palestinian homes slated for Israeli demolition – an awareness-raising tactic increasing in popularity among SJP chapters nationwide.
"You have not shown a concerted effort to improve your practices and educate your members on how to properly operate your organization within the boundaries of university policy," Northeastern's Campbell-Foster wrote.
According to Campbell-Foster's letter, all current members of Northeastern SJP's current executive board are permanently banned from serving on any future board in the organization. Further, SJP members must undergo a strict regimen of trainings led by university administrators as a condition for reinstatement.
On the morning of February 25, two days after Northeastern SJP members distributed mock eviction notices throughout campus dormitories, all Northeastern students received an email from Robert Jose, Northeastern's Associate Dean for Cultural and Residential Life. "We do not condone any behavior that causes members of our community to feel targeted and/or intimidated," Jose wrote.
Jose urged students to express "how this has impacted [them]" by contacting school administrators and the Hillel House of Northeastern, an explicitly pro-Israel Jewish communal organization committed to countering SJP-related activism.
A letter that appeared almost simultaneously on Northeastern's Hillel's website announced, "Rather than seeking to prompt dialogue, the fake eviction notices alarmed and intimidated students in their homes, in clear violation of Northeastern policy. We are in communication with Student Affairs regarding this incident, who have been quick to respond to student concerns. The administration is working with the Northeastern University Police Department to conduct a thorough investigation."
At 10 AM that same day, members of Northeastern SJP received phone calls and visits from campus police officers. "All of the sudden the school was accusing us of an act of criminality for simply [an] act of leafleting," remarked Geller. "A special investigation was launched for what the university claimed was a petty handbook violation and NYPD-style tactics were used against students. It was so disproportionate to what happened and a complete misappropriation of university funds."
Geller told me the first Northeastern SJP members to be visited by teams of university police were Muslim and Arab members. "They were freaked out and scared," he recalled. "It's hard enough being a brown person with an Arabic name on campus. Now imagine what it was like being treated like a criminal for handing out fliers." (Full disclosure: Geller hosted me for a discussion of my book, Goliath: Life and Loathing in Greater Israel, at Northeastern on January 7).
Following the police investigations, the university has pursued disciplinary sanctions against two SJP members, accusing them of "endangering behavior" and threatening them with expulsion for their involvement in the mock eviction action. The only ones disciplined happen to be women of color.
According to Geller, neither student was involved in a leadership role in the organization. "It is so arbitrary and Kafkaesque what the school has done," he said. So instead of going after the actual leadership, Geller continued, "they are targeting two women of color," one of them with a Muslim background.
The suspension of Northeastern SJP is the culmination of a long-running crusade against the group led by powerful pro-Israel outfits based in Boston. The campaign began in the wake of David Project founder Charles Jacobs' failed campaign to prevent the construction of the Islamic Community Center of Boston in the predominately African-American neighborhood of Roxbury. Jacobs, an outspokenanti-Muslim activist who has referred to mosques as "victory markers," turned his attention to Northeastern, which lays just on the border of Roxbury.
Through his newly minted front group, Americans for Peace and Tolerance (AFPT), Jacobs orchestrated a campaign called "Shame on NEU." On the group's website, Jacobs promoted editorials baselessly accusing Northeastern SJP of "Call[ing] for the Murder of Jews" and "Cheerlead[ing] Hamas." Together with Richard Cravatts, a communications professor at Boston University who leads the pro-Israel outfit Scholars for Peace in the Middle East, Jacobs claimed SJP was comprised of "anti-Semites, Israel haters" seeking to "justify a second Holocaust, the mass murder of Jews" and possessed with "an irrational, seething animus against the Jew of nations, Israel."
On July 5, 2013, Northeastern University President Joseph Aoun received a breathless twelve-page letter from the Zionist Organization of America (ZOA) demanding an investigation of three professors – Dennis Sullivan, Berna Turam, and M. Shahid Alam – accused by the organization of fostering a "hostile environment" for pro-Israel and Jewish students. Further, the ZOA demanded a review of course material to ensure it adhered to a strictly pro-Israel ideological line, and that the school punish "wrongdoers" for political activities both on and off campus. "Many Jewish students are feeling marginalized and even threatened on campus, afraid to express they are Jewish and pro-Israel," ZOA President Morton Klein claimed in the letter, which was promptly reproduced and promoted on the website of Jacobs' AFPT.
The Anti-Defamation League bolstered the ZOA and Jacobs' crusade against Palestine solidarity at Northeastern by sending a letter of its own to Aoun demanding action against the "anti-Israel" professors.
The ZOA is a far-right organization that supports continuous, unrestricted Israeli settlement activity and the annexation of the occupied West Bank. Its national Vice Chairman, Steven Goldberg, has said that Jews who protest settlement activity are "mutants" who should have been aborted.
CC'ed on the ZOA letter to Northeastern was Robert Shillman, the multi-millionaire CEO of Cognex Corporation. A graduate of Northeastern, Shillman isidentified [PDF] in the ZOA's newsletter as "a major supporter" of the organization. Shillman has pumped his fortune into right-wing Zionist causes from the ZOA to the David Horowitz Freedom Center, which has back-channeled funding to Pamela Geller and Robert Spencer – far-right extremists identified as anti-Muslim hate group leaders by the Southern Poverty Law Center. (Geller has promoted an inflammatory 32-minute Americans for Peace and Tolerance video on her blog accusing Sullivan, a professor of international affairs and the director of the university's Middle East Center for Peace, Culture and Development, of supporting terrorism and "shocking Jew hatred.")
Shillman also happens to be a top contributor to Northeastern, having donating $3 million for the construction of a new classroom building in 1999 – Shillman Hall.Though Shillman is still alive, a statue of his likeness stands in the center of Northeastern's campus, just outside the hall bearing his name.
Another wealthy pro-Israel donor who has exerted his influence over Northeastern is Seth Klarman, the hedge fund billionaire who acts as a principal financial angel for Jacobs' political empire. Besides having backed Jacobs-founded outfits like the Committee for Accuracy in Middle East Reporting (CAMERA) and The David Project, Klarman is a major donor to the Combined Jewish Philanthropies of Boston. And it is through the Combined Philanthropies, according to a review of 990 forms filed with the Internal Revenue Service, that the Hillel of Northeastern University received the vast majority of its funding in 2009 — $27,509 in all.
Under the tenure of President Aoun, a Lebanese Christian born in Beirut, pro-Israel forces in Boston have exerted their influence against an exceptionally malleable administration. In December, Aoun condemned the American Studies Association's decision to boycott Israeli academic institutions involved in the occupation of Palestine, declaring, "Political differences indeed heighten, not diminish, the importance of unfettered discourse among scholars."
The campaign against Northeastern SJP escalated when Jacobs' AFPT created a Facebook page called, "Exposing Islamic Extremism at Northeastern University."Threats poured in through the page, both publicly and privately, according to Geller. As Northeastern University Middle East Studies MA candidate and SJP board member Ryan Branagan documented at Electronic Intifada, one commenter said of Geller, "I would seriously introduce that kid to the inside of an ambulance." Geller said he began receiving threats targeting his family when his parents' home address was posted online.
In June, Northeastern SJP was placed on administrative probation and warned against future "transgressions" after its members staged a brief walkout protest of a presentation on campus by Israeli soldiers. The students were forced to issue a "statement of civility" afterwards by university administrators. The Boston Globe's Yvonne Abraham described the sanctioning of SJP as a symbol of the transformation of American universities into "overpriced country clubs with climbing walls, sushi, and a culture of enforced politeness that is downright depressing."
With the suspension of its SJP chapter, Northeastern University has awarded Boston-area pro-Israel outfits the prize they had been seeking. According to Geller, the episode provides the clearest proof yet that Northeastern's administration "is more interested in appeasing outside astroturfed Zionist groups than in fostering an environment where the vigorous exchange of ideas can take place."
My calls seeking comments from Northeastern University Center for Student Involvement were not returned.
Posted by
Philip Giraldi
on Mar 12 2014 . Filed under
Commentary & Analysis
,
Israel Lobby
. You can follow any responses to this entry through the
RSS 2.0
. Both comments and pings are currently closed.