Nowhere to go: Palestinian families left without homes
Feb 2 2014 / 9:00 pm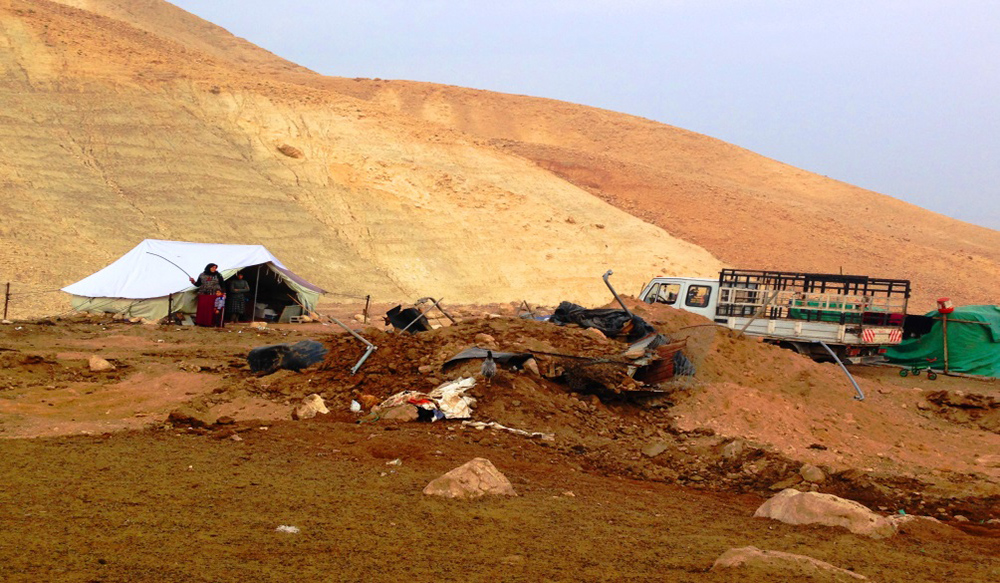 By Fadwa Baroud.
European Commission Blog, 2/2/14 – Jan. 31 was an unforgettable day for Hayla Bany Maniya, a 42-year old Bedouin woman and mother of eight children, who has lived her entire life in the Jiftlik area of the Jordan Valley in the northern part of the West Bank.
Known as Umm Mohammad, Hayla woke up to the sound of Israeli military bulldozers demolishing all thirteen sheds owned by three Palestinian families in al-Jiftlik town. The Israeli Army considers this area a 'closed military zone' and a 'nature reserve'.
Hayla's "home", as she called the shed, is among three residential structures, five animal sheds (each with a pen), three chicken coops, and one outside-kitchen with a traditional oven which were demolished. All were made of metal and covered by tent canvas.
With all her belongings gone, left without hope, Hayla tries to show some strength to her children who did not have the courage to go to school that day.
"On the day of demolition, six of my children were supposed to attend final exams at the nearest school," said Hanya with the tears in her eyes. The children usually ride on donkeys for three hours to the main road, and then take a bus for twenty minutes to reach their school.
Through the demolition, Haya lost most of her family's belongings, part of her livestock and her children need to repeat the class as they did not pass the exam. Two more families have also been affected – 26 people in total including 13 children have been displaced.
In addition, the families' livestock, of around 750 sheep are now without a refuge. "Our main source of income are our sheep, and like us are now left without shelter. Three goats died last night as the weather conditions are hard," says Hayla.
The eviction comes at a time when families in Palestine are struggling to recover from a severe winter storm, which has damaged or destroyed hundreds of homes and animal sheds. The widespread vulnerability of people in rural communities who depend on livestock is increasing.
Displacement has serious immediate and longer-term physical, socioeconomic and emotional impact on families and communities in Palestine. It results in the disruption of livelihoods, reduced standards of living and an increased dependency on humanitarian aid.
In many cases, it also disrupts access to basic services such as education, water and sanitation. During the Jiftlik demolition, the families complained that the Israeli authorities also damaged the water pipes connected to the nearby Qarzaliya water spring as well as a traditional oven (known as taboon) and two plastic water tanks.
According to Hayla, this is the third time their home has been demolished. The first demolition followed an evacuation order when the area was declared "a closed military" zone in 2010 and the second in 2011 when the area was declared a "nature reserve".
The negative psycho-social impact also extends to the thousands of Area C Palestinian residents threatened with outstanding demolition orders. They live in fear that their homes or other structures could be demolished by the Israeli authorities at any moment.
According to humanitarian organizations working in Palestine, the number of structures demolished by the Israeli authorities in the Jordan Valley in 2013 more than doubled, from 192 in 2012 to 393 in 2013. UN OCHA in Jerusalem reported that, in 2013, the Israeli authorities demolished 663 Palestinian-owned homes and livelihood structures, displacing over 1,000 people, 25 percent more people than in 2012.
In addition, OCHA reported that 122 out of the total demolished structures in the West Bank, including East Jerusalem, were donor-funded, of which 49 structures were funded by the EU and/or its Member States.
Fourteen agencies, part of the Association of International Development Agencies (AIDA) and other regional networks of human rights, had asked the international community to put pressure on the Israeli Authorities to cancel the order of eviction against the families in Jiftlik, before the demolitions took place.
"We are writing to urge you to take action to halt the imminent eviction of Palestinian families, including 15 children, from their homes in the Jordan Valley village of Jiftlik."
In the Foreign Affairs Council Conclusions on December 2013, the EU warned "against actions that undermine the negotiations," citing grave concerns regarding house demolitions.
On the 19 December, the EU missions in Jerusalem and Ramallah issued a statement expressing serious concern over recent demolitions, recalling the 16 December 2013 Council Conclusions as well as the 14 May 2012 Council Conclusions, where the EU "called upon Israel to meet its obligations regarding the living conditions of the Palestinian population in Area C, including by halting the forced transfer of population and demolition of Palestinian housing and infrastructure."
As National Security Adviser Ms. Susan Rice recently stated in her 4 December 2013 remarks at the Human Rights First Annual Summit, "land confiscations and home demolitions must end for a culture of peace to take root."
The humanitarian Aid and Civil Protection department of the European Commission (ECHO) has been responding to the needs of the most vulnerable Palestinians since 2000, with particular attention to those affected by demolitions and at the risk of displacement.
.
Posted by
Philip Giraldi
on Feb 2 2014 . Filed under
News from the Middle East
. You can follow any responses to this entry through the
RSS 2.0
. Both comments and pings are currently closed.