Obama's Failed Foreign Policy Change
Sep 18 2014 / 6:20 pm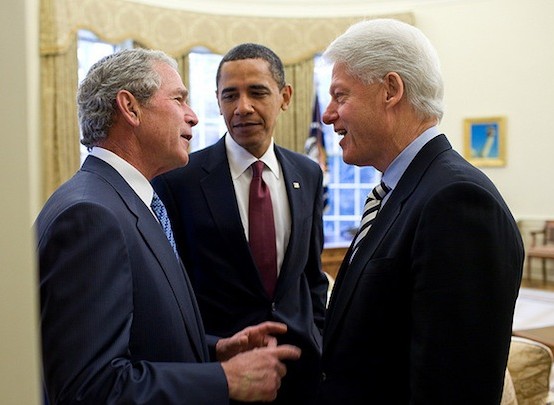 By Philip Giraldi.
 The American Conservative – President Barack Obama presents something of a dilemma. I voted for him twice in the belief that he was basically a cautious operator who would not rush into a new war in Asia, unlike his Republican opponents who virtually promised to attack Iran upon assuming office. Unfortunately, Obama's second term has revealed that his instinct nevertheless is to rely on America's ability to project military power overseas as either a complement to or a substitute for diplomacy that differs only from George W. Bush in its style and its emphasis on humanitarian objectives.
That the president is indeed cautious has made the actual process of engagement different, witness the ill-fated involvement in Libya and the impending war-without-calling-it-war in Syria and Iraq, both of which are framed as having limited objectives and manageable risk for Washington even when that is not the case. Obama's foreign and security policy is an incremental process mired in contradictions whereby the United States continues to involve itself in conflicts for which it has little understanding, seemingly doomed to repeat the mistakes of the past thirteen years but without the shock and awe.
Obama's actual intentions might most clearly be discerned by looking at his inner circle. Three women are prominent in decision making relating to foreign policy: Samantha Power at the United Nations, Susan Rice heading the National Security Council, and Senior Adviser Valerie Jarrett in the White House. One might also add Hillary Clinton who, as Secretary of State, operated far more independently than her successor John Kerry, putting her own stamp on policy much more than he has been able to do. Where Secretary of Defense Chuck Hagel fits into the decision making is unclear, but it is notable that both he and Kerry frequently appear to be somewhat out of sync with the White House.
What does the Obama team represent? Certain things are obvious. They are hesitant to involve the United States in long, drawn out military adventures like Iraq and Afghanistan but much more inclined to intervene than was George W. Bush when there is an apparent humanitarian crisis, operating under the principle of responsibility to protect or R2P. That R2P is often a pretext for intervention that actually is driven by other less altruistic motives is certainly a complication but it is nevertheless the public face of much of American foreign policy, as the nation is currently witnessing regarding ISIS.
Hillary Clinton has criticized Obama foreign policy because on her view he did not act soon enough on ISIS and "Great nations need organizing principles, and 'don't do stupid stuff' is not an organizing principle." Her criticism is odd as she was a formulator of much of what the president has been doing and one should perhaps assume that her distancing from it might have something to do with her presidential ambitions. Interestingly, in a self-promoting recent review of Henry Kissinger's new book World Order, Clinton both defines her own Kissinger-esque foreign policy strategy and also concedes that it is more-or-less the same as Obama's. Clinton wrote that Kissinger's world view "largely fits with the broad strategy behind the Obama administration's effort over the past six years to build a global architecture of security and cooperation for the 21st century."
Now if all of that is true, and it might just be putting lipstick on a pig to create an illusion of coherency where none exists, then the United States might just be engaging in a sensible reset of its foreign policy, something like the Nixon Doctrineof old. But the actual policy itself suggests otherwise, with the tendency to "do stupid stuff" prevailing, perhaps attributable to another Clinton book review assertion of "a belief in the indispensability of continued American leadership in service of a just and liberal order."
Clinton inevitably confuses leadership with hegemony, clearly believing as one of her predecessors at State put it, that America is the "indispensable nation." Nor can she discern that few outside the beltway actually believe the hype. It would be difficult to make the case that the United States either stands for justice or is willing to tolerate any kind of international order that challenges American interests.
And the arrogance that comes with power means that the country's leadership is not often able to explain what it is doing. Currently, the administration has failed to make any compelling case that the United States is actually threatened by ISIS beyond purely conjectural "what if" scenarios, suggesting that the policy is evolving in an ad hoc but risk-averse fashion to create the impression that something is actually being accomplished. Any plan to "destroy" ISIS without serious consideration of what that might entail means that the U.S. will inevitably assume the leadership role. Because air strikes cannot defeat any insurgency, and the moderate Syrian rebels waiting to be armed are a fiction, the Obama plan invites escalation and will make the Islamist group a poster child for those who want to see Washington fail yet again in the Middle East.
The tendency to act instead of think might be attributable to fear of appearing weak with midterm elections approaching, but it might also be due to the persistence of neoconservative national security views within the administration, which brings us to Victoria Nuland. Nuland, many will recall, was the driving force behind efforts to destabilize the Ukrainian government of President Viktor Yanukovych. Yanukovych, an admittedly corrupt autocrat, nevertheless became Prime Minister after a free election. Nuland, who is the Assistant Secretary of State for European and Eurasian Affairs at the State Department, provided open support to the Maidan demonstrators opposed to Yanukovych's government, to include media friendly appearances passing out cookies on the square to encourage the protesters.
A Dick Cheney and Hillary Clinton protégé who is married to leading neocon Robert Kagan, Nuland openly sought regime change for Ukraine by brazenly supporting government opponents in spite of the fact that Washington and Kiev had ostensibly friendly relations. It is hard to imagine that any U.S. administration would tolerate a similar attempt by a foreign nation to interfere in U.S. domestic politics, particularly if it were backed by a $5 billion budget, but Washington has long believed in a global double standard for evaluating its own behavior.
Nuland is most famous for her foul language when referring to the potential European role in managing the unrest that she and the National Endowment for Democracy had helped create. To be sure, her aggressive guidance of U.S. policy in Eurasia is a lot more important than whatever plays out in Syria and Iraq over the remainder of Obama's time in office in terms of palpable threats to actual American interests. The replacement of the government in Kiev was only the prelude to a sharp break and escalating conflict with Moscow over Russia's attempts to protect its own interests in Ukraine, most particularly in Crimea.
Victoria Nuland is playing with fire. Russia, as the only nation with the military capability to destroy the U.S., is not a sideshow like Saddam Hussein's Iraq. Backing Moscow into a corner with no way out by using threats and sanctions is not good policy. Washington has many excellent reasons to maintain a stable relationship with Moscow, including counter-terrorism efforts, and little to gain from moving in the opposite direction. Russia is not about to reconstitute the Warsaw Pact and there is no compelling reason to return to a Cold War footing by either arming Ukraine or permitting it to join the North Atlantic Treaty Organization (NATO).
And make no mistake about Nuland's broader intention to expand the conflict and directly confront Russia. In Senate testimony in May she cited how the administration is "providing support to other frontline states like Moldova and Georgia." Frontline? Last week Secretary of Defense Chuck Hagel seemed to confirm that the continued expansion of NATO is indeed administration policy, saying that Georgia would be next to join in light of "Russia's blatant aggression in Ukraine."
In 2009 President Barack Obama received the Nobel Peace Prize for "his extraordinary efforts to strengthen international diplomacy and cooperation between peoples." In retrospect it was all hat and no cattle given the ongoing saga in Afghanistan, the reduction of a relatively stable Libya to chaos, meddling in Ukraine while simultaneously threatening Russia, failure to restrain Israel and the creation of an Islamic terror state in the Arab heartland. Not to mention "pivots" and additional developments in Africa and Asia. It is not a record to brag about and it certainly does not suggest that the administration is as strategically agile as Hillary Clinton would like to have one believe.
Victoria Nuland is a career civil servant and cannot easily be fired but she could be removed from her top-level policy position and sent downstairs to head the mailroom at the State Department. It would send the message that aggressive democracy promotion is not U.S. policy, but President Obama has kept her on the job. The president also reportedly is an admirer of her husband's articles and books which argue that the U.S. must maintain its military power to accommodate its "global responsibilities." So in response to the question "Why does Victoria Nuland still have her job?" the answer must surely be because the White House approves of what she has been doing, which should give everyone pause.
Philip Giraldi, a former CIA officer, is executive director of the Council for the National Interest.
Posted by
Philip Giraldi
on Sep 18 2014 . Filed under
Commentary & Analysis
. You can follow any responses to this entry through the
RSS 2.0
. Both comments and pings are currently closed.