Ongoing Demolitions in Naqab Reinforce Prawer Plan
May 19 2014 / 6:12 pm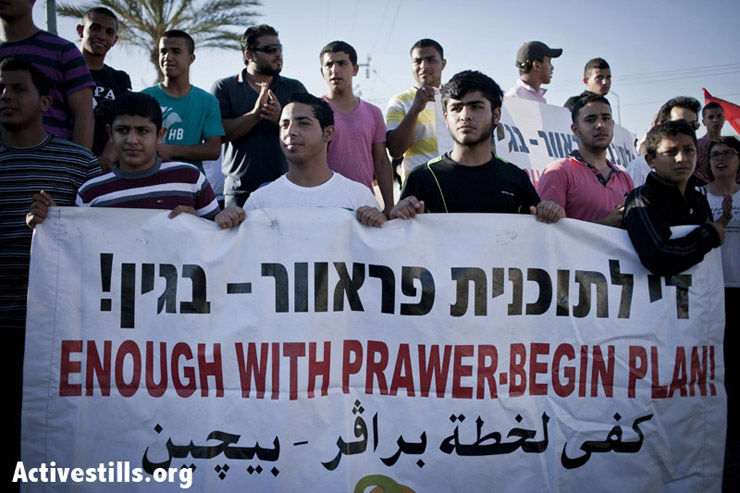 IMEMC – The ongoing demolitions in the area between the Naqab (Negev) and Jerusalem show that the Prawer Plan is still in full force, even if not under official implementation; the effects for Palestinians in the area are the same.
The latest demolition came just yesterday, as Israeli bulldozers demolished several structures in the bedouin village of Wadi al-Neam, the Palestinian News Network (PNN) reports.
Wadi al-Neam is not recognized by the state of Israel. It does not acknowledge its existence, and therefore it is considered illegal. Israel does not distinguish between the 48 and 67 territories, when sending out teams of bulldozers for demolitions and expulsion of residents, regardless of documented Israeli citizenship among them or lack thereof.
Eyewitnesses told a PNN correspondent that these demolition orders are illegal under human rights standards as well as international law. These processes were added by Israel to subtly implement policies outlined in the Prawer plan, which was stopped a few months ago and aims to seize Palestinian lands and deport the indigenous population of the Naqab.
The PNN correspondent added that Wadi al-Neam is located to the south of Beersheba, where the Israeli authorities only recently built a chemical factory and a military base.
Posted by
Philip Giraldi
on May 19 2014 . Filed under
News from the Middle East
. You can follow any responses to this entry through the
RSS 2.0
. Both comments and pings are currently closed.