Palestine national soccer team achieves highest-ever FIFA ranking
Jun 7 2014 / 11:26 pm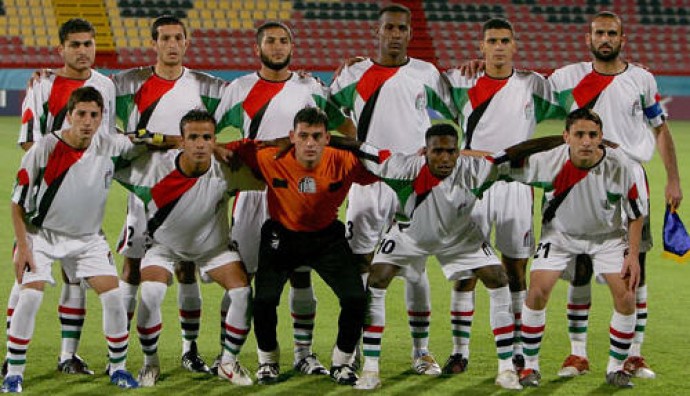 John Whitbeck's commentary:
Transmitted below is a rare item of good news.

This accomplishment of the Palestinian national football team is particularly remarkable in light of Israel's long-running practices of destroying Palestinian stadiums, preventing players from travelling (including between Gaza and the West Bank), imprisoning or "administratively detaining" them and, in recent incidents, intentionally shooting two in the feet so that they can never play again.

I have long believed that one of the most effective ways to constructively shock Israeli public consciousness into recognizing the unacceptability of Israel's policies and behavior would be suspending Israel's national and club football teams from international competitions, notably including its bizarre participation in European football competitions.

White South Africans frankly recognize that sporting pariah status played a major role in causing their country's ruling group and leadership to choose democracy over apartheid, and there is some, even if only limited, reason to hope that a similar pariah status could have a similar impact on Israel.

While, for well-known political reasons, it is unlikely that football's governing bodies, FIFA and UEFA, will suspend Israel, as FIFA did South Africa, because of its apartheid policies, it is not inconceivable that they could do so as a result of its vicious and inhumane treatment of Palestinian footballers, whose lives it controls.

Indeed, there is an increasingly active movement ( "Red Card Israeli Racism", http://rcir.org.uk/?=785 ) seeking precisely this.
Ma'an News – The Palestinian National Football team has jumped ahead 71 places in the FIFA World Rankings following a historic win and their first-ever qualification to the Asian Cup, reaching their highest-ever international ranking.

Palestine jumped to the 94th place in the international rankings after moving up 270 points during their drive to reach clinch the Asian Football Confederation Challenge Cup, which pits lower-ranked teams from across Asia against each other and secures the winner a spot in the Asian Cup.

Palestine had won four matches and drew one on their way to clinch the AFC Challenge Cup, and earned a place in their first-ever continental tournament, by qualifying for the AFC Asian Cup to be held in Australia in 2015. 

Their final tournament victory came on May 30 when they beat the Philippines in the final with a curling free kick by Ashraf Numan al-Fawaghra.

Palestine won the tournament without conceding a single goal to an opposing team.

Palestine's football team is now ranked 10th in Asia.

The Palestinian national football team has been around since 1928, but was recognized by FIFA only in 1998.
Posted by
Philip Giraldi
on Jun 7 2014 . Filed under
John Whitbeck
,
News from the Middle East
. You can follow any responses to this entry through the
RSS 2.0
. Both comments and pings are currently closed.