Palestinian Child Dies Of Wounds Suffered Last Week
Mar 16 2014 / 7:45 pm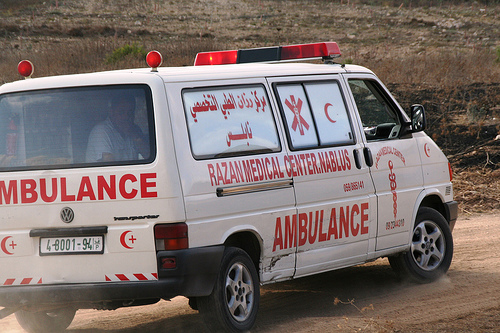 IMEMC, 3/16/14 – Palestinian medical sources have reported that a child died of serious injuries suffered last week in an explosion that took place in Beit Hanoun, in the northern part of the Gaza Strip.
The sources said that Mohammad Ismael al-Hamadin, two years of age, died of his serious injuries on Sunday morning.
The explosion, which took place on Tuesday evening, March 11, led to the instant death of three Palestinians, while seven, including two children, were injured.
The deceased Palestinians have been identified as Karim Ali Hamad, 32, Mohammad Taiseer al-Hamadin, and Ja'far Adwan.
Earlier on the same say, three fighters of the al-Quds Brigades, the armed wing of the Islamic Jihad, were killed after the Israeli air force fired missiles at them, east of Rafah, in the southern part of the Gaza Strip.
Ashraf al-Qodra, spokesperson of the Ministry of Health in Gaza, said that the slain fighters have been identified as Ismael Abu Jouda, 23, Shaher Abu Shanab, 24, and Abdul-Shafy Moammar, 33.
Also on Tuesday, Israeli soldiers shot and killed a young Palestinian man from Atteel village, northwest of Tulkarem, in the northern part of the occupied West Bank.
Medical sources said that Fida' Mohyeeddeen Majadla, age 23, was killed after Israeli soldiers opened fire on his car at the al-Kafriyyat roadblock, south of Tulkarem.
Posted by
Philip Giraldi
on Mar 16 2014 . Filed under
News from the Middle East
. You can follow any responses to this entry through the
RSS 2.0
. Both comments and pings are currently closed.